Chargers say goodbye to 2020 season as coronavirus halts their momentum
April 17, 2020 by Allison Row, Arizona State University
---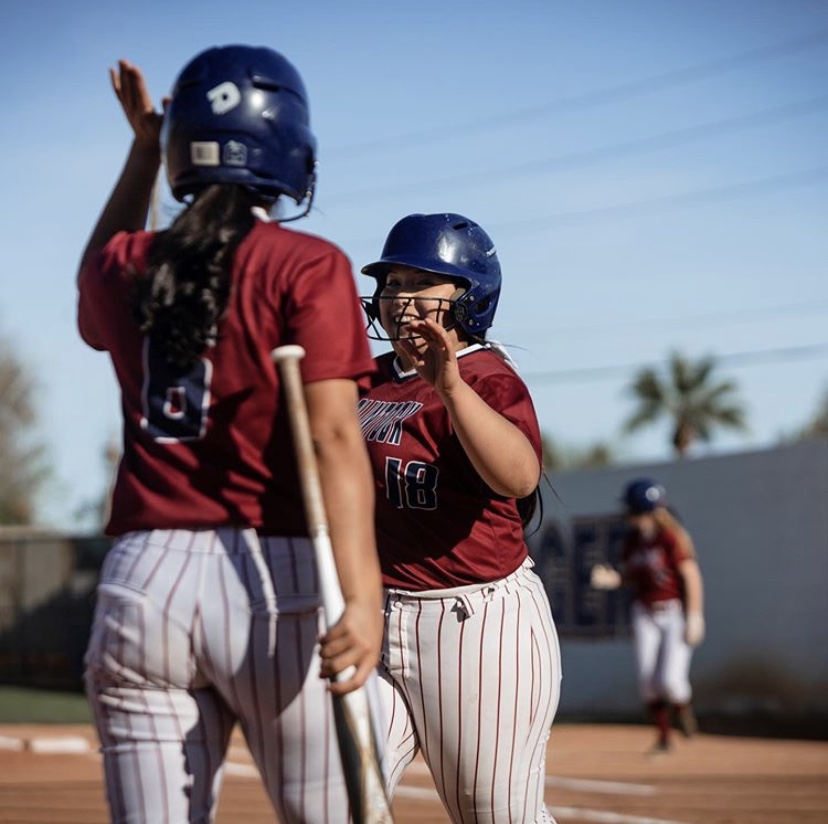 TEMPE, Ariz. – The McClintock Chargers remained hopeful their season would continue as they learned that Arizona schools would be temporarily closed until March 27. Those hopes quickly disappeared when Arizona Gov. Doug Ducey announced the rest of the school year would be moved online.
The closures not only affect academics but all athletic events as well, meaning the 2020 softball season has come to a premature end.
The Chargers ended the season 3-1 overall and 2-1 in the Northeast Valley conference.
"With all the progress we made as a team, it really spoke to what we put into this program," said junior first baseman Layla Eads. "Getting the season taken away from us knowing we started so good, is just really sad. The girls were so ready for the season; we were putting everything into this. We wanted to get better as a whole but we can't anymore."
Due to social distancing efforts, the team will not be holding any practices or team activities and will look to prioritize each other's safety during this time. However, they are still continuing to stay in shape and practice at home.
"My body needs that exercise or it will go through some pains, but I have nets, balls, tees, wiffles and all that good stuff that the coaches would have at school," said Eads. "I may not be on the field, but continuing to work out helps me with not being out there, knowing I can still do something with myself and with this sport."
While most are staying in shape for future seasons, senior Myranda Sandifer is continuing to train for her post-high school plans.
"I think it's really important to stay in shape for games and for the future, but for me personally I plan on playing at Mesa Community College after high school. So, it is crucial that I keep up my skills," said Sandifer.
Although they can't be together, team members are providing support for one another by keeping a group chat. Here they can announce updates, share their day-to-day routines or spread kindness during an uncertain time.
"It is really important to have a support system right now because our seniors need to know that we are here for them, and that they have the right to be upset and sad about the situation," said sophomore Jordyn Ayala. "We have a strong team when it comes to support and love."
For the seniors at McClintock, their 7-4 win against Paradise Valley on March 5 would unknowingly be their last home game.
As Arizona schools close their doors, high schools are also cancelling prom, senior night and other hallmark events of senior year.
"I don't want to lie and say that I have been fine during all of this, because I am emotional about school being closed and prom being cancelled," said Sandifer. "I'm worried about what this means for graduation or if I'll even get to walk across the stage. Which is something I've worked so hard for and looked forward to going into my senior year."
Students in the Tempe Union High School District are awaiting updates about when and how events such as graduation will take place. Superintendents around the state are brainstorming ideas on how to best hold a graduation while keeping social distancing guidelines in mind.
After some time to process their feelings, the Chargers look back with pride on an incredible start to the season and hope to take their strides into next year.
"It is very scary but facing things as a team is what we do, we push each other and lift each other up no matter what the circumstance is," said Eads. "All we can really do is be thankful that we had the season, we got to play and have our first win at home. At the end of the day we may not have the sport, but we always have each other."
---