PCDS's legend who built the athletic program from nothing
April 27, 2020 by Austin Nicholson, Arizona State University
---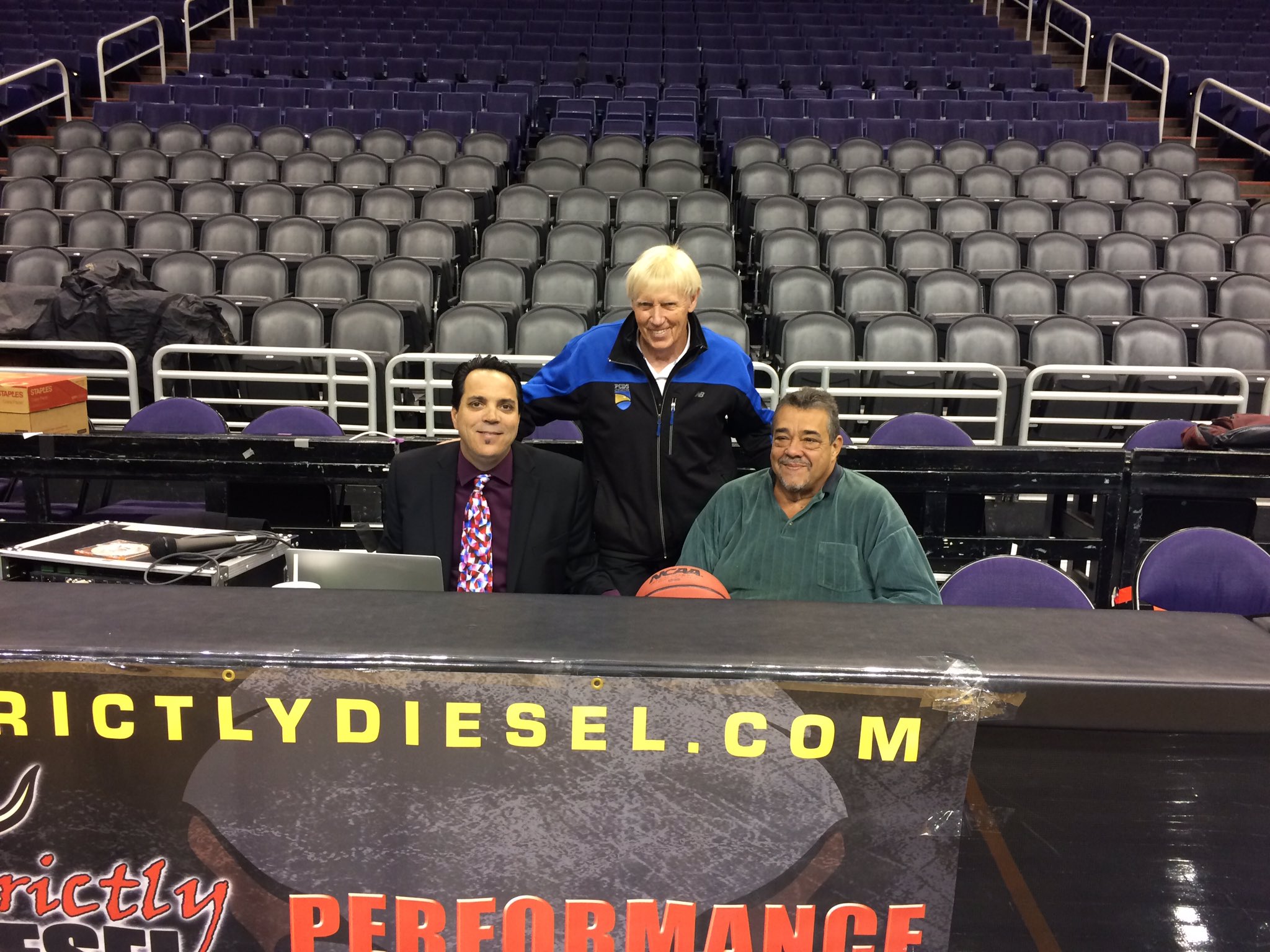 Austin Nicholson is an ASU Cronkite School of Journalism student assigned to cover Phoenix Country Day School for AZPreps365.com
Bob Kosower was born to be a Hall of Famer. He grew up in Canton, Ohio, home of the Pro Football Hall of Fame. While he may not be a NFL legend, he is a legend in Arizona high school athletics.
During his 31-year tenure as Phoenix Country Day's athletic director from 1978-2010, the school garnered 38 state championships and three awards as the best school in academics and athletics. Individually, Kosower received six awards for his excellence as athletic director on the local, state, and national level. He also spent 12 years on the AIA board of directors. He was inducted into Phoenix Country Day's and the state's Hall of Fame because of his illustrious career.
"I put my life into it," said Kosower, now PCDS's associate athletic director.
Ever since he was a young child, he always had a deep passion for sports. His love for sports turned in a short yet successful collegiate baseball career at Bowling Green State University. Because of a gruesome leg injury, he was forced to find another way to stay involved in sports. He got his first job as the boys basketball head coach, assistant baseball coach, and physical education teacher at Delano High School in Minnesota. After six years, Kosower moved to Arizona and received his master's in secondary education at Arizona State University. While in graduate school, he found a job as the physical education teacher at PCDS for the 1978-79 school year. The next year he was promoted to athletic director, and the rest was history.
"I was at the right place at the right time," Kosower said.
Kosower coached baseball and basketball at PCDS from 1978-2000. During this time, Kosower coached Robert Portnoy from sixth grade through high school. Kosower formed special friendships with his players.
"We felt so close to him," Portnoy said. "It's a remarkable thing to be able to be an authority figure while at the same time being able to connect with the players and students the way that he did."
Portnoy was a multi-sport athlete. He played basketball, baseball, and soccer. He credits all of his success at PCDS to Kosower.
"He made me the athlete that I was," Portnoy said. "I was inducted in the school's Hall of Fame, and that would not have happened if it wasn't for coach Kos."
One of the things Portnoy loved about playing for Kosower was that Kosower wanted his players to succeed. Portnoy said that Kosower would throw batting practice to his players anytime they asked.
"He would do anything for you," Portnoy said.
This, in turn, motivated Portnoy and his teammates to do the best they could for coach Kos.
"We wanted to work hard for him," Portnoy said. "We all respected him...because of the human being that he is."
Not only did Portnoy recognize what Kosower did for his teams, but also what he did for the athletic program as the athletic director.
"There was a significant change in the way the athletics were supported," Portnoy said.
While Portnoy attended PCDS, Kosower created the first booster club. He also helped in the construction of the school's first gymnasium in 1986. The PCDS community saw Kosower's first step towards hurdling the challenge of balancing academics and athletics.
"I don't think the [athletics] program was respected as much at the beginning [of my tenure]," Kosower said.
He said the ultimate challenge was getting everyone to realize that the athletics were just as important as the academics.
"We were in the growing stages when I first became the athletic director," Kosower said. "I think the faculty are much more cognizant now of the importance of balancing the two."
Kosower still works at PCDS 42 years later. He has been the associate athletic director since he stepped down as athletic director in the spring of 2010 due to medical issues.
"It made me think maybe it's time to take it a little bit easier, but still be at the school," Kosower said. "I enjoyed my work as athletic director, but it's demanding for sure. I love it as associate just as much as I did as the athletic director."
Passing on the torch to someone else wasn't something he planned on doing at the time, but he's glad his heir was someone he trusted, his good friend Shane Lewis.
"It was time for someone younger to take the reins and go with it," Kosower said.
Lewis was surprised Kosower did what he did despite being the athletic director for so long.
"I'm not sure if I can do that once I'm done," Lewis said. "To let go of the control that you've had for almost half of your life, it really takes a special person. Bob is that special person."
Kosower doesn't regret his decision.
"Shane has done a great job...It was a win-win situation," he said. "I wanted to see the program grow. I told Shane when he took the job, 'I'd be disappointed if you don't take the program to a higher level.'"
Lewis did just that. Since he's been hired, PCDS has built many new facilities, including a new pool and gymnasium. He credits everything he's done to Kosower.
"I learned everything from Bob," Lewis said. "I learned all the ins and outs of how to be a good athletic director."
Kosower was impressed that Lewis asked him to stay at the school.
"It means something for the new athletic director wanting the old guy," Kosower said.
Lewis is thankful to still have Kosower at PCDS.
"I'm extremely lucky," Lewis said. "To have your mentor to still be beside you day-in and day-out, it's fantastic. I couldn't ask for a better situation."
There is a special, father-like-son bond between Kosower and Lewis that is undeniable. It's easy to see why when Lewis talked about their friendship.
"It's been strong since day one," Lewis said. "If you ask me the one thing that I've gained from Bob over the years is our friendship and that I love him."
Even during the COVID-19 pandemic, he calls Kosower every Tuesday at 10 a.m. to check up on his long-time friend.
"I miss being around him, and it's only been five weeks," Lewis said.
The feeling is mutual, and Kosower shows it by keeping the scorebook at the boys basketball games.
"I bet he's only missed five games in 12 years of me coaching at PCDS," Lewis said. "It kills him to not be at a game. He just loves it."
Kosower is a big fan of Lewis's coaching style.
"He's an outstanding coach," Kosower said. "I love watching him coach, and I love the way he handles the kids."
He also praises Lewis as the athletic director.
"He doesn't care if he gets the limelight. He wants it for his kids."
This philosophy is something that Kosower employed when he was the athletic director.
He said he cared more about how he impacted the students' lives rather than the self-accolades.
"[Winning awards] wasn't what I was going for at all," Kosower said. "Seeing the satisfaction I was giving to kids and coaches that I was in charge of...that's everything."
While he was behind it all, he didn't want the spotlight to be on him. He wanted the students and coaches to be in the spotlight.
"He's the genuine article," said Portnoy.
Before the end of Kosower's tenure as the athletic director, he wanted to find a unique way to recognize players and coaches for their athletic excellence at Phoenix Country Day. He did just that when he created the PCDS Athletic Hall of Fame in 2008.
"We need to recognize kids not only when they're here but when they're out of high school," Kosower said.
He said getting inducted in the school's Hall of Fame does two things for the student or coach. First, it gives them the recognition they deserve. Second, it gives them the opportunity to come back to PCDS.
"Everyone is so positive on it," Kosower said. "It makes for a nice way to honor them."
Shortly after his long and successful tenure as the athletic director, Kosower was inducted into the PCDS Athletic Hall of Fame in the class of 2010. It was only fitting.
"It's very gratifying to be inducted for all the work I've done," Kosower said.
He said he couldn't have done it without a great supporting cast.
"It's not just me," he said. "It's the administrators, coaches, and everyone else who has supported me."
With induction into the school's Hall of Fame and a fitness center and field named after him, it's clear what Kosower means to PCDS.
"He's the GOAT," Lewis said. "He's done so much for the school."
When asked to use one word to describe Kosower, Lewis said, "Legendary...he's the best athletic director that ever was."
There's a saying that legends never die, and Bob Kosower's legendary career will never die at PCDS.
---