Senior's poignant story begins when school closes, pandemic hits
May 22, 2020 by Jose Garcia, AZPreps365
---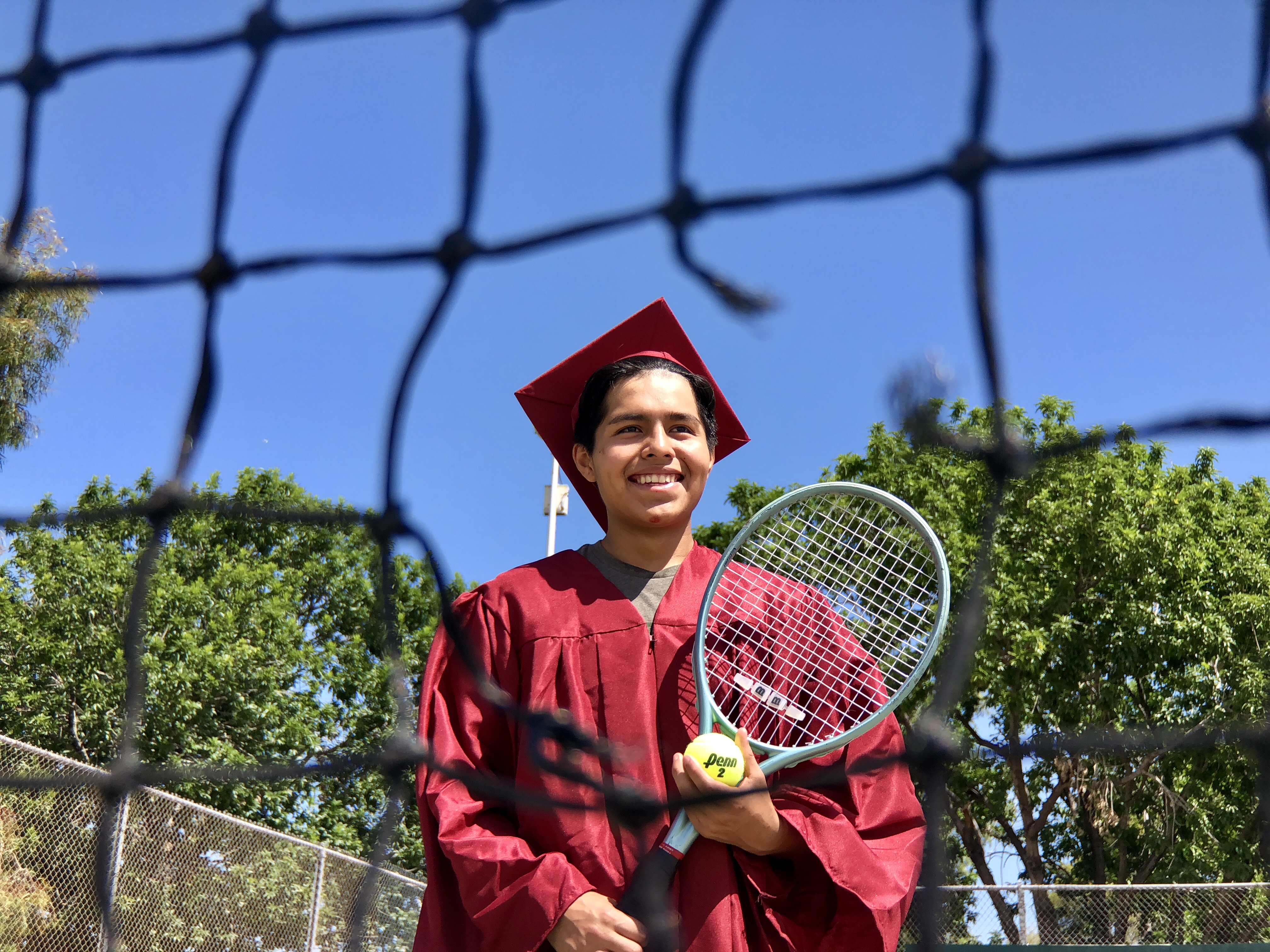 I'm sorting through this organized confusion to get my thoughts together

I gotta make it to the top, it's either now or never

J. Cole
Rogelio Balbuena argued in one of his final assignments as a high school student that rapper J. Cole's music is more influential than what poet Audre Lorde penned.
For non-rap fans, pitting the work of Lorde, a late American civil rights activist known for her social injustice poems, and J. Cole probably seemed ill-matched. But J. Cole's following is big, partly because he expresses his views on moral issues such as racism.
When it comes to making his point, as his tennis opponents can attest, also don't sell the 5-foot-5 Balbuena short. In rap terms, Balbuena slayed his persuasive essay, receiving an A on the last assignment he turned in in person as a high school student.
Then the pandemic struck.
On March 30, all Arizona schools, including Metro Tech, the Phoenix Union District high school Balbuena attends, were ordered to remain close for the rest of the 2019-20 school year. The precautionary measure officially canceled graduation ceremonies, proms and other cherished high school ending rituals for Balbuena and about 86,000 Arizona high school seniors.
It also ended his high school tennis career abruptly, but Balbuena's true concerns lay elsewhere. He was already working part-time to help support his family when Balbuena's dad was laid off during the pandemic.
Amid the shelter at home period, the 18-year-old Balbuena, a food service worker, was deemed essential at home and in public. The global calamity jolted Balbuena and his family, but it hasn't knocked them off their axis.
At the core of Balbuena's family is his dedicated mom, Maria, who way before the pandemic began was working two jobs to help keep her family afloat. Balbuena's dreams are big, and one of them is to get his diabetic mom off her feet.
Despite the pandemic, financial home instability, worrying about his mom and being upset about the special high school moments the Coranavirus robbed him of, Balbuena remains optimistic, one of his strengths, and as driven as ever. Helping him cope with the uncertain times is a supportive group of family and friends.
Balbuena also was blessed with great teachers and coaches, who played huge roles in helping shape quite an extraordinary young man. He doesn't feel whole, though.
The part that's missing is a younger sibling, Melissa, who unexpectedly died at home as an infant. He is still processing the pain and questions about why she died so young.
The suffering and socioeconomic struggles, however, birthed Balbuena's medical career ambitions.
azpreps365.com
followed Balbuena after Metro Tech closed until his graduation day, interviewing him periodically to chronicle his final high school days of a lost season.
Pain is important: how we evade it, how we succumb to it, how we deal with it, how we transcend it.

Audre Lorde
Committing to a task
April 7
Balbuena didn't believe the news at first when he heard it at home.
They'll open the classrooms before he graduates, he thought. That day never came.
When it started to sink in, Metro Tech, a school just across Encanto Golf Course in inner-city Phoenix, wasn't the only location Balbuena started missing.
"The library was closing," Balbuena said. "The amusement parks. Museums.
"I didn't believe that it (pandemic) would be this much of an issue. I didn't expect anything to change. I thought it would pass by. I wanted to accomplish more. I was able to do so much in a little amount of time on the court."
Competing in tennis, an escape from Balbuena's hardships, also was taken away.
Balbuena had only played three matches before he packed his bags for the rest of this spring season.
"It (tennis) cleared my mind," he said. "Every time I step on the court I feel very relaxed and don't think about my problems. I'm in the moment. Every time I'm stressed out I work out. Tennis gets all of the stress out of me. I feel my heart pumping, and I feel normal."
Before enrolling at Metro Tech and a freshman advisor told him to give tennis a try, Balbuena never played organized sports.
So, not surprisingly, he struggled at first but never quit.
What he did do is go to work. Balbuena trained before school and for two hours after practice and learned on YouTube about the Continental, Eastern and Western tennis grips.
When he started working part-time, he'd go to Encanto Park after work and train some more and, before he started driving, rode the city bus back home late at night.
The rackets he played with at first were either given to him by the school or others, including one of his mentors, Michael Varela, Metro Tech's math department instruction leader and Balbuena's honors pre-calculus teacher. Tennis can be an expensive sport to play.
Paying for private lessons was out of the question for Balbuena, but his dedication caught the eye of Greg Gonzalez, a nephew of one of the all-time tennis greats,
Pancho Gonzalez
.
When Greg spotted Balbuena practicing at Encanto Park, he offered to train him in exchange for volunteering at Neighborhood Minisitries. Greg wants to carry on Pancho's legacy through Pancho's foundation, which helped provide tennis equipment to
Neighborhood Ministries
, a non-profit in Phoenix that works with inner city-kids.
Pancho grew up in inner-city Los Angeles. Greg was unavailable for comment for this story.
Along with the tennis lessons, Greg gave Balbuena some tennis strings for the racket he received from Varela.
"The guy who restrung the racket saw it and said, 'Man, that's old,'" said Balbuena about the Pro Kennex Composite Destiny racket. "But just because it's old doesn't mean it doesn't work. It didn't stop me from using it. I made it work."
By the time he was a junior, the determined Balbuena became Metro Tech's No. 1 singles player, captain and first male tennis player for Metro Tech to medal in the Phoenix Union District tournament.
He was down 3-6, 3-5 in the district quarterfinals last year but a pep talk from another mentor, Metro Tech tennis coach Frank Denogean, helped turn the tide. Balbuena rallied to win the final two sets.
Despite the 2019-20 shortened tennis season, Balbuena was named to
sports360az.com's All-Academic First Team
. Of the more than 100 players on the first team, Balbuena was the only player from the heart of Phoenix.
Rogelio Balbuena is the first male player from Metro Tech High School to ever medal in the Phoenix Union High School District Tournament . Photo by Jose Garcia/azpreps365.com.
Denogean has coached different sports but is known for his 450-plus victories and four state championships while directing St. Mary's High School girls basketball program. Balbuena ranks right up there with any of the top athletes he's coached, Denogean said.
"Rogelio is a self made player without a doubt," Denogean said. "He carried us on his back, and he's such a tiny guy.
"Sports reflects what that person is going to be in life, and when you look at Rogelio it holds true. How he competes on the court is how he is going to compete in life. Sports show you what a person can be, and Rogelio is going to be successful because of his work ethic."
Balbuena was just scratching the surface in tennis before the pandemic interrupted his progress.
But his future lies elsewhere.
Anything's possible, you gotta dream like you never seen obstacles."

J. Cole
A provider
April 18
In November, Balbuena started working part-time at an American chain to start gaining some independence and help his family out.
He pitches in for groceries and toiletries, and his 20-year-old brother helps out with the bills. Their jobs offer health insurance, a luxury for the Balbuenas.
"It just seems like we are holding on sometimes," Balbuena said.
His dad is currently looking for a job. U.S. Latinos were hit the hardest by pay cuts or job losses because of COVID-19, according to an
April Pew Research Center survey
.
"Financial burden can affect adolescents both positively and negatively," said Dr. Leah Done, an associate professor of developmental psychology at Arizona State. "In a positive way, we know that things like helping other people as well as increasing feelings of support or increasing feelings of obligation to family actually can have a positive impact on youth as well as their relationship with their family later on. On the flip side, though, when you add some of these extra stressors on top of the typical adolescent developmental stressors, that can be burdensome for some youth who may have already been struggling. So adding on a new family request for help may feel overwhelming."
The chain Balbuena works for offers tuition reimbursement, something he intends to use to pay off some expenses when he goes to college.
The 17-year-old Balbuena (He turned 18 on April 25.) said he isn't worried about interacting with customers during the pandemic.
Balbuena and his co-workers are asked before every shift if they are sick and their temperatures are taken. They try to stay six feet apart and wash their hands and change gloves every 20 minutes, he said.
Most of the food orders Balbuena and co-workers currently take are online. He's allowed to wear a mask at work but opts not to.
"There's too much going on in the world," Balbuena said. "Everything is going to be alright. I like to lighten up the mood and make (customers) forget. We can make people feel at ease and try to comfort them. They always say the best type of medicine is laughter."
But after every work shift Balbuena said he goes home and takes a long shower to wash off any germs he might have brought from work.
We ain't picture perfect but we worth the picture still

It's beauty in the struggle, ugliness in the success

Hear my words or listen to my signal of distress

I grew up in the city and though sometimes we had less

Compared to some of my (friends) down the block man we were blessed

J. Cole
A perfect birthday
April 25
Balbuena knew his mom was coordinating something when she told him he could visit his girlfriend.
Because his girlfriend has asthma, an underlying condition that might make it difficult to fight off the Coronavirus, Balbuena can only see her once every other week. But the rule was broken on this day.
When he returned home with his girlfriend, Balbuena's mom, Maria, was preparing a dinner to celebrate his 18th birthday with somewhat of a surprise party.
"My mom needs to work on her planning," he joked.
The other welcomed surprise was that his mom was home.
It's rare for Maria to have a day off, but she wasn't about to miss her son's big day.
"We are together," said Maria about being around her family. "I work two jobs, but this is more important."
For Balbuena, family time is also dear.
"Everyone pictures a magical and theatrical day when you celebrate your 18th birthday, but I always wanted something very simple," he said. "It's more about the day, like eating breakfast with your family, than the amount of things you receive."
His perfect day was just getting started.
Rogelio Balbuena and his girlfriend celebrated his 18th birthday during the pandemic. Photo courtesy of the Balbuena family.
After some birthday cake, the Balbuena family watched a movie in the living room, where the centerpiece of a wall is a framed photo of his late sister, Melissa.
When the movie ended, Balbuena drove his girlfriend home and then went to a drive in in Glendale with friends. But the conversation among friends became the focus of attention.
With his high school journey near its end, Balbuena reflected on some regrets as the drive in movie played on.
"I would take more risks," Balbuena said. "I played it safe a lot. I would volunteer more often at St. Vincent de Paul every week. I would go out with friends more, but I was thinking about my education instead of going out more and enjoying my senior year. I did some things that are great but could have done more with my friends."
On this night, he did take a risk.
He stayed out past midnight for the first time.
"I trust him," Maria said.
When Balbuena returned home he said goodnight to his parents, turned off the lights and went straight to bed.
He had to wake up early to work an eight hour shift.
Take a chance because you never know how perfect something can turn out

J. Cole
The final walk?
May 6
The gates of the parking lot opened at 10 a.m. for students and family to drive through to pick up caps and gowns.
Balbuena and a friend, Ana Torres, arrived early. It was their first time back at school since it closed.
It might also be their last time on campus as Metro Tech High students. As they waited for the gates to open on a hot day, a sentimental song by Wiz Khalifa, See You Again, played in Torres' car.
"It was very upsetting," Balbuena said.
As the gates opened, Torres drove up and her and Balbuena handed their school IDs to a school staff member who wore a protective face mask.
After receiving their caps and gowns in the car, Balbuena gave the staff member a tennis racket that belonged to the school.
This isn't the high school ending Balbuena and the roughly 3.7 million United States high school seniors deserved.
Besides their graduation ceremony, prom is the other big coming of age gathering seniors lost this year. In February, Balbuena made his promposal to his girlfriend, Karina Rondan, on the fly after hiking Piestewa Peak.
Balbuena didn't think the asthma suffering Rondan could make it to the top but did. This is a good time to pop the promposal, so he thought.
"You could have asked me at the bottom," the exhausted Rondan responded.
Balbuena did say Rondan's assertiveness is one of the things he likes about his girlfriend, who he met in their weight lifting club at school.
Rondan's mom is a seamstress and was planning to design and sew a dress for her daughter. But the pandemic kept her from starting on the dress.
Balbuena was looking forward to attending prom for a couple of profound reasons.
"For some of us, it would be the last time we saw each other," he said. "I also saw it as the ending of one chapter and the beginning of the next phase. The start of our new lives.
"People forget the concept of prom. It's the last dance. They take it for granted. For me, being with a group of friends just dancing would have been perfect."
There is talk that Metro Tech is organizing a virtual graduation ceremony for its seniors.
If it happens, Balbuena doesn't know yet if he'll take part.
He might have to work.
And even then

Your lowest days

When you're no longer Superman

At least you know you got Lois Lane

J. Cole
The crew
May 9
Ana Torres is a realist and the go-to for advice.
Cynthia Lopez is the mom of the group and very mature.
Jhovanna Gonzalez is very smart and to the point.
And there's the comedian, Litzy Aparicio, one of Balbuena's best friends.
Yes, Balbuena's high school inner circle is comprised of girls.
"People always joke about that with him," Aparicio said.
What's not a joke is their bond.
"We are always there for one another whether we are upset or down," Balbuena said. "I think that's what made us stick to each other, especially if somebody wasn't around there was always somebody there for you. It was those type of people you needed during this school year. I'm pretty sure they would tell you the same."
Balbuena is viewed as the big brother in the group, Aparicio said.
"He is always taking care of us and gives us advice," she said. "He's always positive. He never gets mad."
They might not see each other as much as before, but Balbuena and his friends are constantly texting each other and continue looking out for one another.
With some items in short supply during the pandemic, they purchase things for each other when one of them is shopping.
"We are starting to see how some of the stressors of the pandemic are affecting adolescents," Dr. Done said. "The fist one I'm thinking about is about social connection. Prior the pandemic we were seeing that they were spending too much time online and on social media. What we are realizing is that we may want them to be online and socializing with friends often, because they can feel isolated.
"They are used to spending most of their time with their peers and not their families at this point. What has happened with the pandemic is that it has flipped things on its head, and many youths are now spending more time with their families and not getting those sources of support they were used to getting."
There are guys in Balbuena's circle, Fernando Alvarez and Armando Jimenez, who live in the same Phoenix neighborhood as Balbuena but attend Carl Hayden High.
When Alvarez and Jimenez learned that Balbuena's old laptop was malfunctioning, the friends surprised Balbuena with a new serviceable laptop to help him continue excelling in the classrrom. Alvarez and Jimenez also offer a much needed distraction during the quarantine.
The trio communicate more often than not through their head sets while playing Xbox.
"You forget about time while you're playing," Balbuena said. "You forget what's going on around you."
Despite the distance between them right now, Balbuena's bond with his friends is growing stronger.
"If you are able to go through a crisis with them, then you can go through anything with them," Balbuena said.
Never let 'em see you frown
And if you need a friend to pick you up, I'll be around
And we can ride with the windows down, the music loud
I can tell you ain't laughed in a while
But I wanna see that crooked smile

J. Cole
May 12
Maria's Day
On May 10, Maria arrived home tired at about 9 p.m. after a full day of work on Mother's Day.
She works as a cook at two restaurants, but Maria won't complain about her long days.
"It's a privilege that I can still work," she said. "I hear of others who are suffering and not working."
The U.S. economy lost more than 20 million jobs in April.
Like her son, Maria immediately takes a shower after a work shift. Once she settled in on Saturday night, she watched a movie with her family.
Maria loves her garden in her front yard. It's her escape, and she'll take multiple trips to a nearby Lowe's garden center to make sure her garden is properly tended.
Maria Balbuena stands in her front yard, her escape from a busy life. Photo courtesy of Balbuena family.
For Mother's Day, Balbuena bought his mom a gift card from Lowe's with enough money so that she doesn't have to leave the house much in the coming days.
"There are times when I'm genuinly worried about her," Balbuena said. "It's a lot of stress to put on a person to work that much and have diabetes. Sometimes she's doing OK but other days she wants to pass out and rest. But the next day she comes out ready to go to work."
The sacrifices Maria makes are for her family.
"Of course I get tired, but I do it all for my family," she said. "For me, I see something beautiful when I'm helping my family and sometimes my friends. They are my reflection. If they feel bad, I feel bad. If they feel good, I feel good."
Mama working 12 hour days on her feet

Coming home cooking dinner, made her son wanna weep

J. Cole
'The baby, the baby'
April 7
(The following information was gathered during the first interview with Balbuena.)
Balbuena is the first person Melissa used to see often in the mornings.
He'd go into her room, and she'd stand up in her crib, ready for some playtime.
During the last morning Balbuena saw Melissa, his sister didn't react. Balbuena noticed she was pale and not breathing.
He immediately ran to his mom's side to tell her something was wrong with Meli, as the family affectionately called her. Anguished at the state she found her infant daughter in, Maria called 911.
When the paramedics and some firefighters rushed in to attempt to revive Melissa, the then 5-year-old Balbuena stood by viewing the traumatic event near the partially opened bedroom door. Balbuena was within earshot when the paramedics told his parents their 8-month-old daughter died.
"To this day I think about if there is anything I could have done to help her when the ambulance was on its way," Balbuena said.
To this day he also doesn't want to know the cause of Melissa's death.
"I think it would be too painful to find out," he said.
(Balbuena was informed before this story was posted that the cause of death would be in this section in case he wanted to skip it.)
Maria said she was told that her daughter had an unknown heart issue.
"After she died I left things as they were as if she was still here," Maria said. "I can't see or touch her, but I can still see her (in photos). But I am at peace with what happened."
Balbuena is searching for that peace.
He retreated emotionally after Melissa died, Maria said. As he grew older, he then started questioning why God took Melissa at such a young age.
"Since my sister was so young and wasn't able to have a life, I was always mad about that," Balbuena said. "Why did He have to take her so soon? And, so for me, I have a conflict with God."
Michael Varela, one of Balbuena's mentors and precalculus teacher, told Balbuena that he might not get all of the answers right now but will get them eventually.
It took Balbuena's parents time to cope with the loss themselves. After Melissa died, Balbuena's father, Rogerlio, didn't want to fall asleep and turn off the lights in the house until Maria arrived home.
Rogerlio felt like he was asphyxiating, said Maria, who sought psychiatric help along with her husband. Balbuena has another younger sister, Veronica, who has medical issues of her own.
Whenever he and his older brother Jose took care of Veronica, and she started crying in pain, Balbuena quickly sent his mom a text message.
"La bebe'. La bebe'," the message read.
The baby. The baby.
Balbuena vowed after Melissa died that nobody would suffer on his watch.
He found his purpose, and it's being forged by pain and determination.
"Just a few days after (Melissa died)," Balbuena said, "I knew what I wanted to become."
Melissa Balbuena. Photo courtesy of the Balbuena family.
Should this be my last breath, I'm blessed cause it was purposeful
Never got to church to worship Lord but please be merciful
You made me versatile, well-rounded like cursive
Now you chose me for a purpose, I put my soul in these verses
J. Cole
April 7
The ticket
Balbuena received a life-changing call in November.
He was told to head to Grand Canyon University, one of the universities he applied to, for a presentation. When he arrived at GCU's Student Union dining hall, he and 15 other high school students were each given gift-wrapped boxes.
They were told to open the boxes by a group of GCU students. One gasp after another filled the dining hall after the high school students, including Balbuena, learned what they each earned:
A full-ride academic scholarship.
"I was very shocked that I got it," Balbuena said. "I teared up, because it's something that most kids aim for."
Balbuena went to the important event by himself but was told he could invite his parents.
After Balbuena's dad hurried to GCU and was told of the great news, they shared a rare warm-hearted moment. Rogerlio doesn't often express his emotions, Balbuena said.
"I remember once (Rogerlio) told me a few words that day it made the whole experience way better," Balbuena said. "He told me that he would always see me working on my school work. That all of my hard work paid off. He told me in Spanish that he was proud of his little semillita (little seed), and it got to me. That just made my day."
Balbuena's parents' sacrifices also paid off.
Maria was at work when Balbuena reached her to tell her about the scholarship.
"I felt so happy that I even told one of my co-workers that it felt like I won the lottery," Maria said. "That's a big win for him. He's been so dedicated. Thank God."
Aparicio also deserves some credit for her friend's good fortune.
She's the one that informed Balbuena about GCU's Students Inspiring Students program, which offers full-tuition scholarships to inner-city students with 3.5 GPA's or above. Balbuena's weighted and unweighted GPA's are 3.74 and 4.37, respectively.
Balbuena also earned the Lumberjack Scholars Award, a merit-based full-tuition scholarship, from Northern Arizona University and received acceptance letters from the University of Texas, University of Arizona and Arizona State so far.
"Selfless service," said Varela, who is also a U.S. Army instructor, Sgt. First Class and 18-year reservist. "When you see someone who shares that value while in a leadership position it stands out, in a soldier or any human being. It is one of the values we have in the military and I see it in (Balbuena) when he gives of himself. He lives this value. When in class, he is usually not sitting at his desk. He is up moving around. He is usually seeking knowledge or helping other people in a collaborative effort. He might be struggling, but he will always help others first."
Balbuena is leaning toward attending GCU to stay close to home and his parents.
Aparicio also applied for GCU's SIS program scholarship but didn't receive it in the first round.
"When he got it I was happy for him," Aparicio said. "But I didn't get it. But I was still happy for him. He deserved it. He's so smart."
Aparicio is also overachieving and eventually received a GCU SIS scholarship.
Like Balbuena, Aparicio wants to study medicine. When he was 12, Balbuena began to understand that his immigrant parents were doing everything possible to give their children a better life.
At that point he made a promise to himself to make something of himself to repay his parents.
"I devoted myself to my academics because of my parents," he said. "They would work two full-time jobs at times. It's stressful. They are not always there for me, but I also understand why."
But helping guide Balbuena through the ups and downs have been some amazing teachers as well.
Tiffany Huisman, Balbuena's ninth grade English teacher, is one of them.
"She inspired me to start getting the best grades I could," Balbuena said.
As soon as Huisman received an email to schedule an interview for this story, she immediately replied and said, "I miss that kid."
"I remember (Balbuena's) smile," Huisman said. "He had such a big smile and great attitude with everything he does. And he makes you smile because he exudes this energy, this happiness and this joy. I also remember that he was never afraid to ask for help. He was one of those rare students who knew he could improve with just a little bit of guidance. And he didn't hesitate to ask for that guidance. So I really appreciate that humility he put forth, which allowed him to grow not just as a student but as a person."
In spirit, another person is also inspiring Balbuena — Melissa.
His goal is to become a doctor.
"I can make a big difference because of my sister," he said. "I am emotionally attached. I feel if I understand things more medically, hopefully I can prevent something from happening."
Thank you mama dry your eyes, there aint no reasons to cry

You made a gengenius and I aint gon' take it for granted

I aint gon' settle for lesser, I ain't gon' take what they handed

Nah I'm gon' take what they owe me and show you that I can fly

J. Cole
Victory lap
May 21
Balbuena called in to work.
Find somebody to take his shift.
He's got a graduation ceremony to attend after all.
Metro Tech ditched the online graduation plan and went with a drive through on–campus celebration. And what it party it was.
A couple of families brought bands, who they packed in the back of their trucks. Smiles and cheers were everywhere.
When the joyful Balbuena appeared in a red truck, he was joined by his dad, brother and sister. Maria was supporting them from work, likely feeling as proud as ever.
One of the teachers handing out the diplomas was actually Varela, who was one of the first ones to congratulate Balbuena.
Rogelio Balbuena ran into one of his high school teachers and mentors, Michael Varela, on graduation day. Varela took his mask off just for the photo. Photo by Jose Garcia/azpreps365.com.
"You have a great son," Varela told Balbuena's dad.
After receiving his diploma, it was time for more pictures.
Rogelio Balbuena flashed his famous smile after receiving his high school diploma. His dad, Rogerlio, also had plenty of reasons to smile. Photo by Jose Garcia/azpreps365.com.
Then the parade down memory lane started. Metro Tech administrators allowed the parents and students to drive through campus.
In the distance were the three tennis courts, where Balbuena spent countless hours training and escaping life's complexities. His tennis coach, Frank Denogean, stationed near the school's weight room, congratulated him and gave Balbuena a thumbs up.
Balbuena then drove by the classroom of his favorite English teacher, Tiffany Huisman.
"Keep doing what you are doing and hopefully I'll see you at your next graduation," Huisman told him.
At the end of the nostalgic joy ride was a tent, where somebody announced the names of each graduate who drove by some of Metro Tech's staff. Almost every staff member wore a face mask, but the masks couldn't totally cover the ear-to-ear smiles.
Balbuena crossed the finish line with a celebrated body of high school work.
"I did the best I could," Balbuena said. "I know I could have done some things different but, looking back, I don't regret how things worked out. I leave with a good impression, and that is the only thing I could have hoped for. I didn't want to be seen as somebody who was playing around and not being serious. I have a future."
Balbuena enjoyed the trip around Metro Tech so much that he did it again, this time with one of his good friends, Torres. Aparicio, Lopez and Gonzalez were close behind in their cars, constantly texting each other of course. After his second trip down memory lane and exiting the campus, Balbuena celebrated some more with friends off campus.
He had to clock back in at work the following the day, so he went home at about 10:30 p.m.
When he arrived, Maria greeted her son with a big congratulatory hug, with Melissa's portrait nearby.
But we got dreams and we got the right to chase'em

J. Cole
---