Some freedom game football opponents revealed for 2020
May 21, 2020 by Les Willsey, AZPreps365
---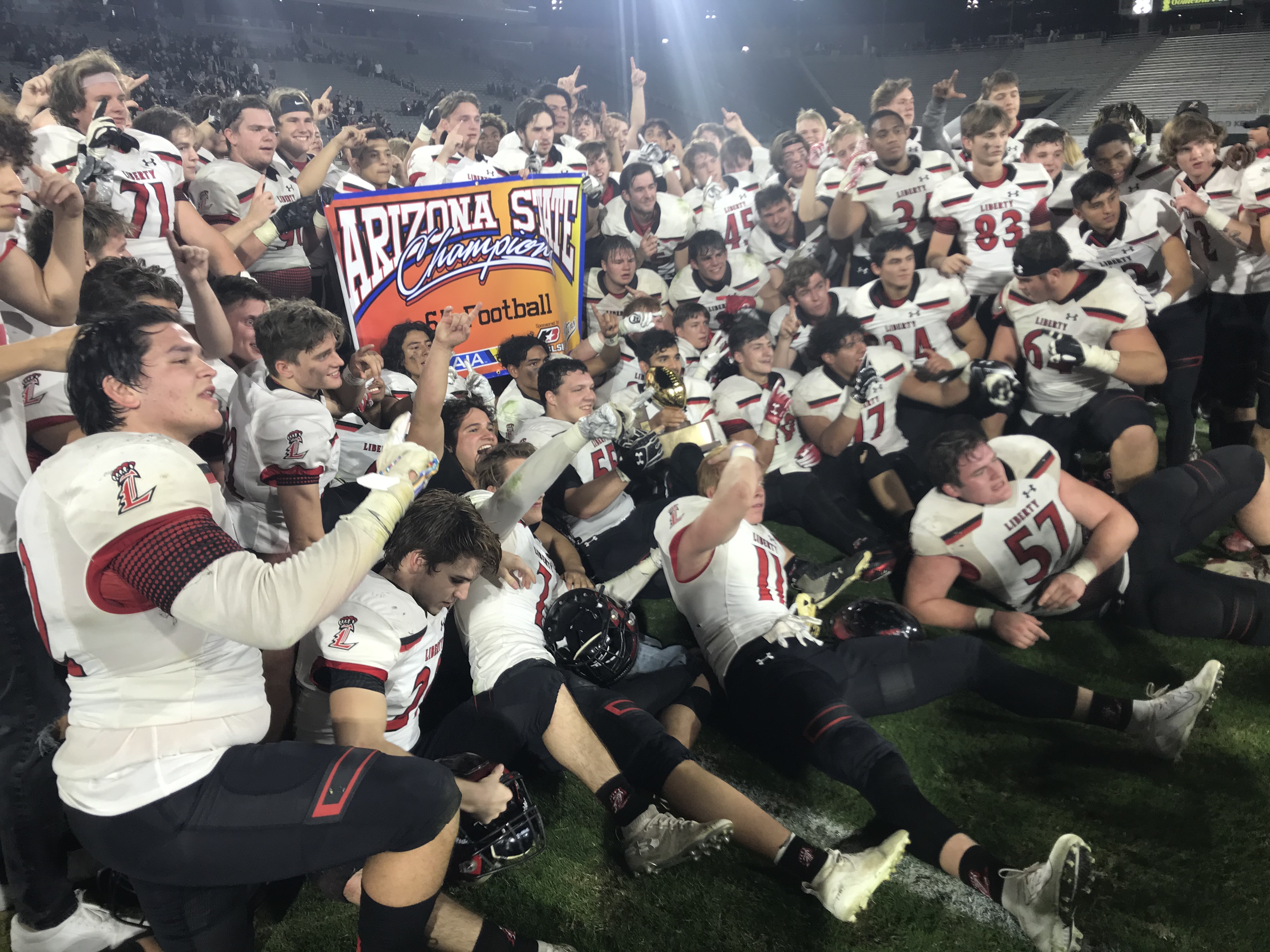 Barring any more COVID-19 cancellations for out of state games, here are freedom games for 2019 Open Division Qualifiers, 6A, 5A, 4A state champions and a few selected schools for the upcoming 2020 season. Fourteen schools among 21 in 6A-4A who originally scheduled an out of state opponent still have an out of state game in 2020 at this writing - Saguaro, Chandler, Hamilton, Higley, Casteel, Basha, Pinnacle, Mountain Pointe, Notre Dame Prep, Horizon, Willow Canyon, Valley Vista, Desert Vista and Seton Catholic. Only changes that may occur are out of state cancellations that come late this month or next.
ODQ: Chandler - Centennial, JSerra CA, Queen Creek, Liberty, Notre Dame Prep, Desert Vista.
ODQ: Saguaro - McClintock, American Leadership QC, JSerra CA, Chaparral, Sierra Canyon CA.
ODQ: Hamilton - Desert Ridge, Cesar Chavez, Centennial NV, Chaparral, Helix CA, Centennial.
ODQ: Centennial - Chandler, Millennium, Mountain Ridge, Mountain Pointe, Williams Field, Hamilton.
ODQ: Salpointe Catholic - Canyon del Oro, Cienega, Ironwood Ridge, Tucson, Pinnacle.
ODQ: Horizon - Pinnacle, Canyon Springs NV, Desert Edge, Millennium, Apollo.
ODQ Chaparral: Queen Creek, Desert Mountain, Saguaro, SDO, Hamilton and Casteel.
ODQ: Pinnacle - Horizon, Cesar Chavez, Highland, Desert Pines NV, Salpointe Catholic, Perry.
6A champ: Liberty - Mountain Ridge, Boulder Creek, Sunrise Mountain, Chandler, Red Mountain, Queen Creek.
5A champ: Williams Field - Higley, La Joya, Campo Verde, Centennial, Corona del Sol, Brophy Prep.
4A champ: Mesquite - Cactus, Gilbert, Tempe, Apache Junction, Sunrise Mountain, Yuma Catholic.
Others who often contend:
6A Red Mountain - Dobson, Westwood, Mesa, Liberty, Mountain View, Skyline.
5A Notre Dame - Verrado, Fenwick Ireland, Brophy Prep, Chandler, South Mountain.
6A Higley - Williams Field, Skyline, Desert Vista, Burbank CA. Casteel, Desert Ridge.
6A Perry - Casteel, Mountain Pointe, Desert Vista, Queen Creek, Pinnacle, Basha
6A Highland - Boulder Creek, Lone Peak UT, Pinnacle, Desert Ridge, Desert Vista, Sandra Day O'Connor.
5A Campo Verde - Desert Edge, Cactus Shadows, Ironwood Ridge, Williams Field, Cienega.
6A Casteel - Perry, Vista Murrieta CA, Tolleson, Boulder Creek, Higley, Chaparral.
6A Desert Vista - Perry, Higley, Corona del Sol, Highland, Granite Hills CA, Chandler.
Region opponents for the aforementioned schools can be figured in by viewing the 6A-4A conference and region alignments for the next two-year block below. Example - Chandler's four additional opponents are region foes Hamilton, Highland, Higley and Perry.
2020-2022 FOOTBALL ALIGNMENTS
6A: Region 1- Brophy, Centennial, Chaparral, Liberty, Pinnacle Region 2 - Chandler, Hamilton, Highland, Higley, Perry. Region 3 - Casteel, Desert Ridge, Queen Creek, Red Mountain, Williams Field. Region 4 - Corona del Sol, Dobson, Mesa, Skyline, Tucson, Westwood. Region 5 - Basha, Cesar Chavez, Desert Vista, Mountain Pointe, Mesa Mountain View. Region 6 - Cibola, Copper Canyon, North, Tolleson, Trevor Browne, Westview. Region 7 - Boulder Creek, La Joya Community, Mountain Ridge, Sandra Day O'Connor, Shadow Ridge, Valley Vista.
5A: East Region - Campo Verde, Gilbert, Horizon, Maricopa, Notre Dame Prep, Saguaro. West I Region - Betty Fairfax, Desert Edge, Ironwood, Millennium, Sunrise Mountain, Verrado. West II Region - Agua Fria, Canyon View, Independence, Kofa, Raymond Kellis, West Point, Willow Canyon. North Region - Goldwater, Cactus Shadows, Desert Mountain, McClintock, Paradise Valley, South Mountain, Sunnyslope. Central Region - Alhambra, Apollo, Camelback, Central, Maryvale, North Canyon. Sonoran I Region - Buena, Cholla, Desert View, Flowing Wells, Marana Mountain View, Salpointe Catholic. Sonoran II Region - Cienega, Ironwood Ridge, Marana, Nogales, Rincon/University, Sunnyside.
4A: Desert Sky Region - ALA-Queen Creek, Benjamin Franklin, Marcos de Niza, Mesquite, Seton Catholic. West Valley Region - Cactus, Gila Ridge, Greenway, Northwest Christian, Peoria. Kino Region - Canyon del Oro, Casa Grande, Micah Mountain, Pueblo, Sahuaro, Walden Grove. Black Canyon Region - Apache Junction, Arcadia, Combs, Poston Butte, Tempe. Skyline Region - Glendale, Moon Valley, Shadow Mountain, St. Mary's, Thunderbird. Gila Region - Amphitheater, Catalina Foothills, Douglas, Empire, Palo Verde, Rio Rico. Grand Canyon Region - Bradshaw Mountain, Coconno, Flagstaff, Lee Williams, Mingus, Mohave Prescott. Southwest Region - Buckeye, Deer Valley, Estrella Foothills, Lake Havasu, Youngker. Copper Sky Region - Carl Hayden, Sierra Linda, Vista Grande, Washington, Yuma.
---