Non-region football games for all 6A-5A schools
May 23, 2020 by Les Willsey, AZPreps365
---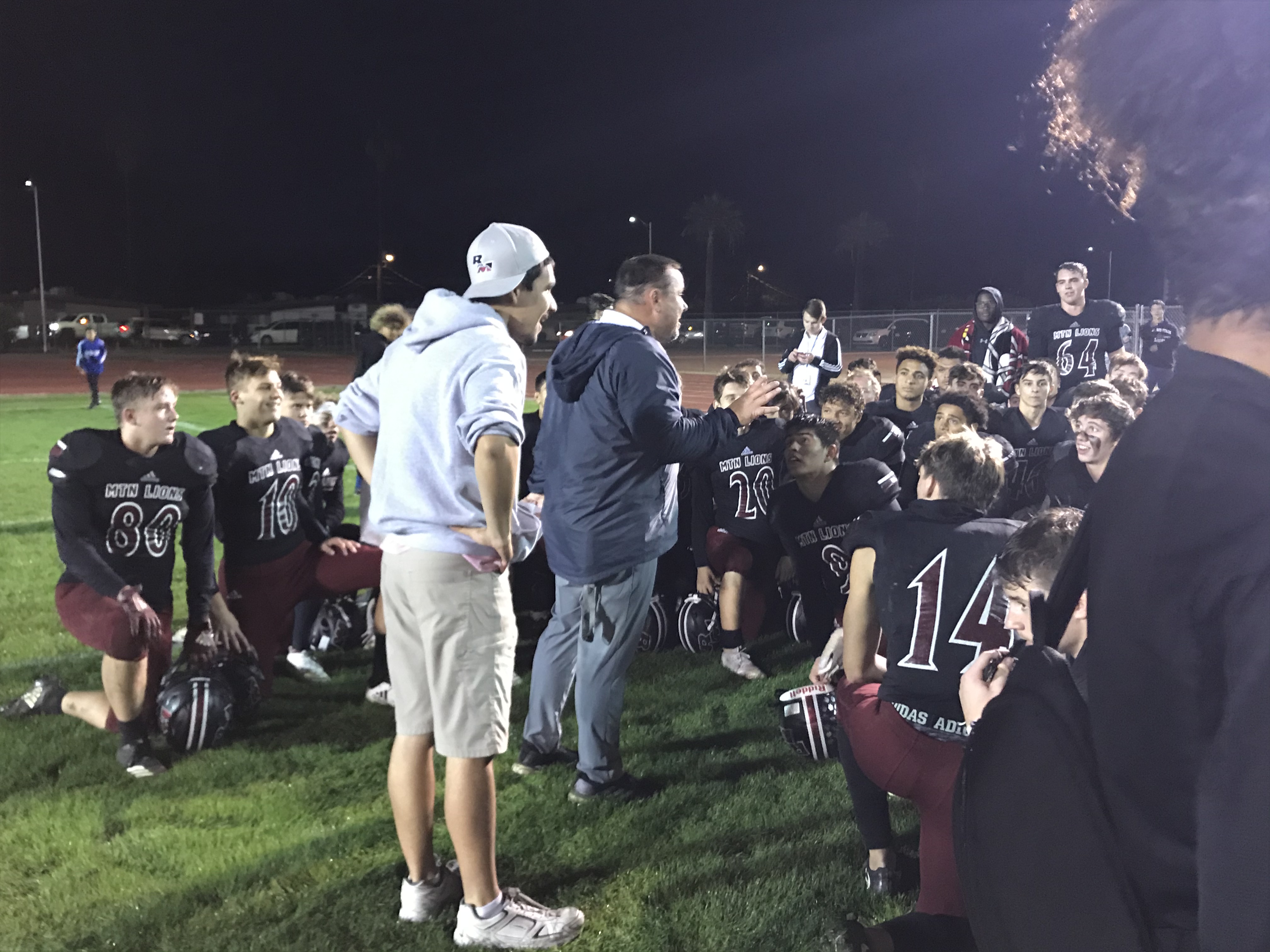 With late changes possible for out-of-state contests canceled, here are non-region (freedom) football games for every 6A-5A high school for 2020 season:
6A
Region 1 - Brophy Prep - Sunnyslope, Mountain Pointe, Corona del Sol, Notre Dame Prep, Boulder Creek, Williams Field. Centennial - Chandler, Millennium, Mountain Ridge, Mountain Pointe, Williams Field, Hamilton; Chaparral - Queen Creek, Desert Mountain, Saguaro, SDO, Hamilton and Casteel; Liberty - Mountain Ridge, Boulder Creek, Sunrise Mountain, Chandler, Red Mountain, Queen Creek; Pinnacle - Horizon, Cesar Chavez, Highland, Desert Pines NV, Salpointe Catholic, Perry.
Region 2 - Chandler - Centennial, JSerra CA, Queen Creek, Liberty, Notre Dame Prep, Desert Vista; Hamilton - Hamilton - Desert Ridge, Cesar Chavez, Chaparral, Centennial (Centennial NV and Helix CA games cancelled, seeking replacements). Highland - Boulder Creek, Lone Peak UT, Pinnacle, Desert Ridge, Desert Vista, Sandra Day O'Connor; Higley - Williams Field, Skyline, Desert Vista, Burbank CA. Casteel, Desert Ridge; Perry - Casteel, Mountain Pointe, Desert Vista, Queen Creek, Pinnacle, Basha.
Region 3 - Casteel - Perry, Vista Murrieta CA, Tolleson, Boulder Creek, Higley, Chaparral; Desert Ridge - Hamilton, Ironwood Ridge, Dobson, Highland, Cesar Chavez, Higley. Queen Creek - Chaparral, Maricopa, Chandler, Perry, Liberty, Mtn. Pointe. Red Mountain - Dobson, Westwood, Mesa, Liberty, Mountain View, Skyline; Williams Field - Higley, La Joya, Campo Verde, Centennial, Corona del Sol, Brophy Prep.
Region 4 - Corona del Sol - Mountain Pointe, McClintock, Brophy, Desert Vista, Basha. Dobson - Red Mountain, Alhambra, Desert Ridge, North Canyon, Mountain View. Mesa - Cactus Shadows, Red Mountain, Sandra Day O''Connor, Mountain View, Gilbert. Skyline - Basha, Higley, Mountain View, Tolleson, Red Mounain. Tucson - Maricopa, Rincon, Marana, South Mountain, Salpointe. Westwood - Mountain View, Paradise Valley, Shadow Ridge, Red Mountain, Copper Canyon.
Region 5 - Basha - Skyline, Faith Lutheran NV, Franklin TX; Shadow Ridge, Corona del Sol, Perry. Cesar Chavez - La Joya, Pinnacle, Hamilton, Valley Vista, Desert Ridge, Maricopa. Desert Vista - Perry, Higley, Corona del Sol, Highland, Granite Hills CA, Chandler. Mountain Pointe - Corona del Sol, Brophy, Perry, Arbor View NV, Centennial, Queen Creek. Mesa Mountain View - Westwood, Valley Vista, Skylin, Mesa, Dobson, Red Mountain.
Region 6 - Cibola - Imperial CA, Yuma, Trevor Browne, Brawley CA, Kofa, Gila Ridge. Copper Canyon - Alhambra, Raymond Kellis, Camelback, Maryvale, Westwood. North - Central, Carl Hayden, Alhambra, Mountain Ridge, Shadow Mountain. Tolleson - Agua Fria, Sandra Day O'Connor, Casteel, Skyline, La Joya. Trevor Browne - Camelback, Maryvale, Verrado, Central, Apache Junction. Westview - Shadow Ridge, Desert Edge, La Joya, Mountain Ridge, Valley Vista.
Region 7 - Boulder Creek - Highland, Liberty, Millennium, Casteel, Brophy. La Joya - Cesar Chavez, Williams Field, Westview, Agua Fria, Tolleson. Mountain Ridge - Liberty, Betty Fairfax, Centennial, North, Westview. Sandra Day O'Connor - Millennium, Tolleson, Mesa, Chaparral, Highland. Shadow Ridge - Westwood, Canyon View, Westwood, Basha, Buena. Valley Vista - Shadow Ridge NV, Mountain View, Willow Canyon, Cesar Chavez, Westview.
5A
East Region - Campo Verde - Desert Edge, Cactus Shadows, Ironwood Ridge, Williams Field, Cienega. Gilbert - Desert Mountain, Mesquite, Betty Fairfax, Nogales, Mesa. Horizon - Pinnacle, Canyon Springs NV, Desert Edge, Millennium, Apollo. Maricopa - Tucson, Queen Creek, Casa Grande, Camelback, Cesar Chavez. Notre Dame Prep - Verrado, Fenwick Ireland, Brophy, Chandler, South Mountain. Saguaro - McClintock, American Leadership QC, JSerra CA, Chaparral, Sierra Canyon CA.
West Region I - Betty Fairfax - South, Mountain Ridge, Gilbert, Cactus Shadows, Estrella Foothills. Desert Edge - Campo Verde, Westview, Horizon, Canyon View, Cactus. Ironwood - Ironwood Ridge, Sunnyslope, Peoria, Paradise Valley, Seton. Millennium - Sandra Day O'Connor, Centennial, Boulder Creek, Marana Mountain View, Horizon. Sunrise Mountain - Cienega, Marana Mountain View, Liberty, Cactus, Mesquite. Verrado - Notre Dame, Desert Veiw, Central, Trevor Browne, Agua Fria.
West Region II - Agua Fria - Tolleson, Goldwater, La Joya, Kofa. Canyon View - Lake Havasu, Shadow Ridge, Vista Grande, Desert Edge. Independence -Apollo, Moon Valley, Washington, Glendale. Kofa - Gila Ridge, Central CA, Cibola, Yuma. Raymond Kellis - Sierra Linda, Copper Canyon, St. Mary's, Estrella Foothills. West Point - Buckeye, Central, Sierra Linda, Combs. Willow Canyon - Rio Rancho NM, Flowing Wells, Valley Vista, North Canyon.
North Region - Barry Goldwater - Buena, Agua Fria, Deer Valley, Apollo. Cactus Shadows - Mesa, Campo Verde, Coconino, Betty Fairfax. Desert Mountain - Glbert, Chaparral, Arcadia, Peoria. McClintock - Saguaro, Corona del Sol, Marcos de Niza, Tempe. Paradise Valley - North Canyon, Westwood, Sunnyside, Ironwood. South Mountain - Betty Fairfax, Sunnyside, Tucson, Notre Dame. Sunnyslope - Brophy, Ironwood, Greenway, Apollo.
Central Region - Alhambra -Copper Canyon, Dobson, North, Mingus, Carl Hayden. Apollo - Independence, Glendale, Goldwater, Horizon. Sunnyslope, Camelback - Trevor Browne, Prescott, Copper Canyon, Carl Hayden Maricopa. Central - North, West Point, Verrado, Sierra Linda, Trevor Browne. Maryvale - Carl Hayden, Trevor Browne, Rincon, Copper Canyon, Sierra Linda. North Canyon - Paradise Valley, Shadow Mountain, Lee Williams, Dobson, Willow Canyon.
Sonoran Region I - Buena - Goldwater, Cienega, Sunnyside, Shadow Ridge, Casa Grande. Cholla - Rincon, Vista Grande, Nogales, Empire, Sunnyside. Desert View - Sunnyside, Verrado, Sahuaro, Marana, Nogales. Flowing Wells - Amphi, Willow Canyon Marana, Nogales, Rincon. Marana Mountain View - Marana, Sunrise Mountain, Sahuaro, Millennium, Cienega. Salpointe Catholic - Canyon del Oro, Cienega, Ironwood Ridge, Tucson, Pinnacle.
Sonoran Region II - Cienega - Sunrise Mountain, Buena, Campo Verde, Marana Mountain View. Salpointe. Ironwood Ridge - Ironwood, Desert Ridge, Campo Verde, Salpointe, Canyon del Oro. Marana - Marana Mountain View, Tempe, Tucson, Flowing Wells, Desert View. Nogales - Rio Rico, Cholla, Gilbert, Flowing Wells, Desert View. Rincon - Cholla, Tucson, Maryvale, Palo Verde, Flowing Wells. Sunnyside - Desert View, South Mountain, Paradise Valley, Buena, Cholla.
.
---