Future Sun Devil golfer Pikulthong is tearing up high school greens
June 16, 2020 by Jordan Spurgeon, Arizona State University
---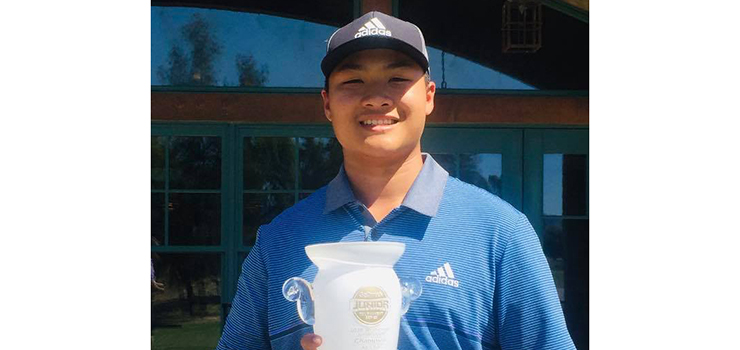 At the age of 3, Anawin Pikulthong was mesmerized by his dad launching golf balls into the dark, silky sky at a local driving range. The flight of the ball, which appeared to be rocketing toward the moon, fascinated him.
Flash forward to today, and the 15-year-old Pikulthong has accomplished countless feats in his budding golf career. He's won numerous junior tournaments and was a pivotal player for the Hamilton High School Huskies AIA State DIv. I Championship team in 2019 as a freshman. He is also verbally committed to play golf at Arizona State University.
"His work ethic places him in the top one percent of junior golfers that I've come across," said Hamilton boys golf coach Steve Kanner.
Not only was his performance on the golf course strong for the Huskies, but he was a respected teammate who appeared to fit in with the team almost immediately, according to Kanner, who saw something special in Pikulthong from day one.
After a successful freshman year, he now finds himself marked on the larger golf map. According to Junior Golf Scoreboard, he is ranked as the No. 10 overall player in Arizona. For the class of 2023, he is ranked No. 1 in Arizona and No. 5 in the world.
Pikulthong doesn't focus much on his rankings, because he understands that playing for his own success only hurts his performance. His goal every time he is on a course is to play to the best of his abilities, have fun and worry about the results later.
While Pikulthong still has three years remaining in high school, he's excited to play golf at ASU. He said that he has always wanted to be a Sun Devil. The conversations he had with ASU golf head coach Matt Thurmond during the recruiting process were just the icing on the cake for Pikulthong.
Scott McNevin, Junior Golf Association of Arizona Executive Director, has been involved with Arizona golf for over 20 years. Over the past few years, he has gotten to know Pikulthong both on and off the course, describing him as a confident and kind kid who is respected by all of his fellow golfers.
In 2019, McNevin helped select Pikulthong as one of the golfers to represent Arizona in the Junior America's Cup, which is a team event played between multiple states. Arizona finished in eighth place and Pikulthong, the only freshman on the team, shot a combined 222 during the four-day event.
"I think the sky's the limit for him. He's really young but already such a good player," McNevin said.
Per McNevin, Pikulthong, who stands at 6-foot-1, has a large, athletic frame for his age, and he utilizes that frame in his driving game, which separates him from other high school golfers.
While golf is often viewed from outsiders as an individual sport, Pikulthong enjoys the team aspects of high school golf because being part of a team helps him strive to be better everyday.
"Playing in a team environment in high school resembles college golf a lot so that's going to get me ready for college golf at home," he said. "I love competing with my teammates and friends."
One teammate who held a lasting impact on Pikulthong during his freshman year was senior captain Ethan Adam. He said he always looked up to the way Adam led and hopes to become a leader like him in the future.
Likewise, Pikulthong stood out to Adam from day one as a remarkable teammate and a tremendous golfer.
"He was always the one, whenever we were down, that would always have a good time and make sure we're not feeling down," Adam said. "I was very proud of the way he acted and played as a freshman."
Quarantine during the COVID-19 pandemic was disappointing for Pikulthong because he couldn't be around his teammates and friends, but he was able to hit the greens almost daily because golf was deemed an essential business in Arizona.
This allowed him to stay ready for competition.. From May 23-24, Pikulthong competed in the Golfweek West Coast Junior Open at the Ak-Chin Resort Southern Dunes Golf Club in Maricopa, Ariz. He won the event by seven shots, posting a 69 on day one and a career best 64 on day two.
At the Antigua Milt Coggins AZ Junior Stroke Play from June 3-5, he finished as a co-champion. He shot a combined 14-under-par.
Pikulthong has a myriad of goals for his golf career. He wants to improve his individual performance at high school events, win an individual state championship and lead the Huskies to more state championships.
Long-term, he wants to win a NCAA Div. I Golf National Championship at ASU, a dream of his since his early childhood. He also hopes to make it to the PGA Tour and win each major event at least once.
His favorite golfers on the PGA Tour are John Rahm, Phil Mickelson, Paul Casey, Chez Reavie and Tiger Woods. All of those golfers, besides Woods, are former Sun Devils.
Off the course, he occasionally plays basketball or soccer with his friends, but golf is always his main focus. He enjoys spending time with family, which includes spending hours on the golf course with his dad every week.
"I just love golf so much," he said, "There's nothing I'd rather do than play golf."
---