Arizona high school football diversity: How it's been addressed
July 6, 2020 by Jordan Spurgeon, Arizona State University
---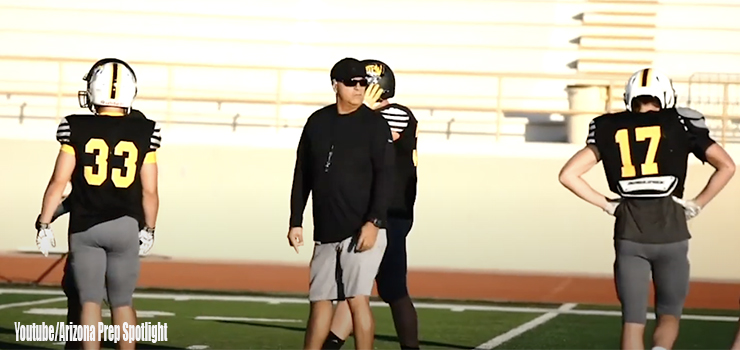 The lack of diversity among football coaching personnel is an issue being addressed at all levels of competition, including high schools in Arizona.
The NFL only has four minority head coaches among 32 teams, and 14 of 61 offensive and defensive coordinators heading into the 2020 season.
At the NCAA Division I FBS level, only 20 of the 130 head coaches in the 2019-20 season were minorities, according to the NCAA Demographics Database.
The numbers among Arizona high schools are believed to compare to the upper levels, but there is work being done to improve that.
Saguaro High School defensive coordinator Jim Camarillo said the deficiency of minority coaches in the upper levels of football begins in high school with the hiring and networking process.
He created the Minority Football Coaches Network in January 2019 to combat the issue in Arizona, after hearing many coaches call for a coaches association in Arizona.
"Over the years, I've had countless conversations with other coaches in Arizona about having a coaches association or organization in order for coaches to network with each other," Camarillo said. "I wanted to create opportunities for relationships to be formed so that coaches of all backgrounds could create opportunities for themselves."
Camarillo said Arizona teams have increased the number of minority coaches because they now have an organized opportunity to meet and network with each other outside of on-field competition, no matter where they are from or their racial backgrounds.
Diversity among coaches is most prevalent in areas that have a wide range of student-athletes from different racial, cultural and financial backgrounds.
Cactus High School football head coach Joseph Ortiz sees the value in having a diverse coaching staff that can relate more to his players.
"There's a code for each kid to relate to," Ortiz said. "There's a level where they can feel comfortable to open up a little bit."
Ortiz decides who to hire on his staff, and he said that he always looks for coaches who are good people and great leaders of men. He doesn't take race into account, but following this philosophy creates a diverse staff of different races and football ideologies.
Cesar Chavez High School football head coach Manuel Alcantar has coached at numerous schools where diversity wasn't prevalent.
"There were some teams I walked into where I was the only Hispanic coach," Alcantar said. "The number of minority coaches in high school sports is still so low and it's a bummer ... I'm glad my team is diverse and I hope others continue to work towards improvement."
Alcantar said that if programs really want to address diversity, they need to make sure they find coaches who want to be there for the athletes, not for themselves or the money.
If other high schools want to be more inclusive during their hiring process, Camarillo said they should find ways to get to know coaches from all over the state or even the country. This is so they have a network they can turn to when they have an opening.
"Conversations and dialogues are important for more coaching opportunities in football," Camarillo said. "When a coach needs an assistant coach, they typically look to the people they know first."
Camarillo said the MFCN has held 53 coaches clinics via Zoom in 2020, and at least 2,000 coaches from the high school and collegiate ranks logged in to attend.
Check out 50 clinic sessions and our Video Library for FREE. We are still raising for @FeedingAmerica You are WELCOME to the free content. THANK YOU for the donation if you can help. PLEASE help.

DONATE ⬇️⬇️https://t.co/X4fPzH73ga

YOUTUBE LINK ⬇️⬇️https://t.co/tFRNAU8XJS

— MFCNetwork (@MFCNetwork_) June 5, 2020
"We just try to get good guys together," Camarillo said about his Zoom clinics. "People are sharing everything from phone numbers, to on-field film, to game plans during these meetings and I believe that will really create more diverse coaching staffs, in Arizona and across the country, in the long-run."
---