AIA fall sports season to continue as scheduled
September 2, 2020 by Seth Polansky, AZPreps365
---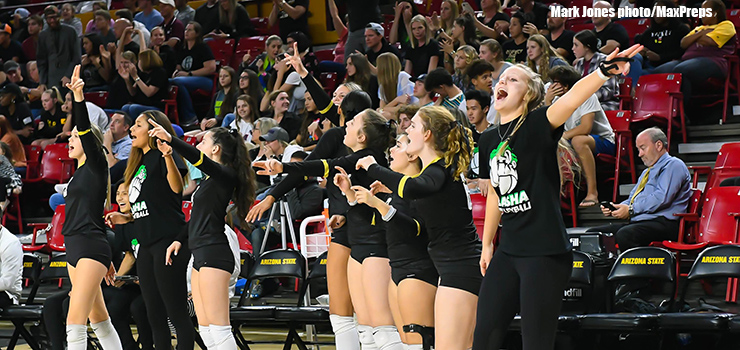 On Wednesday, in a special meeting called by the Executive Board of the Arizona Interscholastic Association, a vote was conducted to endorse the latest guidelines proposed by the Sports Medicine Advisory Committee for the safe implementation of a return to sport and activity. With it, the AIA fall sports season will continue as scheduled.
The Executive Board, comprised of representatives from the member schools, reviewed the latest recommendations from SMAC before reaching their decision. With this data and the state's recorded number of COVID-19 cases declining over the past two weeks, the Board felt competitive sports and activities at the member schools can be successful within recommended guidelines.
Schools are reminded to follow the recommended guidelines for the return to sport and activity, which has been re-released to the public, as well as the latest sport modifications.
"I would like to say on behalf of the staff and the Sports Medicine Advisory Committee, especially for the sport of football, we would not have been able to make this decision until this time right now based on the metrics," said Executive Director David Hines. "So the metrics have gotten to a place that we can start football practice. That we can start the heat acclimatization (guidelines). That we can get kids in a helmet and shoulder pads and begin doing work."
The sport of golf has begun competition. Cross country, swimming & diving, badminton, fall soccer and volleyball have started practice and tryouts. Schools playing football will have the option of beginning practice on Labor Day, which is Sept. 7 with any date after that permissible.
Qualifications to advance to the postseason in each fall sport have been modified. Those qualifications are currently being reviewed and will appear on the tournament pages on AZPreps365.com when ready, along with season dates and team schedules.
"To say we are happy to be where we are now is an understatement," Hines added. "The Board members really took their time to make sure that this could be done safely. We think that it definitely can. With the help of everyone at our member schools doing their part, we can absolutely make this a memorable season."
The allowance of fans into contests will be a local decision. Locales across the state will be in different timelines of their phase-in plans. School administrators will always have the most recent information to use regarding their situations.
In a previous Executive Board decision, the winter sports season will begin one week later to accommodate the fall season being extended. At this time, the championships in winter sports are schedule to conclude as planned.
---