Antigua HS Golf champs: Pinnacle girls, Hamilton boys
September 5, 2020 by Les Willsey, AZPreps365
---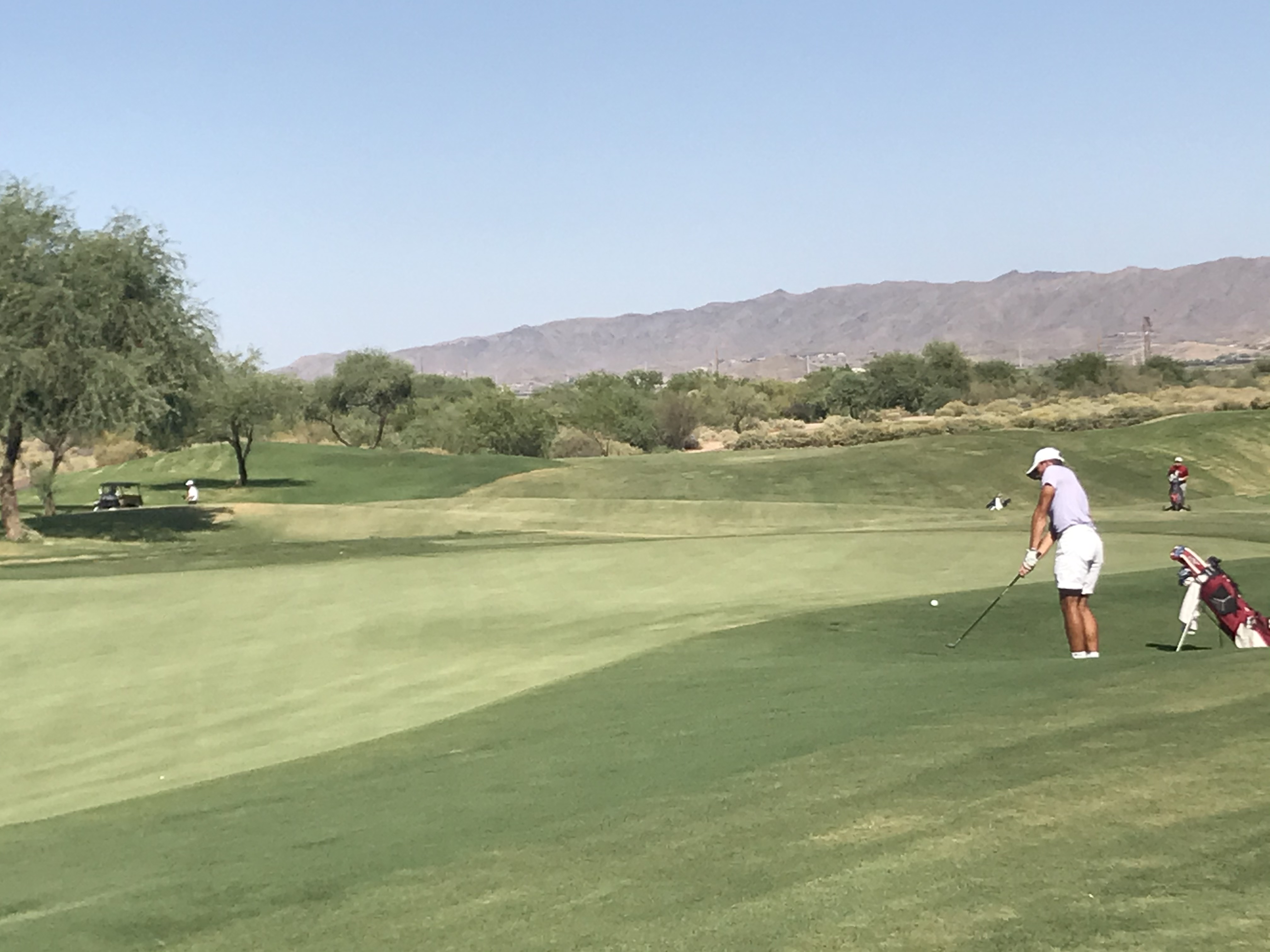 Notre Dame Prep senior Cade Anderson and Pinnacle senior Katie Stinchcomb did all they could to earn medalist honors this weekend at the annual Antigua High School National Golf Invitational at Whirlwind Golf Club. They led after Friday's first round and Saturday resided atop their respective leaderboards when the final putt of the tourney found the cup.
Anderson shot a final round 69 to go with his opening salvo of 68 to finish 7-under (137) for the event. His consistent play paid off although he was tested all day Saturday by a number of players - led by Hamilton junior Anawin Pikulthing (138), Sandra Day O'Connor's Max Lyons (138) and Pinnacle's Joseph Lloyd (138). Pikulthong had the round of the day for the boys, firing a 4-under 68. That helped cement Hamiton's hold on the team title as the Huskies (2-under par 574) outdistanced runnerup Brophy Prep's (10-over 586).
Anderson was the leader in the clubhouse Saturday at 7-under, but with Pikulthong still playing and four holes left he made a run. Back-to-back birdies at 15 and 16 tied him with Anderson. Players gathered around the clubhouse felt Pikulthong had another birdie in him to win going away. He parred 17, but 18 was cruel. Pikulthong bogeyed. His second shot on the par 4 hole was short of the green and his third shot left him about 15-18 feet to save par. It ende up as his only bogey of the round which left him still in a three-way tie for second with Lyons and Lloyd.
Anderson was exceptional in both rounds. On Friday he scored six birdies and a double bogey. Saturday there were four birdies and one bogey. He wasn't terribly confident with Pikulthong playing so well that he'd come out on top in the end.
"(Pikulthong) made a run," Anderson said. "Not really the way you want to win. But I thought I played well both days. The double bogey on I had on No. 11 Friday came with penalty stroke. I felt good today coming back with a birdie on that hole. I thought I played well both days."
Rounding out the boys top 10 (and ties) were: Brophy's Cameron Kaiser (141), Hamilton's Walker (142); Arcadia's Gavin Auriia and Brophy's Charlie Palmer (143); and Williams Field's Rylan Johnson and Higley's Kai Heiner (144).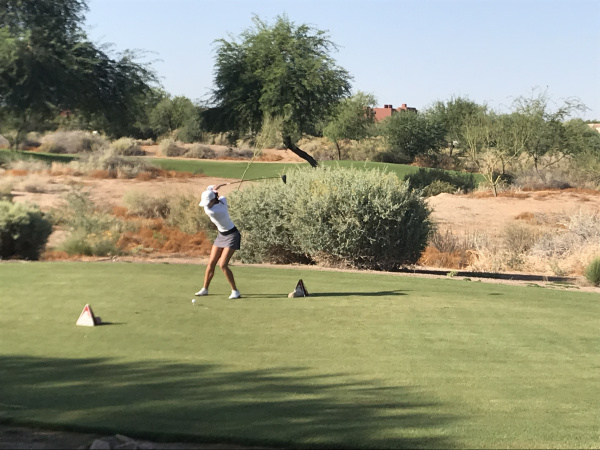 Pinnacle's Katie Stinchcomb with a tee shot Saturday in taking medalist honors at the Antigua HS National Invitational. (AzPreps365 photo)
Stinchcomb was steady as she goes carding 69 each day for a 6-under total of (138) and a two-shot win over Cactus Shadows' Kylee Loewe (140) and Calynne Rosholt (140). Rosholt had the round of the day for the girls with a 4-under 68. Pinnacle (591) managed to edge out young Xavier Prep (594) and Cactus Shadows (595) for the top spot.
"Friday I wanted to go out and put up a good number," Stinchcomb said. "Today was concentrating on helping the team. I felt good about both rounds. We didn't have one of our top players this weekend (senior Sydney Seigel). We got the lift we needed from Lexi Pelle."
Pelle is normally Pinnacle's No. 5 player. Pinnacle coach Charlie Wilde said Pelle's contribution was noted in helping stave off Xavier.
"She has been a three-sport athlete," Wilde said. "She decided this year to focus on golf only. She's worked very hard at it the last couple months. It showed in this tournament."
Charlie Wilde didn't take for granted Stinchcomb's effort, which also was needed to keep Xavier's team of a senior, junior and three freshmen from a title breakhrough.
"Katie's kind of solidified a spot as a #1," Pinnacle coach Charlie Wilde said. "She's been instrumental in taking control. Our top four (Stinchcomb, Carolyn Fuller, Kyla Wilde and Sidney Seigel) have often been interchangeable. Last year we had four different medalists. Two already this year."
Rounding out the girls' top 10 (and ties) behind Stinchcomb, Rosholt and Loewe were Fuller (143), Wilde, Xavier's Ivy Song and Hamilton's Madeline Adam (147); Xavier's Lauren Garcia (148) and Perry's Malia Uyeshiro, Hamilton's Jennfier Seo and Xavier's Annie Dawson (150).
---