Snowflake's Hargrove hopes to resume new era where Ramage left off
September 9, 2020 by George Werner, AZPreps365
---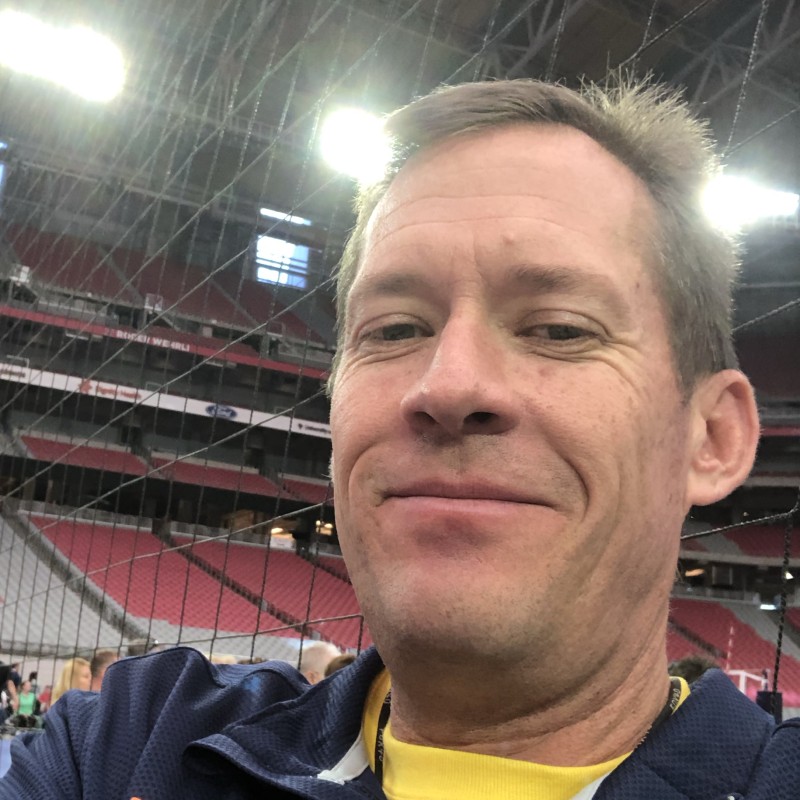 Becoming the head coach of one of the state's top volleyball programs would be stressful enough under normal circumstances.
Taking over the Snowflake High volleyball program, though, after 17 seasons as an assistant to former head coach Alan Ramage, with less than a month to prepare for a virus-shortened fall schedule--after COVID-19 quarantines essentially obliterated the Lobos' regular summer camps, tournaments and all other team-bonding activities--has been one of the true challenges of Karen Hargrove's career.
"Going into the first week of tryouts, I was thinking, 'I miss that guy,'" Hargrove said of Ramage, who won over 200 conference matches with Hargrove as assistant since 2003. "I could use his help right about now."
Ramage, who left the program to become a juvenile probation officer for Navajo County, rebuilt Snowflake into the 3A East Region's dominant volleyball team over the past seven seasons, going 97-9 in conference match play during that span--not counting the Lobos' deepest run and only 2017 loss, the state title match to Fountain Hills High School.
"He was the good cop; I was the bad cop," said Hargrove, whose debut will arrive Tuesday, Sept. 22, at last season's 2A runner-up, Thatcher High School. "He's just a fun guy who enjoys volleyball and made it fun for everyone.
"I was more, 'Everyone's got to get skills and work hard.' So that's been a challenge."
So have off-season cuts, which Hargrove described as "agonizing."
Hargrove returns 12 players from last year's varsity, including first-team all-3A senior Reagan Olsen, sporting a top 4.3 grade-point average, as well as her counterpart at outside hitter, junior Macee Papa, second-team all-state in 2019 with a team-leading 286 digs.
Ramage carried 12 total players on his varsity roster last season. But 15 Lobos came out for fall tryouts, many of whom, Hargrove added, have been part of the program since they were seventh-graders and participants in Ramage's off-season youth camps that fell casualty to the coronavirus this summer.
"They're pretty dedicated," she said. "So the idea that I'm going to say, 'Sorry, you're not on the team,' breaks my heart."
COVID-19 also forced the cancellation of the Lobos' traditional July trips to tournaments at Blue Ridge and Dixie high schools, the latter in St. George, Utah.
"And the club season, they played two or three weekends. That was it," Hargrove said. "These girls, because they love volleyball, they were playing at the park, with friends, but not as a team."
On the flip side, that allowed other core returners like seniors Anna Berger, Marynda Caldwell and setters Elle Lundberg and Maci Penrod more time to spend in the weight room, improving their jump strength.
Quarantine also allowed the team extra preparation on what Hargrove termed "mental toughness…something I think we've been lacking."
Still, as on most coronavirus-conscious campuses, scrimmages or any team activities where most volleyball skill development takes place, were out.
"So as far as knowing how we stack up against anyone else? We don't know," Hargrove said. "Are we any good? We don't know.
"This summer was different."
Whether those differences prove to be more challenging than Snowflake's non-region schedule is the question that will be answered imminently. One full team practice after a late bus ride back from Thatcher, the Lobos begin their home schedule Thursday, Sept. 24, against the team that ended their season in last year's 3A semifinals, defending state champion Northwest Christian High School.
"Sometimes, when you never see a team until you get to state, and they beat you last year, that can be intimidating," Hargrove said. "I'm excited to see how we stack up. Maybe if we show up, that would help, huh?
"I expect great things from these girls. We'll be ready."
---