Cross country 2020 debuts with Chandler Invite
September 12, 2020 by Les Willsey, AZPreps365
---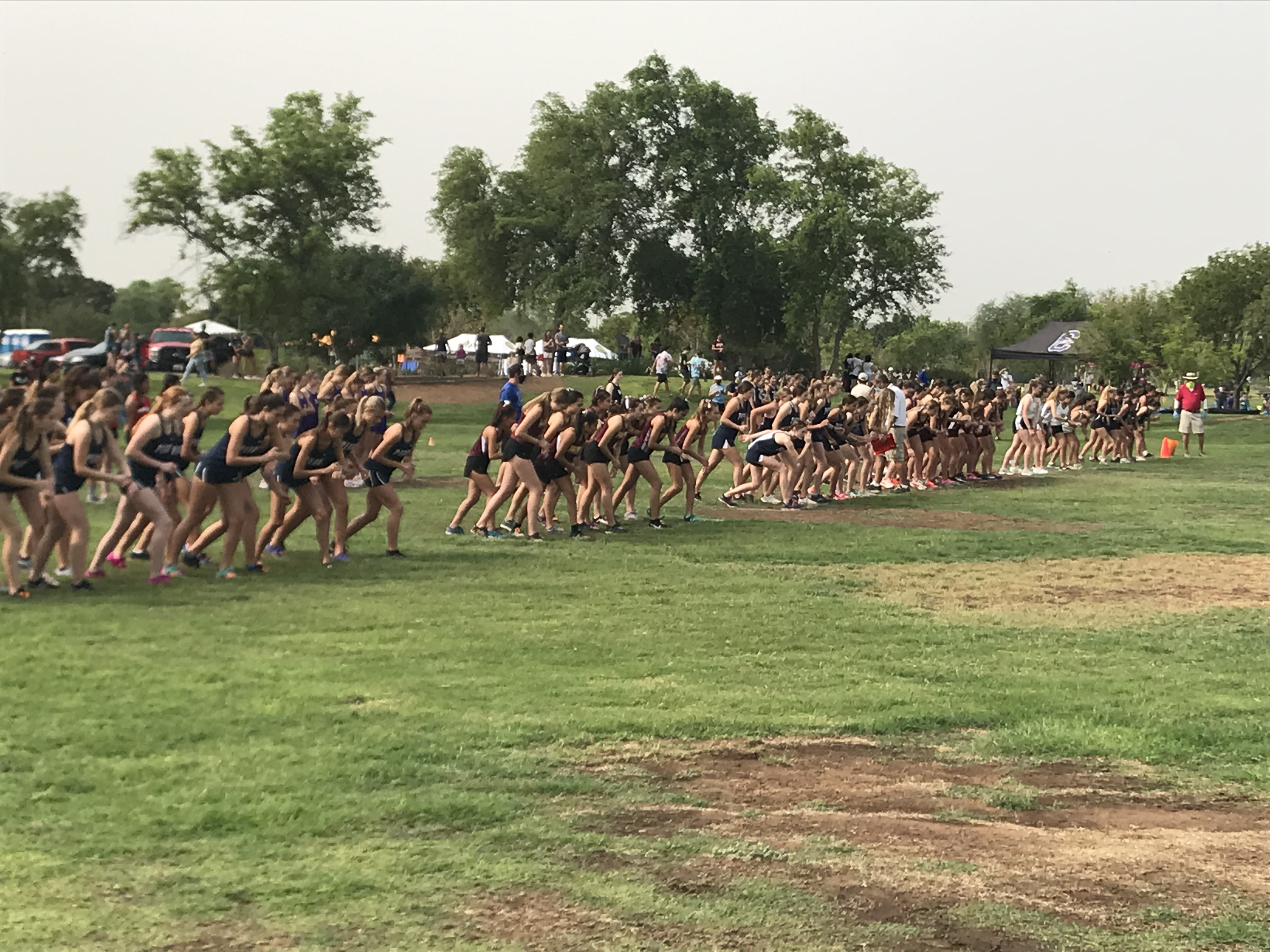 The new normal for cross country was on display Saturday morning as the Chandler Invitational debuted the sport's pandemic modifications at Tumbleweed Park.
Socially distanced starts - 20 of them with four to six teams each racing in two-minute intervals - were the glaring difference.
"I think the mechanics set up worked really good," meet director Dave Shapiro said. "There were two sessions and the first one went well with people that attended adhering to wearing masks. The second one was not so good. It's something we'll have to work on as coaches making sure if spectators come out that they mask up."
Highland boys coach Dave Montgomery summed up many coaches feelings: "Just glad we can get the season going and have one," he said.
As for the meet, which utiliizes a different format than most, course records were by both genders. The girls mark was obliterated by Desert Vista sophomore Lauren Ping. Ping, last year's Division I state champion and one of the elite runners in the country, covered the 5K course in 17 minutes, 5.2 seconds. The old mark was held by Chandler's Morgan Foster (17:37) in 2015. The new boys record was eclipsed by two runners, but only one has the top time. Casteel senior Dayton Carlson posted a time of 15:26.0 topping the old mark of 15:28 set in 2013 by Corona del Sol's Nathan Rodriguez. Carlson's time was a couple ticks faster than Saguaro senior Ethan Rodriguez-Story. Rodriguez-Story crossed the finish at 15:26.2. Carlson finished seventh at the Division II state meet last year and Rodriguez-Story placed 21st in the Division III state meet.
Due to the pandemic adjusted mechanics, there was no photo finish. Both runners competed in the first session. Carlson's start was in the first wave and Rodriguez-Story's in the fifth wave eight minutes after Carlson.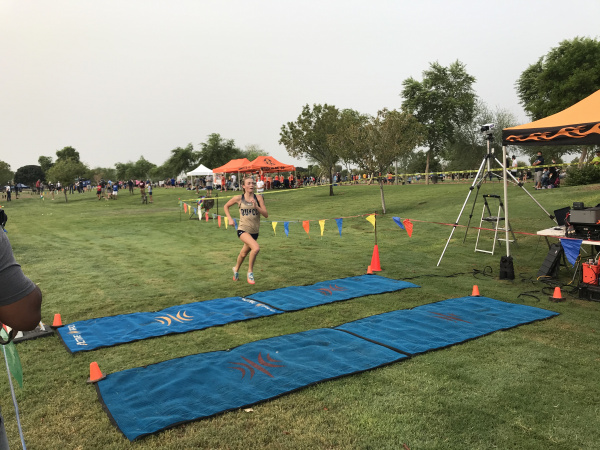 Desert Vista's Lauren Ping sets new course record at Saturday's Chandler XC Invitational at Tumbleweed Park. (AzPreps365 photo)
Weather was unusually cool given what has been the norm in recent weeks with the temperature in the low to mid-70's when Ping's, Carlson's and Rodriguez-Story's treks began.
The Chandler Invitational offers competition among each grade - freshman, sophomore, junior and senior. Each session crowned a boys and girls champ for each class. Team champs per class boys and girls were also tallied using three runners scores.
Here are the session winners by gender and by class:
GIRLS SESSION I -- Freshman: Kyah Zurek, Casteel 18:39.4; Sophomore: *Lauren Ping, Desert Vista 17:05.2; Junior: Katie Sigerud, Desert Vista 17:44.6. Senior: Sophia Hackett, Chandler 18:57.3.
GIRLS SESSION II -- Freshman: Sara Jones, Perry 18:38.1; Sophomore: Kylie Wild, Salpointe Catholic, 18:16.8; Junior: Taylor Lovell, Perry 18:36.6. Senior: Kylie Miller, Perry 18:37.6.
BOYS SESSION I -- Freshman: Matthew Hamilton, Red Mountain 16:31.7; Sophomore: Garrett Palmer, Red Mountain 16:26.7; Junior: Javier Garcia, Gilbert 15:37.5; Senior: *Dayton Carlson, Casteel 15:26.0.
BOYS SESSION II: -- Freshman: Lucas Witcher, Highland 16:37.6. Sophomore: Mitchel Jones, Campo Verde 16:21.3; Junior: Kaden Passey, Shadow Ridge 16:16.8. Senior: Elijah Poelman, Highland, 16:01.6.
Complete meet results can be found at http://live.wingfootfinish.com/
*New course record
---