Hamilton's football team looks to build off 2019's promising season
September 27, 2020 by Spencer Cihak, Arizona State University
---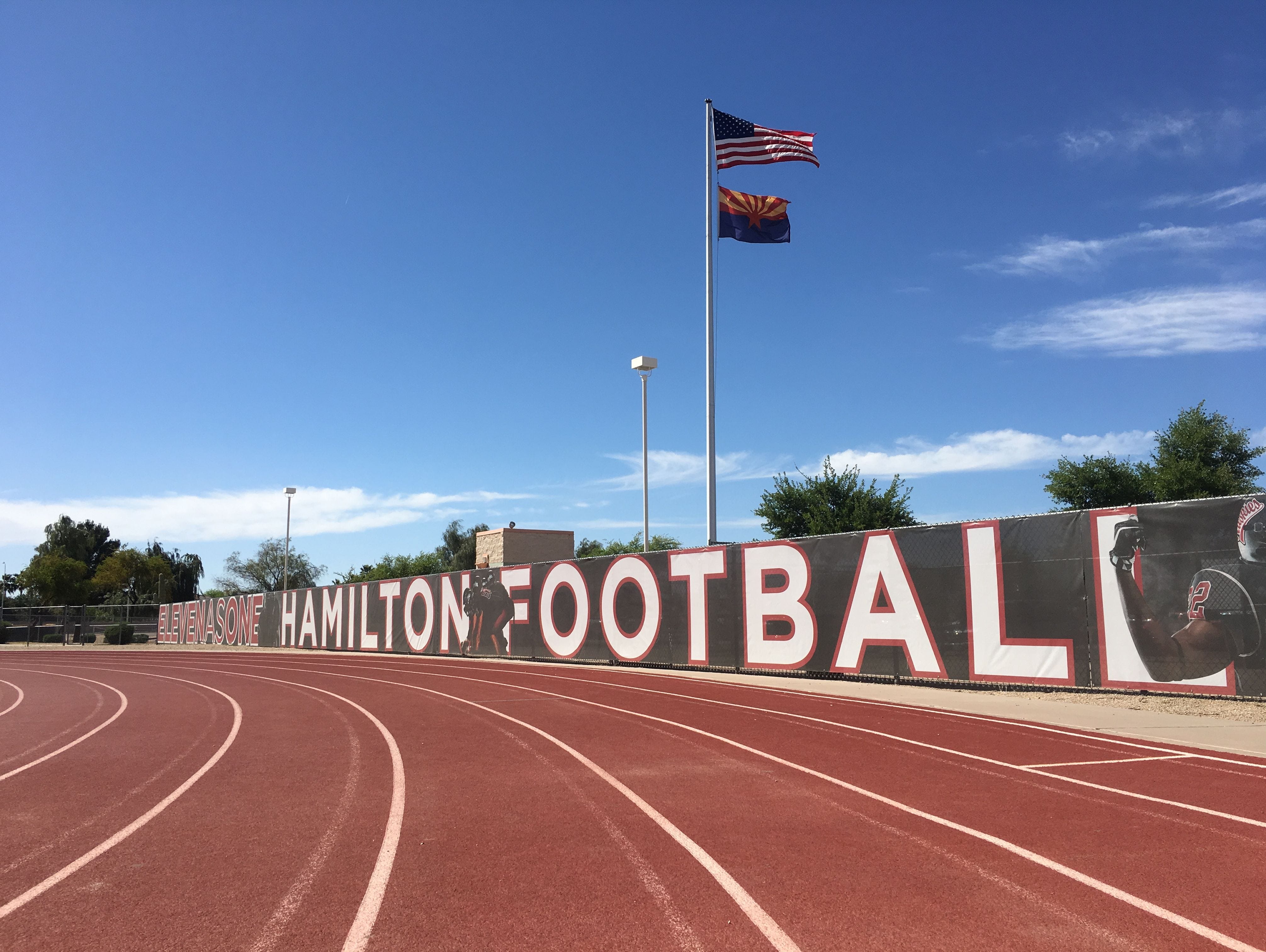 Spencer Cihak is an ASU Cronkite School of Journalism student assigned to cover Hamilton High School for AZPreps365.com
High school sports are back! With the start of October begins a whole new season for the Hamilton Huskies football team, which will look to build off another successful season.
Michael Zdebski, the 2019 AZ 6A Coach of the Year, returns with hopes of equaling or surpassing the 2019 season when his squad finished 9-3, second best in 6A. Hamilton lost to the eventual state champion Saguaro Sabercats in the second round of the Open Division Championships.
The 2020 Huskies offense will look very different going into the season with their former starting quarterback Nick Arvay, leading rushers Gabriel Armenta and Sebastian Dorman and three star wide receiver Brenden Rice all having graduated. The list goes on with three star interior linebacker Jeremiah Trojan playing at UCLA and three star offensive guard Dylan Mayginnes playing at Washington State, leaving plenty of holes to fill.
A few stars will be returning. Brady Shough, a senior wide receiver, averaged 12 yards per carry last season with two touchdowns. His best game came against rival Chandler where Shough had 115 yards on eight catches and a touchdown. Senior Zachary Lewis, the all purpose back, ran for 138 yards on 14 carries with a touchdown and recorded 23 receptions for 408 yards. Finally junior wide receiver Chirstian Anaya looks to build off a 2019 where he had 316 yards on 22 catches.
One new face to look out for is four star transfer junior quarterback Nicco Marchiol, who comes to Hamilton fresh off of a 27-touchdown, 2552-yard, 109.6 QB rate season last year when he played for Regis Jesuit.
Defensively, one player to keep a close eye on this season is four star cornerback Cole Martin. Martin already has offers from 19 schools heading into his sophomore season, according to 247sports. His freshman year he tallied 38 total tackles.
Hamilton's schedule has plenty of fun 2019 rematches. The Huskies open at home against Centennial on Oct. 2. Centennial went into last year's Open Division Championships as the two seed before losing to Hamilton, 28-19, so expect Centennial to be looking to make a statement.
The next two weeks also feature home games for Hamilton against Perry and then Chaparral. October 23 will be the biggest test for Hamilton as the Huskes take on reigning state champion Saguaro Sabercats in Scottsdale. Desert Vista will be tough after playing Saguaro. Highland and Higley are too far away to truly have a grasp on what the competition level will be but then week eight will arrive and cross-town rival Chandler comes to visit. Chandler is the only school in 6A to perform better than Hamilton in 2019 and in no way are the Wolves expected to slow down.
Athletic Director Brett Palmer said of the season, "My expectations are the same for same for football and every other program, to represent Hamilton High School in a positive respectful manner and to go out there and compete on the highest level and showcase what our student athletes can do."
---