New Blue Ridge boss wins the same as the old boss
September 30, 2020 by George Werner, AZPreps365
---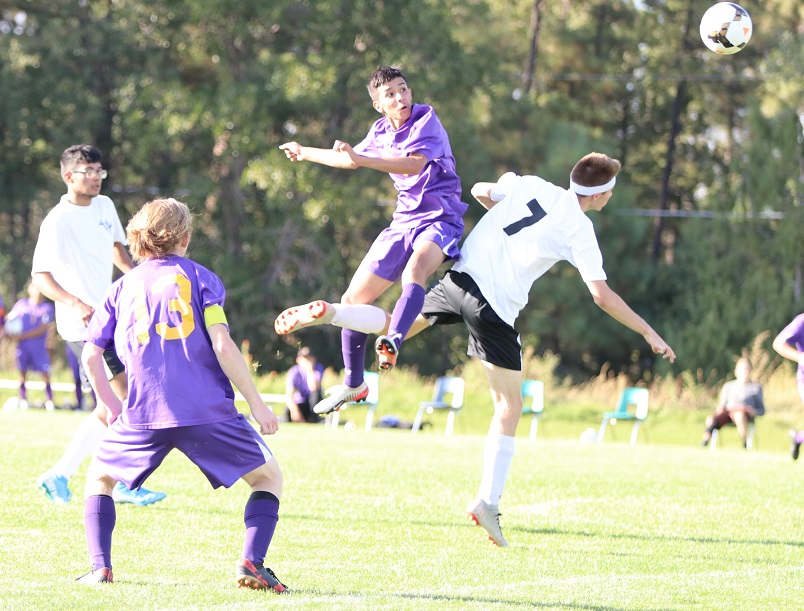 Looking solely at the results from the first two weeks of fall high school boys soccer play, nobody outside Blue Ridge High School would have ever known its program has its first new head coach in a decade.
That's how similar the new boss has been to the old boss of the undefeated Yellow Jackets, who head into back-to-back games this week against closest challengers Snowflake and Chino Valley high schools with the best record in the 2A conference, outscoring their first four opponents 19-1 under first-year head coach Kirby Elkins.
Elkins, a two-sport athlete for the Yellow Jackets before graduating in 2009, returned to the program as an assistant coach to 2019 2A Coach of the Year and four-time state champion Bryon Crain before being elevated to head coach this summer.
He has yet to lose a game.
"Coach Crain is a legendary coach for the Blue Ridge program," Elkins said. "If you were in the program from the time you were a freshman, a lot of the same stuff I'm doing now has been ingrained in those guys for three or four years."
In fact, in those 16 games since entering the program as a coach for the Yellow Jackets in 2019, Elkins' "brand-new defense" with four new starters has only allowed a grand total of 14 goals scored, "which is kind of crazy," he added.
"And, to be honest with you, we'd love to have that last goal back," he said after a 5-1 home win Sept. 23, over St. Johns. "It was just a little lapse we let through late."
Still, seniors Kohl Beazley, Devin Fish and Eli Jordan have joined forces with sophomore Brennan Jones to shut out their other three opponents and help vault the Yellow Jackets into the driver's seat atop the 2A East Region--a position they can further secure with a victory Wednesday, Sept. 30, at second-place Snowflake.
That game will be a prelude to Thursday, Oct. 1, and the rematch of last year's state title game against Crain's nemesis, Chino Valley High School--rescheduled from the beginning of the season due to COVID-19 concerns.
"Since we're only playing 10 games, I say this part of the season is one of the most pivotal weeks of the season," Elkins added. "It'll absolutely be nice to see where we're at."
Jones, a freshman late-season call-up from the junior varsity, "did a phenomenal job" filling in most of the state championship at the centre-back position in the stead of the graduated Josh Miles, last year's 2A Defensive Player of the Year.
"This kid has a very bright future," Elkins added. "I don't want to get ahead of myself, but he can definitely be a defensive player of the year. Not a doubt in my mind.
Before the Yellow Jackets' 3-0 shutout of the Cougars last season, Blue Ridge had lost the state title game to Chino Valley five times in the previous six years.
"That's going to be a battle," said Elkins, whose final game as a Yellow Jacket soccer player was a 1-0 shutout at the hands of the Cougars in the 2008 state quarterfinals. "They have a great program, a great coach, we respect them. They're always going to give us a great game."
Elkins' 18-player roster he will carry into the consecutive contests is heavily weighted towards upperclassmen. But, he added, come state tournament time in a month, he "might bring up a couple of younger guys from junior varsity" to join those 12 seniors to form a 20-man playoff contingent.
"They've been waiting for their time," he said. "I knew they would play like this, since they didn't have as much [playing] time last year. They wouldn't be on this team if I didn't have that faith in them.
"This is a talented core; they've got a lot of experience in big games," he said. "Coach Crain really had the outlook too, that 'next man up' mentality. I think I got that from him.
"Soccer aside, man, they're great kids. They're always willing to step up."
Just as one example, Elkins cited senior transfer Jackie Belnap, "just your typical, great No. 6 player in the midfield," who scored both goals in the Yellow Jackets' season-opening shutout of Show Low High School.
"He gets off a flight from Japan up to Pinetop at 11 [p.m.]," Elkins recalled. "We start conditioning as a team in the mornings at 6:45 [a.m.]. This kid shows up to work out the next morning at 5:30.
"The kid's in incredible shape. Clearly, he has a lot of talent but doesn't need all of the shine. He came up to me [later] and said, 'I just want to win.' Great kid and a helluva player."
While Belnap scored his goals Sept. 13 off more designed set-ups, including a penalty kick as well as a direct kick from 30 yards out, the rest of Elkins' returning midfielders showcase an aggressive speed all over the field that will need to keep the pressure off junior goalkeeper Ceasar Bonilla--and keep it on opposing defenses.
"We definitely have the luxury [with] a couple of players," Elkins said. "The scoring has been pretty balanced: We don't have to rely on couple of people to make plays when five or six of my players can get into double digit goals this season."
Those include senior Michael Littleman, Canyon Brosemann, Gustavo Cuiriz, Michael Littleman and Daniel Pansulla, with striker Luis Perez joining Jones as the youngest varsity starter.
Littleman, last season's 2A Offensive Player of the Year, will attract the focus of defenses previously held by Tommy Pederson, last season's 2A East Region Player of the Year, who punched in all three goals in the state title game. Cuiriz also garnered all-state honors as a junior.
"Gustavo is really the playmaker," Elkins said. "Canyon brings the fire to the team. Danny, the right-winger, plays with the same type of mentality--energy all over the place.
"You really can't pinpoint one player to stop on our offense."
Through the coaching transition, coronavirus quarantines and three different schedule changes up to just two weeks prior to the start of the season, the greatest challenge Elkins says he has faced as a rookie head coach of a defending state champion is consistency.
"I expect to make mistakes as a coach," he said. "It's just making those changes quickly and being more consistent, No. 1, is the most challenging thing, in my opinion.
"We get up for every game. We prepare every game the same way, but, at the same time, you want to know who you are going up against. I'm happy with the start we have had."
---