Desert Heights football shoots for success in new league
September 30, 2020 by Kevin Redfern, Arizona State University
---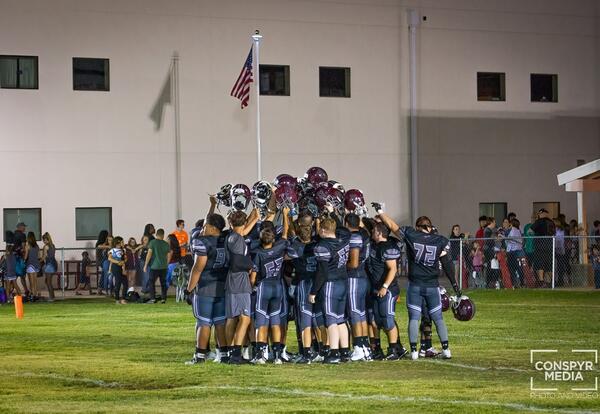 Kevin Redfern is an ASU Cronkite School of Journalism student assigned to cover Desert Heights for AZPreps365.com.
Every state has its own definition of high school football and the theatrics and traditions surrounding the sport. While fireworks blow off at oversized stadiums in Texas and California, the Friday night lights still shine on a smaller slice of pure Americana in less-populated areas.
This hidden gem is eight-man football.
Desert Heights Preparatory Academy in Glendale has a rich history in eight-man leagues. The Coyotes have won five state championships in seven appearances, as well as a handful of regional titles. Last year with just 25 players, Desert Heights went 9-2 in its division of the Canyon Athletic Association. Both losses, including one in the championship, came at the hands of Heritage Academy.
Entering this season, Desert Heights will participate in the Arizona Interscholastic Association (AIA) for the first time. The Coyotes will compete in the 1A conference West division.
"I've followed the (new) teams in our division since 2013," coach Kendrick Felix said. "I think we will be competitive."
This season, Desert Heights will field about 20 players after eight seniors graduated last year.
"We lost running backs, linebackers, some defensive backs also," Felix said. "They were all pretty crucial to the team. They were all starters."
Starting less than two months ago, Felix still has a lot of positives to mention regarding his squad. Eight seniors will lead this year's club, but the story of the preseason is the return of junior quarterback Jacob Hanback. Hanback, who Felix once projected to be a four-year starter, broke his collarbone as a freshman. When Hanback returned for his sophomore season, he broke his other collarbone. After two years of rehabbing, Hanback will step back on the field for the ultimate revenge tour.
Felix also mentioned two new players to look out for this season: sophomore receiver/defensive back Casey Jenkins and senior lineman Joey Williams.
"We didn't know what to expect from (Jenkins), but the last six to seven weeks he's shown a lot of potential," Felix said.
Williams is a senior playing his first season of competitive football. He will play offensive tackle and defensive end.
As of now, the AIA allows each school to determine COVID-19 protocol in terms of fans. Per its athletic website, Desert Heights will allow two tickets for every athlete on the field for outdoor sporting events. Desert Heights will play six regular-season games because of COVID-19 precautions. The Coyotes open Friday night at home against Mogollon.
---