Tempe Preparatory Academy aims to play like it is the last game
October 2, 2020 by Emily Bernstein, Arizona State University
---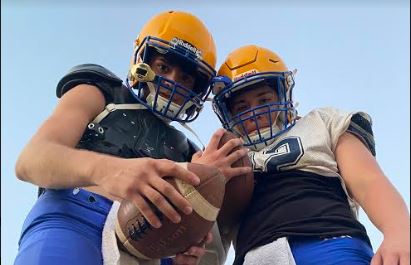 Scrambled eggs, sausage and valentina sauce are wrapped into the perfect pregame breakfast burrito by Tempe Preparatory Academy's football team every single Friday morning during their season.
Game day mornings are loud, filled with cracking jokes and proudly singing their victory song, Non Nobis.
"It is a Latin song, we sing it every time we win. It is about glory and humility," senior quarterback/wide receiver Hayden Sampson said. "It is a big tradition after we win. We did not get to do it a lot last year, so I am super excited to be able to do that again."
Tempe Preparatory Academy has taken a beating over the last two years, however there is a new momentum rolling for this upcoming season. The Knights struggled with injuries, leading to greater issues in eleven-man football with an already small roster.
"It would be so easy for these kids to quit [because of what we have been through]. These kids have all come back week after week, but they all believed in me, they believed in each other and this year we should be holding up a state championship," Coach Larry Cain said.
The Knights have made a switch in terms of how many players will be on the field for their 2020 season. They have played eleven men for more than six seasons, but in the aspect of a small school, the conversion to an eight man plays to their advantages.
"I have played eleven-man football since I was five years old, it is very new to me," junior quarterback/wide receiver Diego Foster said.
Foster is not alone with the new concept. However, Cain has a history of success with coaching an eight-man football team.
The COVID-19 pandemic offseason gave the Knights the time to heal up and work harder to come back even stronger through these uncertain times.
"We are going to be smart about the people that we are around and smart about the things that we do," Cain said. "You always tell your seniors to play like it is their last game, but this is the first time ever that we have to do that, because with the pandemic, we do not know what tomorrow brings."
Coach Cain does not use the phrase "having fun" when it comes to football, but for the team, winning the state championship game is their definition of fun.
"A lot of the time you have really great athletes, then on occasion, you come across those players who have that 'it factor.' I said his sophomore year, he is like electricity in a bottle," Cain said about senior Sampson.
Sampson was very positive throughout last season, despite the fact that he was on the sidelines.
"I do not have film from last year," Sampson said. "No one has seen me play yet. No one has seen this whole team play yet."
"We know we have each other's backs. You do not have to worry that the person next to you is not doing their job. It has taken us since my freshmen/sophomore year, all the way up to [my] senior year for us to really have that solidified relationship. I know that everyone on the field is doing everything they can," Sampson added.
The Knights offense is going to be "tough to stop," according to Cain after the first week of practice this season.
"We are going to have two dual-threat quarterbacks that also play wide receiver. Being pass first and already having such a pass heavy offense is going to be crazy," Foster said.
"We have a two-headed monster when it comes to quarterbacks," Cain said.
The offense expects take off this year.
"The most fun thing to watch is going to be Hayden and I switching off, because we have had that connection as quarterback and wide receiver since day one," said Foster, the other head of the quarterback monster. "No matter who is throwing the ball or running the routes, it is going to be a fun season."
Not only will the two-headed monster come down with the ball, "On the other side of the field, we have Luis Ternyick who is a monster offensively," Foster said.
The Knights are older than they have been the past couple of years, and with that, everything is starting to click both offensively and defensively. Another key player to take note of is senior Thomas Holmes, who is the "emotional leader" of the team, with an exciting energy to bring to the game.
The 2020 Knights want to leave with a winning legacy that has their name on it. Considering how unpredictable the season may be, it is imperative that they play every game like it is their last.
---