Hamilton's Mike Zdebski wins Arizona Cardinals Coach of the Week
October 10, 2020 by Talia Massi, Arizona State University
---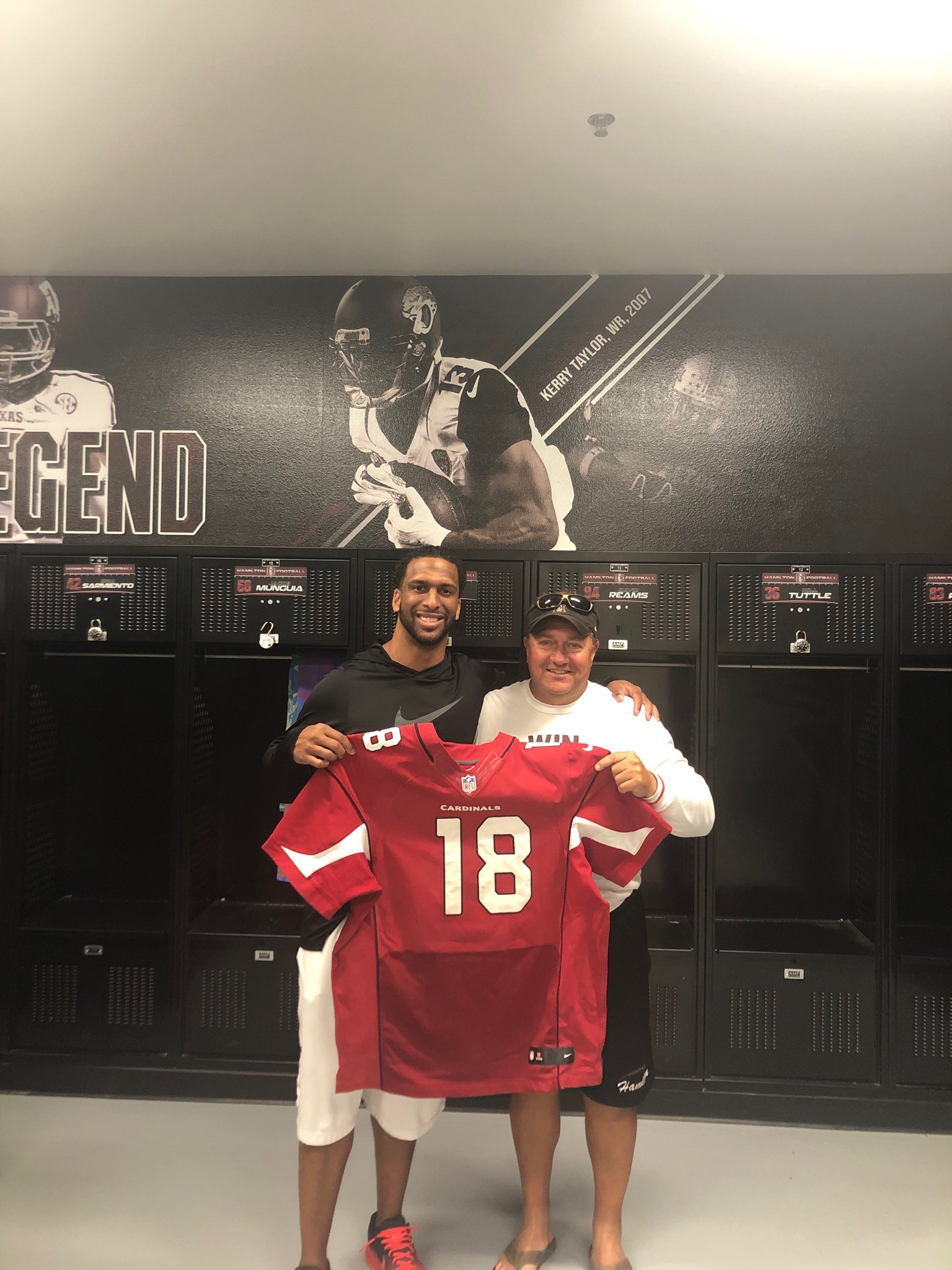 Talia Massi is an ASU Cronkite School of Journalism student assigned to cover Hamilton High School for AZPreps365.com
Mike Zdebski, Hamilton's football coach, was named the Arizona Cardinals Coach of the Week after leading the Huskies to a 42-0 win over the Centennial Coyotes in both teams' season debut last week.
Zdebski is in his third year of coaching the Huskies' varsity program following a long and successful career coaching high school teams in his home state of Michigan. After finding out he was the recipient of the prestigious award given to Valley coaches during the season, Zdebski said it belongs to the entire Hamilton program.
"I just happen to be the guy with the name on top. But without the incredible staff that we have and the incredible work ethic of the players we have and the dedication of the administration through all this turmoil and catastrophe ... it's humbling. We as a staff and as a program are very appreciative to have our effort recognized," Zdebski said.
Mark Tucker, the Huskies offensive line coach, said Zdebski is very deserving of the award.
"He is the guy that is the face of the program. He is a humble guy ... Mike is quick to deflect any praise on himself, because at the end of the day, it takes more than one coach to make this thing happen. He is appreciative of the guys around him and we all…collectively bring a lot to the table," Tucker said.
Zdebski won the award based on the impressive performance the Huskies posted in their first game of the season. Ranked No.5 against No. 13 Centennial, the blowout on Hamilton's home field in Chandler was both unexpected and stunning.
"We have an incredible coaching staff that works extremely hard, so everything we do is a cumulative effort and I am just happy to be a part of it," Zdebski said.
The win was not just any win, it was a shutout win, which is extremely hard to do against a tough Centennial team. Zdebski reminded his players throughout the game "that the little things matter," and to stay humble and focus on one thing at a time. And then on Friday night, Hamilton did just that, upping its record to 2-0 by beating Perry, 64-22.
The team has been preparing for the season since April. Although the season was in question due to the COVID-19 pandemic, Zdebski and his team continued to train throughout the uncertainty.
"The coaches and players started working … when things were first shut down and all the credit goes to the coaching staff and the players for continually working even when a lot of people would say, 'You are not going to play. Why are you doing all this work?' But the relentless time that the staff and the players put in was incredible," Zdebski said.
When Zdebski is not on the field, he is in the Hamilton classroom teaching geometry. His mathematical mindset gives him a good edge on the field.
"Everything is by numbers and percentages. So, everything we do we want to calculate mathematically … we grade the kids, we evaluate the kids, numerically, to get as much detail and information as we can in preparation and post-game evaluation," Zdebski said.
His colleague Lanae Gaschler, a fellow geometry teacher and math department chair, said Zdebski is an excellent teacher because of his ability to be personable and make connections.
"I think he is just very personable ... I know that the students probably feel the same way, how he is just an easy going guy," Gaschler said.
He uses football examples in the classroom to better connect with some of his sport-focused students.
"I've heard from multiple of his students at Hamilton that he uses football in the geometry classroom to help teach. He talks about when you run a certain play it forms a right triangle. He makes connections very easily," Gaschler said.
His mathematical and teaching abilities add to his broad skill set. "Guys that are teachers and not just coaches," said Tucker, adding that teachers are some of the best to step on the field.
Math is not an easy subject, so being able to teach it gives Zdebski an edge on the football field, Gaschler said.
Winning the award plays to the success of the program thus far and the ability to win championships in the future.
"Well, there is such history here and such tradition here that we all feel the heavy weight of responsibility to get Hamilton to where it should be. We have a long way to go with that process, but we are working extremely hard and we are all very fortunate and humbled to be at such a prestigious school," Zdebski said.
It has been eight years since Hamilton has captured a state championship. Under Zbeski, who won 160 games and a state title while coaching Walled Lake Western High in Michigan, the Huskies are working their way, day by day, back to the top.
"We are on the cusp of something really good that could potentially be great … we are nowhere near being back to the Hamilton I know of. We were either in the finals or the semis every year and we gotta get back to that. That is our goal to get back to doing that on a regular basis … we are not back but we are on our way back," Tucker said.
The Arizona Cardinals Coach of the Week award is selected by a local panel of sports figures including Cardinals defensive lineman Corey Peters, former high school football coach Kelly Epley, former 12 News sports anchor Bruce Cooper, 3TV/CBS 5 sports anchor Tresa Tudrick, high school broadcaster Michael Carotenuto and Arizona Republic/azcentral.com high school writer Richard Obert.
Zdebski received a plaque and a $1,000 check on behalf of Cardinals Charities in support of the Hamilton football program. The plaque was presented in a virtual ceremony on Wednesday.
Tucker said Zdebski's ability to adapt and be a CEO of the team separates him from other high school coaches.
"I think a lot of coaches have this, him more so, (an) ability to adapt .. it's a new day and age for high school football… coaches nowaday are more like CEOs than they are coaches, so I think just the CEO side of it, for a guy his age, is what sets him apart," Tucker said. "A lot of older guys I don't think are able to make that flip."
---