Six earn Week 2 Ed Doherty Award Nomination Medallions
October 13, 2020 by Andy Morales, AZPreps365
---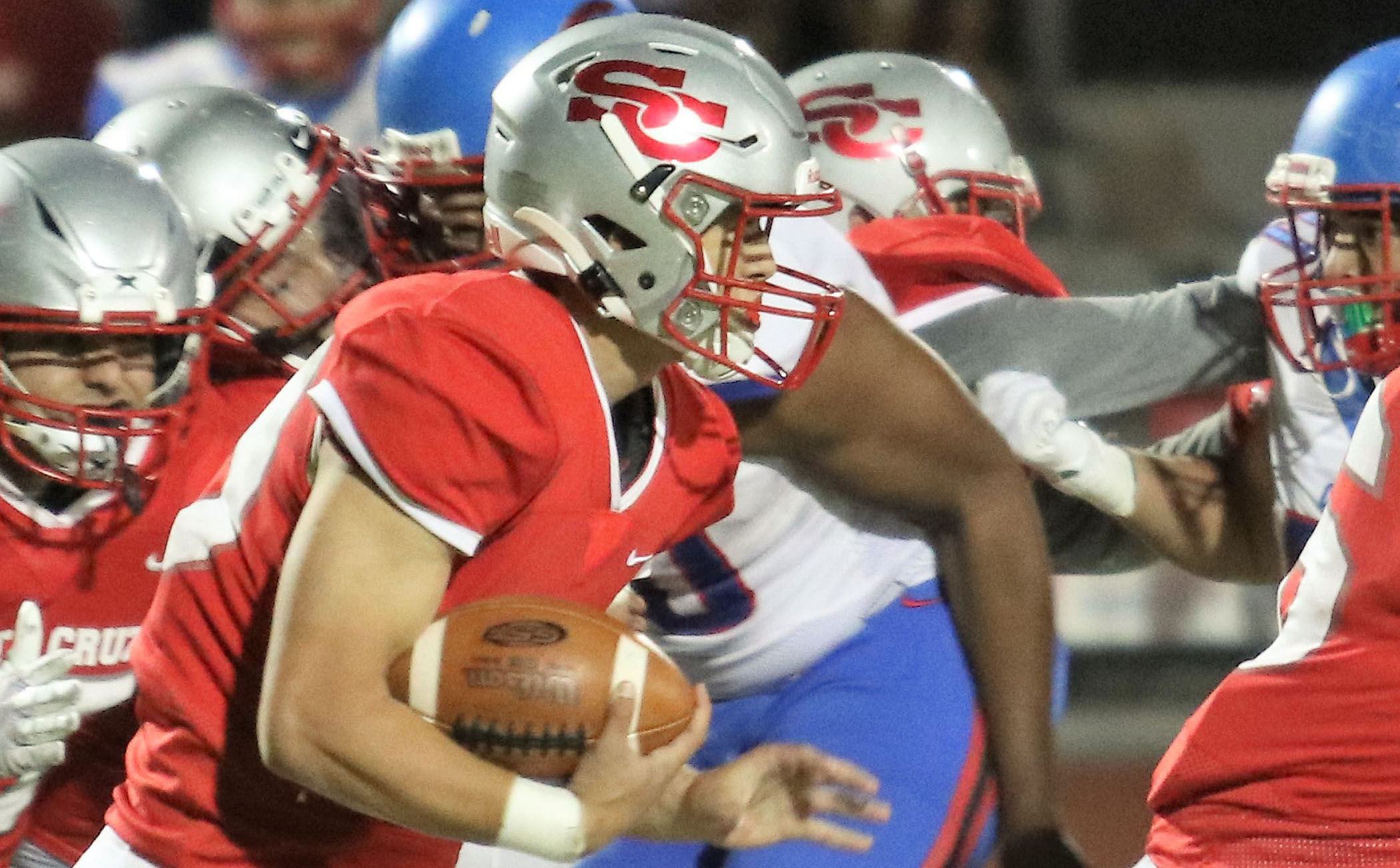 From release:
The Grand Canyon State Gridiron Club (GCSGC) announced the recipients of the Week 2 Ed Doherty Award Nomination Medallions. Six players were recognized for outstanding play during their respective games on Friday, Oct. 9: Jacob Cisneros (Sr. RB – Boulder Creek); Zach Hammett (Jr. RB, River Valley); Matt McClelland (Jr. QB/DB, Arete Prep); Hunter Ogle (Sr. RB, Santa Cruz); Eli Sanders (Sr. RB, Chandler); and Ty Thompson (Sr. QB, Mesquite).
"At least a dozen players were debated by our Selection Committee for medallions this week," said Rob Yowell, Selection Committee Chair in a release. "These six young men proved worthy and earned their official nomination for the Ed Doherty Award."
Four of the six players were named on the 50-player Week 3 Watch List™ released on Monday. All six players will receive their Medallions at an upcoming school event this week. By earning Ed Doherty Award Nomination Medallions, they will attend the end of season Ed Doherty Award Luncheon on Jan. 9, 2021 where one athlete will become the recipient of the Ed Doherty Award.
Details on their individual performances on Oct. 9 are as follows:
Jacob Cisneros – SR – RB – Anthem Boulder Creek
The Jaguars all-purpose player followed up his 475yd 3TD opening week effort with another stellar performance. In Week 2, Cisneros returned the opening kickoff 90 yds for a TD, rushed for 131yds and 2TDs and added a receiving TD - all in the 1st half of a 40-0 win over Skyline.
Zach Hammett – JR – RB – Mohave Valley River Valley
Hammett made the most of his 9 touches in the Dust Devils 56-0 road win over Kingman Academy during Week 2. He rushed 6 times for 75yds and 3TDs, then tallied 145 return yards while adding 2TDs.
Matt McClelland – JR – QB/DB – Gilbert Arete Prep
Matt McClelland is a two-way talent for the Arete Chargers and led the team in a 58-57 loss against Glendale Prep during their season opener in Week 2. McClelland rushed 18 times for 290yds and 4TDs, threw for another 266yds and 3TDs and had 11 tackles (10 solo) on defense.
Hunter Ogle – SR – RB – Eloy Santa Cruz
In a 42-18 win over Coolidge in Week 2, Hunter Ogle helped the Dust Devils improve to 2-0 by rushing 21 times for 251yds and 4TDs.
Eli Sanders – SR – RB – Chandler
Eli Sanders led the Wolves in a 64-0 win over Pinnacle in Week 2. He rushed for 213yds and 4 TDs in the 1st half, with the TDs covering 67, 4, 15 and 95 yards.
Ty Thompson – SR – QB – Gilbert Mesquite
During Week 2, the 2020 High School All-American, Ty Thompson, was 20/40 347yds w/ 3TDs and rushed for 50yds and 2 more TDs as the Tigers 2nd half rally fell short in a 46-40 loss to Sunrise Mountain.
---