Highland's Max Davis scores 5 TDs in 47-13 win over O'Connor
October 17, 2020 by Les Willsey, AZPreps365
---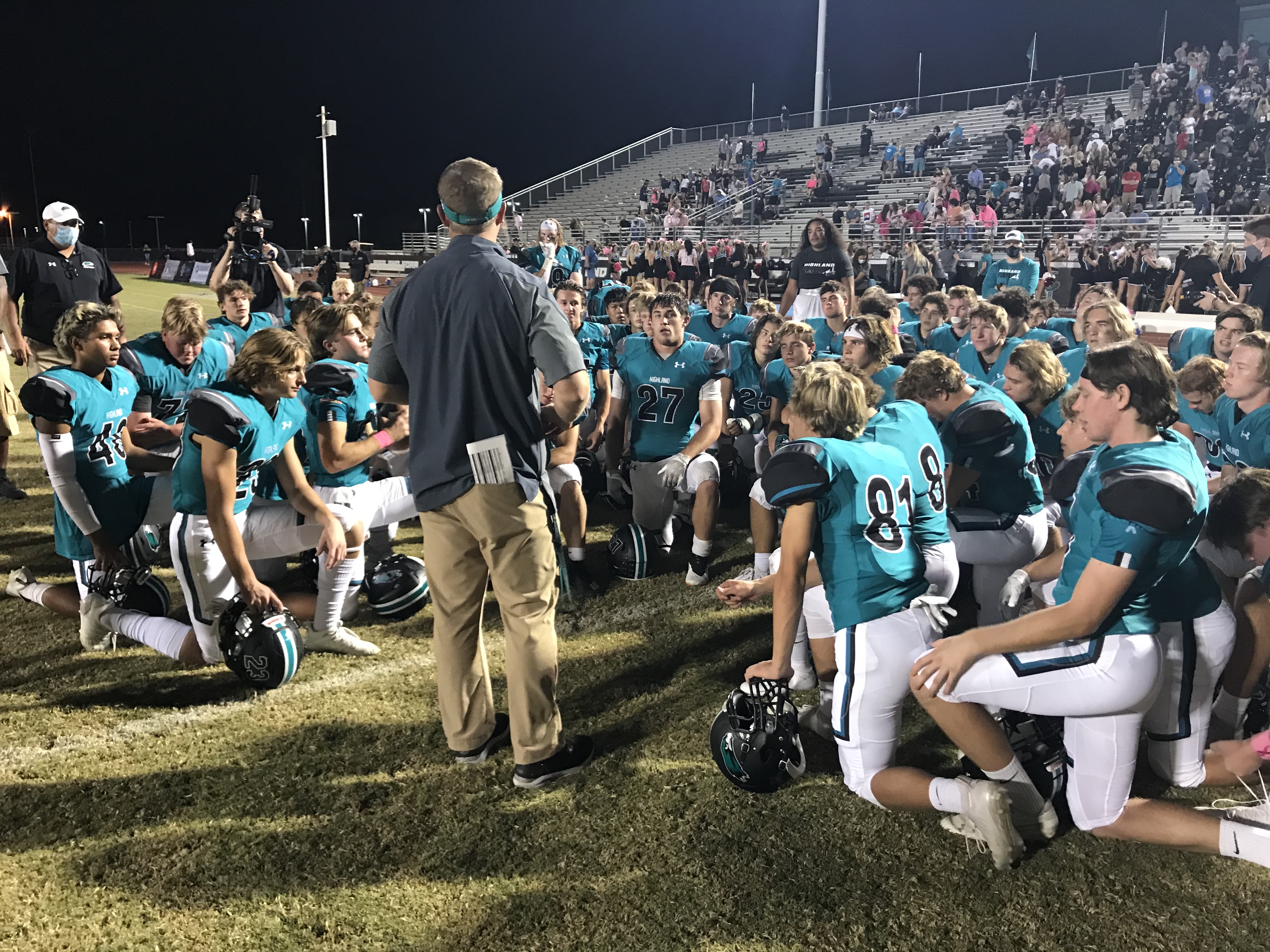 It was Highland to the max Friday night. As in running back Max Davis.
Davis produced an evening to remember with 311 yards rushing on 22 carries (unofficially) and five touchdowns leading the Hawks to a 47-13 victory over visiting Sandra Day O'Connor in a 6A non-region clash. Highland remains unbeaten at 3-0 while O'Connor is 1-2.
Davis, a 5-foot-11, 195 pound senior showed all kinds of athleticism in posting a career night. He scored on runs of 28, 61, 1, 1 and 83 yards. There were runs where speed was too much for the defense and other shorter runs were gaines of a few yards extra as he spun or bounced off two or three tackles. An Impressive effort.
"Our line came out and gave me room," Davis said. "There were runs with holes where I wasn't touched. It was good night." Davis now has rushed for 560 yards and eight TDs in three games.
Linemen Bronson Barney, Cooper Stevens, Makua Pule, Noah Boone and Caleb Lomu were spot on opening holes and creases for Davis to exploit.
"Our O-Line and Max carried us tonight," Highland coach Brock Farrel said. "It wasn't our best game. There was whole bunch of stuff in our head. There were times I think they thought they were doing things right and it wasn't there. There was some fall break hangover out there. I know the scoreboard shows a big win, but there's improvement to be made."
Davis tallied three of Highland four touchdowns in the first half that staked the Hawks to a 27-0 lead halfway through. He piled up 78 yards of a five-play, 81-yard game-opening march concluded by a 28-yard TD at the 9:26 mark. Touchdown No. 2 (61-yard run) came with just 16 seconds left in the quarter. A 34-yard reception from quarterback Gage Dayley was the big play of an early second-period TD. This one was capped by an Ammon Allen's 2-yard rush. Another long pass completion of 34 yards keyed the fourth TD - the first of Davis' two 1-yard runs.
While the offense was clicking for Highland, its defense was doing its part. O'Connor didn't cross into Highland territory until the final minute of the first half. O'Connor totaled just 64 yards of offense in the first half. For the game Highland had four takeaways (two fumble recoveries, two picks) and registered five sacks.
O'Connor alternated time among three quarterbacks in the game. It didn't score until the 4:26 mark of the third period. Junior Jace Snyder-Christison hooked up a couple times on a 47-yard march with the end a 14-yard catch by senior wideout James Groff. Groff kept his eye on the ball in the corner of the end zone after it bounded off the hands of a Highland defender and came down with it on the carom. That made it 33-7 as Davis added his fourth TD four minutes earlier for Highland.
Davis ended the third quarter and his night with a 83-yard TD run with 25 seconds to go. A few minutes earlier, he had a 74-yard TD called back due to holding.
O'Connor was able to put together a second TD drive late in the fourth quarter. This time it was junior Dallas Kuenzi connecting with Ben Currence, who made a nifty grab tight-roping the back corner of the end zone. Currence was brought up from the JV prior to the game.
Both schools resume action next Friday (Oct. 23). Highland visits Perry while O'Connor is on the road again at Shadow Ridge.
---