Badgers badminton fights for top flight ranking
October 20, 2020 by George Werner, AZPreps365
---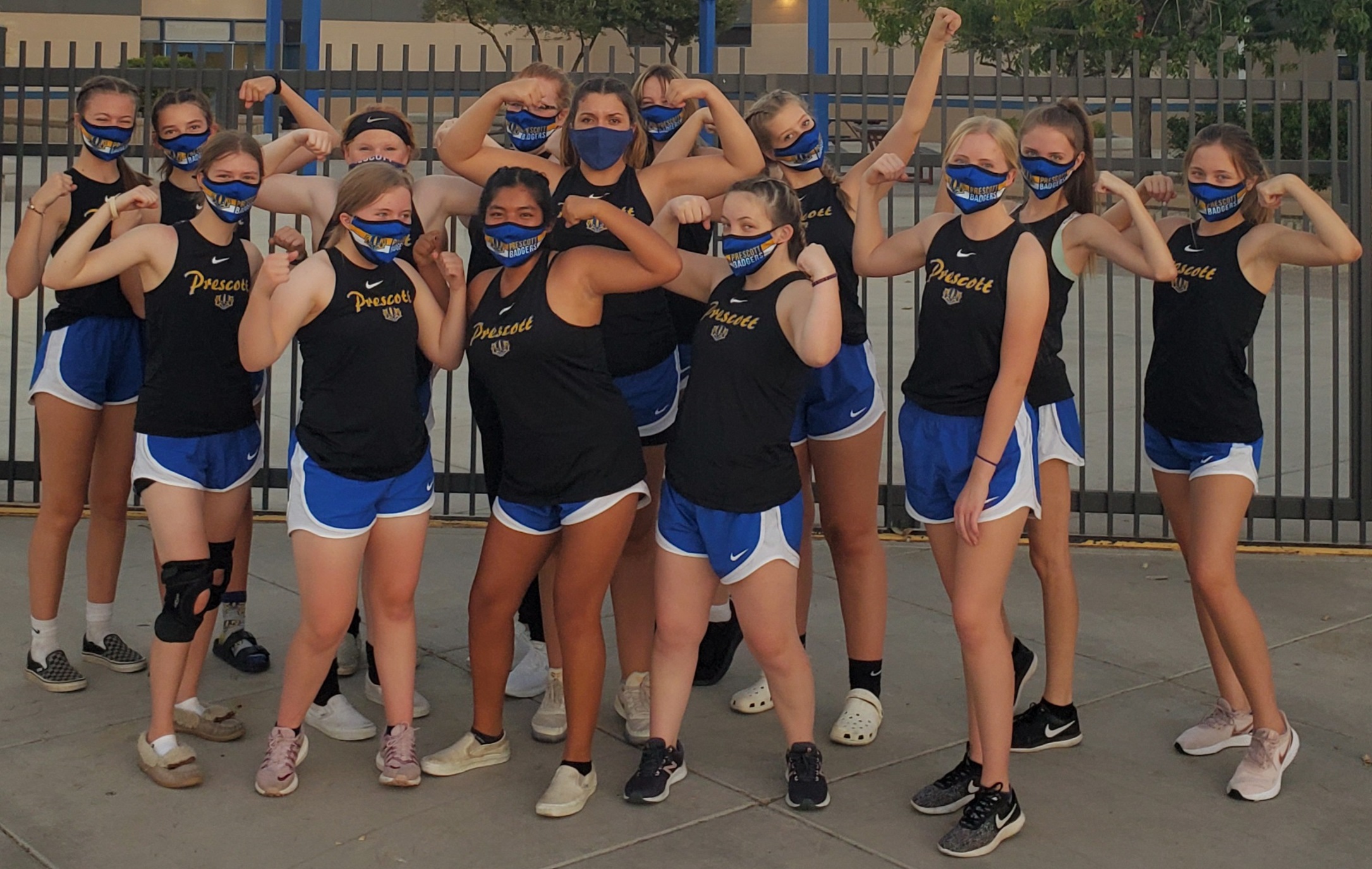 In high school badminton, 9-0 is an ideal combination, and the Prescott Badgers have it.
Arizona's only shuttlecock-serving program outside of Maricopa County, Prescott High School has been undefeated through its first nine games of a coronavirus-delayed fall schedule, winning seven by shutout.
So, heading into their next-to-last Northwest Section matchup of 2020 tomorrow, Oct. 21, at Paradise Valley High School, the 9-0 Badgers have swept all but two of their contests, 9-0.
Last week, the Badgers were all alone atop the Arizona Interscholastic Association's Division II power rankings before recently flip-flopping with Ironwood High School (10-0).
"We felt that we'd be good this year, especially with all our returning players," said sophomore Megan Townsend, who is ranked fifth among all No. 3 singles players in Division II with only one loss out of all of her 18 sets played. "So we're pretty happy so far."
But this dominance is downplayed by sixth-year head coach Bobbi Yoder, whose 2018 Badgers achieved similar milestones, finishing undefeated and top-ranked in Division II only to lose to Ironwood in the first round of the state team tournament.
"This team doesn't feel it has anything to prove," Yoder said. "We are a different team with four returning varsity players and with a little more postseason experience that is hungry to write their own story."
Seniors Kailey Crockett, Cassideen Naylor and Emily Nelson, along with junior Nicole Raiss, are those returning players. While they missed the varsity cut in 2018, their development and experience started with the players on that team, which included Crockett's older sister, Kendall.
Kailey Crockett, Naylor and Raiss would finish in the top 16 in last year's individual state tournament. They would also power last season's team, which had no returning players, to a No. 8 state tournament seed and a third-place finish in the Northwest, what Yoder called "one of the toughest sections" in Division II.
"We had three teams from our section in the top eight at team State," she said. "That was pretty impressive for us. We really only play badminton three months out of the year."
All badminton players on Maricopa County teams can train year-round at Mesa's Arizona Badminton Center. By Yoder's own estimation, even though this fall's schedule was shortened by three weeks to accommodate coronavirus changes in the sport like masking outside of games, social distancing of fans and daily health screenings of players, only five slated teams will really have tested hers.
That was not by design.
"For as long as I have been the badminton coach at PHS, I have requested… specifically to play tougher teams for my Freedom matches," Yoder said, "because I know the current skill level of my team each year and want to challenge them so that we are ready to face the top teams at State."
But of the list of non-region opponents she has requested, in three survey submissions to the AIA, that the Badgers play, Yoder says she is fortunate to get even one of those teams in her subsequent two-year schedule block.
"It is frustrating to say the least," she added, "and I know that there are a bunch of other top teams that feel the same way."
Therefore, her top four players, at least, are aware that their greatest challenge is yet to come.
"My girls don't really put much stock into the rankings," Yoder said, "because they rely and have faith in me to tell them realistically where we stand despite what the rankings say.
"I do feel that we are definitely a top four team this season and that Ironwood is probably the team to beat this year."
While the Eagles boast a pair of undefeated seniors, Toni DeMarco and Xandra Rhodes, who were instrumental in that 2018 first-round 5-2 upset of the Badgers, Nelson, whose older sister, Abby, finished fourth in the state as honorable mention all-state in 2017, has not lost a set since moving up from the fifth to the fourth flight on the six-player singles ladder.
"Emily is more of a finesse player," Yoder said. "She ended last season in the [No.] 2 spot but…has had to work her way back up the ranking ladder."
Badminton is definitely a family affair at Prescott, with Kailey Crockett's little sister Riley undefeated so far in singles play as a freshman No. 6, while Nelson's cousin, fellow senior Christina Carter, is an undefeated alternate whom Yoder rotates in to keep her top six fresh for the postseason.
"I just have been rotating who sits out each match so that I can continue to get my [f]reshman…more matches and more experience," Yoder said. "Riley Crockett is definitely one of the best [freshmen]--top three probably in the last six years--that I have had in the program and has come through huge for us this season.
"She is too good not to have in the lineup in singles. Riley has all the potential in the world and I'm excited to see what she accomplishes by the time she is a senior."
Naylor, cousin to the Crocketts, has played with Kailey for four years, rising with her to become Division II's fourth-ranked No. 2 doubles team. Naylor has yet to lose a set through seven doubles matches with Crockett this fall despite suffering a shoulder injury Sept. 19 that forced her out of the Shadow Mountain High School Invitational after two singles matches.
"They have grown up together and just have a natural chemistry together that I wanted to try and build on," Yoder said. "They have most definitely come through for me."
Kailey Crockett, in particular, has inspired Yoder for the past four years with her responsibility, work ethic and leadership of a consistently intelligent program that achieves over a 3.8 grade-point average.
"She has modeled what it means to show respect and sportsmanship to opposing coaches, players and schools for her teammates," Yoder said, and "demonstrates an amazing balance between academics, sports, faith, family and community. She has a great attitude every day and is a joy to coach and be around.
"She shows true grit in every practice and every match in that she keeps showing up, she puts in the work and she leads the way for the rest of the team even when things don't go her way and that ultimately will lead to true success. She gives me and this team 110 [percent] effort every time she steps on the court, and that is priceless to have as a coach."
Elle Long, left, prepares to serve the shuttlecock, backed up by fellow Prescott sophomore Megan Townsend during their doubles match win Oct. 12 at Saguaro High School. (Photo courtesy Bobbi Yoder)It was Kailey Crockett who successfully earned the Badgers' top singles spot after undefeated sophomore Elle Long, first flight at the beginning of the season, suffered a concussion playing club soccer after the Matador Invitational, where the Badgers finished second Sept. 19 to Mesa Mountain View High School.
"There is no doubt in my mind that she would still be in the [No.] 1 spot had she not had the injury," Yoder said. "It definitely affected her missing those two-and-a-half weeks, and the rest of the team is good enough to take advantage of those opportunities given the chance."
That chance comes every Friday, on challenge days, which gives every Badger the opportunity to "challenge up" to a higher flight on the singles ladder, if they can. The first week of October, Nelson's doubles partner Raiss did, becoming the third different top flight singles player for Yoder this fall.
"Nicole is another player that goes hard 24/7 and doesn't have any quit in her," Yoder said. "She is my power hitter for sure and has improved her overall game a lot in [three] years and still has a ton of potential."
After sweeps of Deer Valley and Peoria high schools, though, Kailey Crockett successfully challenged back up to her current place atop the Badgers singles ladder.
"That is just a testament to the depth that we have this year," Yoder said. "We are competitive all the way through our varsity lineup."
Townsend would later challenge up to the third flight over Long. The two have teamed up to form the only undefeated No. 3 doubles team in Division II, sweeping their way through 10 sets.
"Megan and Elle are very close to the same skill level and ability when it comes to badminton," Yoder said. "These two sophomores are amazing student-athletes as well as very passionate and competitive with everything they do.
"They are learning and getting better every single day and are nowhere near their full potential. I'm excited to see what they accomplish by the time they are seniors."
Townsend, Long and the rest of the Badgers know their roles, Yoder added, and are "all in," willing to work hard and sacrifice with "selflessness toward the end goal," no matter whether that involves a state title or not.
"It's anybody's shot to be [No.] 1," Yoder said, "any given day. If one team has an off day, that is all it takes to change the outcome.
"My girls know that if we stay focused on the end goal, and continue to work hard everyday, that we can compete with anyone in Division II. That is what we take stock in."
---