Claire Linos: Her journey from the mountains in China to the Valley trails
October 23, 2020 by Susan Wong, Arizona State University
---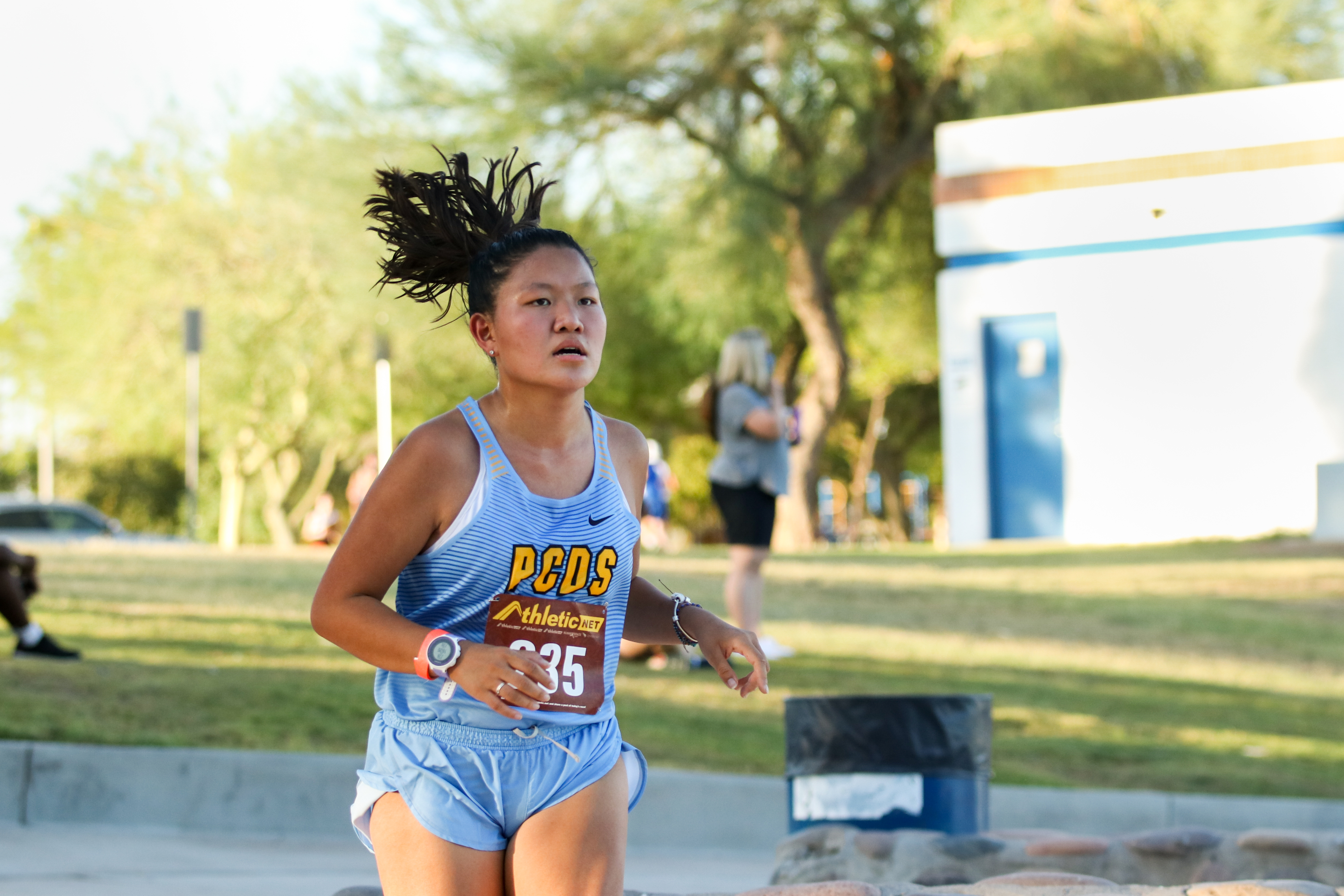 Susan Wong is an ASU Cronkite School of Journalism student assigned to cover Phoenix Country Day School for AZPreps365.com
Abandoned in a small basket on a bench near a fruit market in the northern mountains of Gansu, China, was a newborn baby girl who was found by an elderly man and brought to a nearby orphanage. Sixteen months later, that baby was adopted by Elizabeth Linos, a working single mother living in Phoenix, who had already adopted one daughter from Hubei, China.
That baby in the small basket grew up to be Claire Linos, now a senior cross country runner at Phoenix Country Day School. One of the Valley's top runners, Claire came in 11th at the AIA Division IV state championships last year with a time of 20:56.9. But because of COVID-19 cancellations, she's only had one meet this season, last month's Erin Botma Invite at Kiwanis Park in Tempe. There Claire came in fifth with a time of 22:17, which is a bit off her state time, though it's still early in a season that had a delayed start.
And it's a far, far cry from where her life began 17 years ago.
"When the kids were really little, I put them in the Parks and Rec (Youth Sports League) instead of spending a lot of money," Elizabeth said via a zoom interview. "I started them in a lot of things, so they did little crappy tennis lessons and swimming and dance and gymnastics and theater and everything."
Emilia, Claire's older sister, immediately discovered a natural talent for gymnastics which she did from ages 5-10 before making the transition over to ballet.
Claire, said her mother, initially struggled to find what she wanted to do, but eventually gravitated towards swimming. She swam competitively for the Scottsdale Aquatic Club for a couple of years. In the beginning, she said she progressed "really really really fast," but then "everyone started progressing like they kept going and then I just like stopped."
"I really begged my mom not to go to practice," Claire said. "I wasn't getting better and I just kind of hated it."
But Elizabeth, who has always emphasized the importance of extracurricular activities and staying active, wasn't going to let her daughter quit.
By then, Claire was in fourth grade at All Saints' Episcopal Day School and the kids had to run a half-mile. According to Elizabeth, a mom came up to her car and told her that Claire was really good and had beaten everyone. Elizabeth had no idea Claire was good at running. That same weekend, Claire competed in a swim meet, and she was not really enjoying the sport's competitive aspect.
Sitting in the stands, Elizabeth turned to another mom and said, "I wish there was a run club like (a) swim club." The mom told her that there was and gave Elizabeth the coach's phone number. When her mom first proposed the idea of joining a running team, Claire was very reluctant.
"No one wants to join a running team, especially when you're a kid." Claire said.
Elizabeth was scared too, but she still brought Claire to the run club and told the coach, "listen she's never ran, she's this (and) that." But he responded: "You know she's got a lot of natural talent."
So, that's where it started, at Go The Distance, a running club for kids ages 12-18.
Claire still swam for a while, but then she realized after her first practice with the run club that she really liked it and it was really fun, so she swapped her bathing suit for running shoes and never looked back.
From fourth to eighth grade, that's all Claire did, for four years straight. She competed in road racing meets every weekend, running 5 and 10k's. It was mostly cross country because of the distance, but she also did some track. Some of Claire's former teammates on her club team are now elite runners at big Division 1 universities. Claire looked up to a few of the older girls on her club team who went to Xavier College Prep -- two of them even signed to run at Ivy League colleges with full-ride scholarships. That was what she had envisioned for herself, Claire dreamed of attending Xavier and getting recruited to run for a big collegiate team.
When it came time to look at high schools, Xavier, a Div. I Catholic, all-female private high school, was initially Claire's top choice, but she also considered Notre Dame Prep, PCDS, and other private schools in the Valley. She also had Pinnacle, her district high school, and Chaparral in mind, but those were backups.
First, Claire shadowed at Notre Dame, a Div. III Catholic private high school, then she shadowed at Xavier, but according to Claire, it wasn't as cool as she thought it would be. Still, she had her mind set on attending Xavier.
But then Claire shadowed at PCDS and immediately loved it. However, she felt like it was too expensive and that she wouldn't fit in. "Majority of the kids are like insanely wealthy and intelligent," she said. This left Claire really conflicted, so she shadowed at Xavier again hoping that she would like it more.
Except, she didn't like it anymore and realized she only wanted to go to Xavier for running because she romanticized the idea of getting recruited to run in college. According to Elizabeth, Claire loves teamwork, but just "doesn't have the kill" and love for running in the competitive sense.
"I loved running then, I still love it now, but I was like, I don't feel it," Claire said in regards to not attending Xavier, "I was a good runner, but I was like I don't know if I want this, but for college like this is what I need to get into a really good school."
Ultimately, Claire decided that PCDS would be the best fit for her, so she begged her mom to let her attend, even if it meant going to a smaller Div. IV school with only 68 students in her graduating class.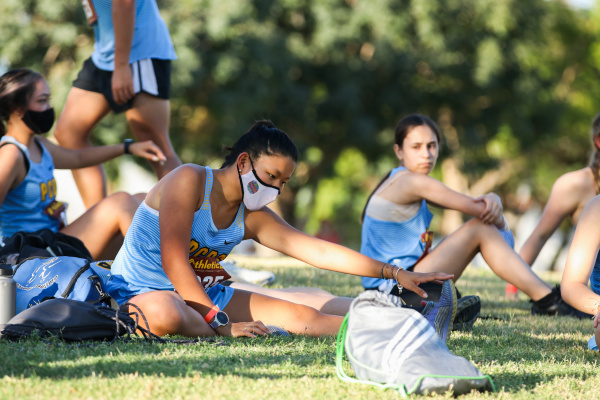 Claire stretching before the meet at Kiwanis Park on Sept. 29. (Susan Wong/AZPreps365)
Looking back, she doesn't regret her decision. She likes competing, she said, but it isn't everything. Going to Xavier could've brought her different opportunities athletically, but according to Claire's mom PCDS really allowed Claire to focus on her academics. She has a 3.93 GPA unweighted and is taking classes such as AP Biology, Anatomy, Physiology and Statistics.
Because PCDS wasn't competitive enough for Claire, as a freshman and sophomore, she would run with a neighborhood running group composed of a bunch of 40-year-old marathon runners. They would run on average 15 miles every Saturday, she said, and one time she ran 18 miles with the group from the Soul Sports in Scottsdale to the Soul Sports in Tempe, which is her longest distance.
Nowadays, Claire wakes at 5 a.m. -- more specifically she says 5:08 a.m -- to get ready for school. She packs most of her bags the night before, and because lockers in the gym aren't available due to COVID-19 restrictions, she has to lug around a second duffel bag for cross country. Pre-pandemic, she only needed to bring an extra set of clothes, but now she has to carry this "big fat bag."
"My conditioner, my shampoo, all my skincare stuff, then all my clothes and my shoes," she said.
On top of her backpack and the "big fat bag," she also has to pack a lunch, so that makes three bags. And, due to COVID, they can't use the microwaves or refrigerators at school, so she can only bring sandwiches to school. The night before, either Claire or her mom preps a sandwich. She likes to put lettuce, cheddar, prosciutto or salami on her sandwiches. On the days that she has to work, she has to pack a fourth bag with her work clothes.
"And, then my Hydro Flask never fits, sometimes I try to jam it in there, but I usually have four bags and a Hydro Flask," Claire said. "And then I put it in my car and then I'm always running late."
Claire tries to leave by 5:30 a.m., but it usually ends up being 5:35 by the time she actually gets out the door. Her drive to school is about 30 minutes and she's supposed to get there at 6:00 for cross country practice, but she says that she usually gets to the school at 6:02. Then, the team practices for an hour and sometimes the coaches push it for a few more minutes, leaving them only 20 minutes to shower and get ready for class which starts at 7:55, but she's expected to be in class by 7:45. She goes through a whole day of school and gets out at 3:00 and usually gets home around 4:00.
Fridays are her busiest days; after a long day of practice and school, she goes to work at Crumbl Cookies from 3 to 10 p.m. Earlier in the semester, she worked three days a week, but as she got busier with school and running, she worked less days. Her busy schedule only allows her one day a week to hang out with friends, and then she usually spends Sundays at home with the family or doing homework.
On top of school, work and cross country, Claire is also a leader on campus -- she's the co-president of the Outdoors Club and the IDEA (Inclusion, Diversity, Equity, and Awareness) Club. Adding on to her busy schedule, Claire is also working on her college applications, with early action deadlines approaching on Nov. 2. She's planning to major in nursing in college, just like her older sister, Emilia, who is a nursing student at ASU.
"Well, if she goes to ASU we want her to be a lifeguard," Emilia joked.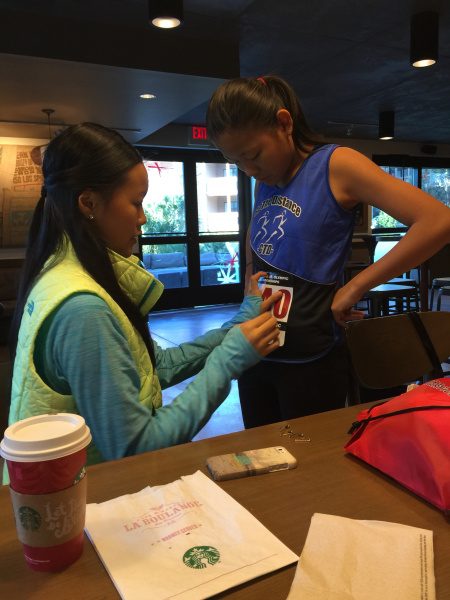 Emilia helping Claire pin her running bib to her tank top before one of Claire's meet at a Starbucks in 2014. (Photo Courtesy of Emilia Linos)
Claire and Emilia have always had a good relationship, attending each other's meets and performances and helping each other. Even when they were younger and Emilia had to miss a lot of family time during the school year due to her commitment to ballet, she felt they were able to make up that connection in the summer. That's when the girls traveled to Greece, where their grandparents live, and they'd spend a few months overseas.
When asked to describe her younger sister in one word, Emilia hesitated and after about half a minute of silence, she said "energetic," and then added "selfless." Claire is like a "ball of energy," said Emilia, and speaks at the "speed of light."
"She constantly is trying to please everyone in our family, like she just wants everyone to be happy, she doesn't want anyone to be suffering," Emilia said.
But, she also said the one thing that annoys her the most about Claire is her tunnel vision, the way that she will start a task and will not let anything stop and interrupt her. "Just not very logical," Emilia said, "but she's dedicated, I guess."
One example Emilia gave: When their mom is cooking and Claire is working on something, she will let her food get cold because she cannot stop what she is doing to go eat.
"Tiny tiny tiny little things had to happen for me to be right here where I am right now, so I'm always thinking about that," Claire said.
She said that 2003, the year she was adopted, only about 6,000 children were adopted out of China from the roughly 70,000 who were in the orphanages. Claire was also the first baby to be adopted by an American from her orphanage.
"I am eternally grateful for the perseverance of my mother because if she had not decided to adopt when everyone in her life told her she could never handle two kids alone, I wouldn't be here today." Claire wrote in her personal statement for colleges.
From the small basket on a bench near a fruit market in the northern mountains of Gansu, China, to the Phoenix classroom and running trails, her journey never seems to stop.
---