Former AIA athlete update: Kyle Miller, an unprecedented gap year during an unprecedented time
October 27, 2020 by Spencer Cihak, Arizona State University
---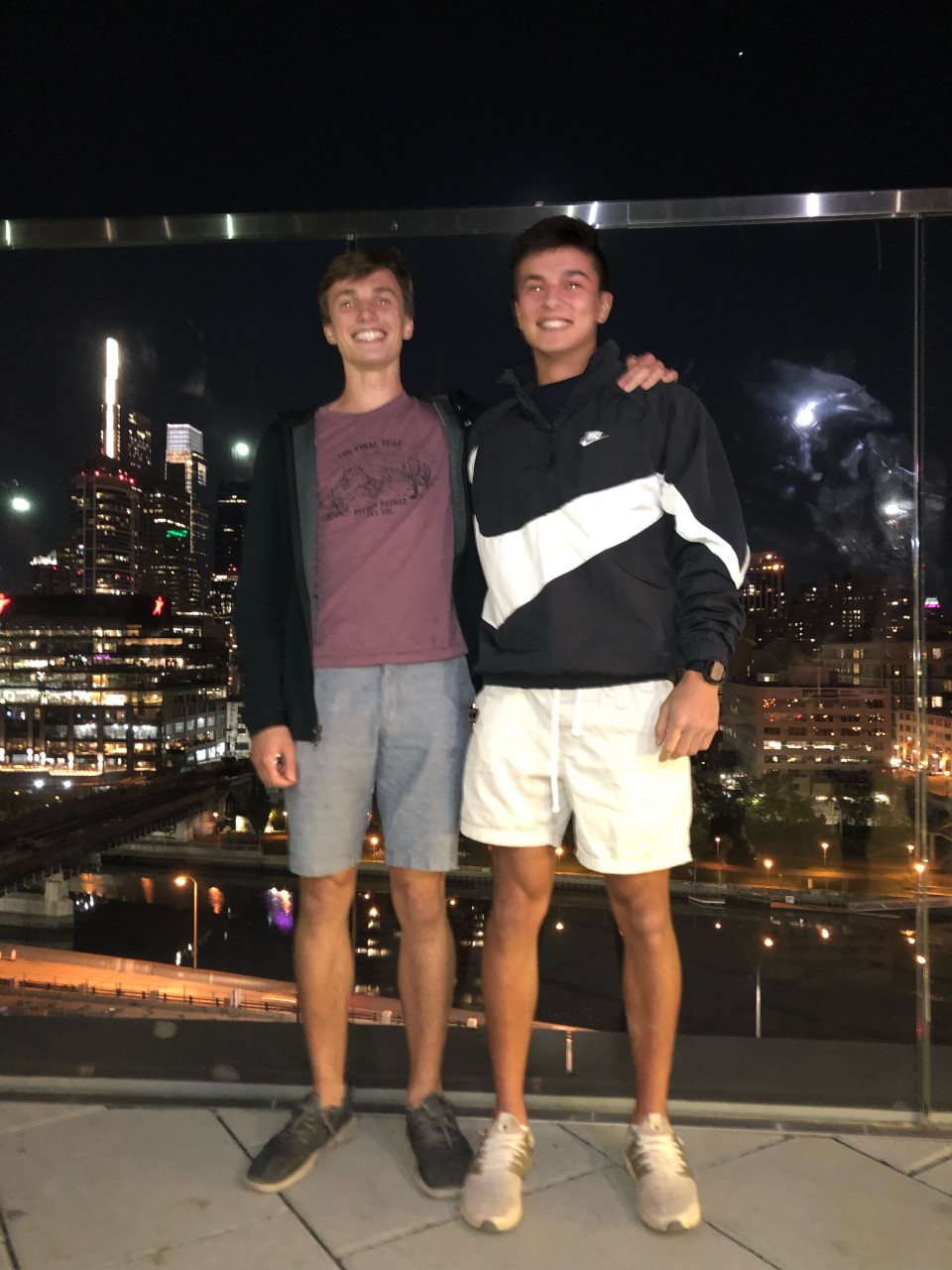 Spencer Cihak is an ASU Cronkite School of Journalism student assigned to cover Hamilton for AZPreps365.com
The transition from high school to college is a very special time for any young adult. You go from having a very structured everyday life with very little responsibility to plenty of responsibility but the freedom to choose how you want to structure your time. For Kyle Miller and Luke Johnson, that time between high school and college will be a little longer than most.
Why? They decided to defer a year due to COVID-19.
Miller runs the 800 meters while Johnson runs the 1,600 meters, and both began running in middle school. The difference? Miller is a Scottsdale native who attended Desert Mountain High; while Johnson was running at Plainsboro High in Princeton, New Jersey.
In July, the Ivy League announced that all fall sports would be canceled due to COVID-19 concerns. A month later, the University of Pennsylvania announced that all classes would be remote and only international students could stay in the dorm rooms. Miller and Johnson knew Penn is where they wanted to go but that was after months of searching.
"Last summer, I toured like the entire east coast of schools, so I started at Duke and I saw, like, UVA, UNC, Georgetown, most of the Ivy Leagues. And I met with and talked to a lot of the coaches. So after that trip where I saw like 12 schools that I was interested in, Penn was my favorite," Miller said.
Miller ran both cross country and track during his time in Arizona. He took home the Division II 800 meter state championship title his junior year at Desert Mountain, while his senior year was cut short due to COVID-19.
His visit to the Philadelphia campus sealed the deal. "I did an official visit at Brown and Penn, and I just had a really good time at Penn," Miller said. "It was my favorite school and the coach offered me a spot on the team while I was there."
Johnson said: "I chose Penn because I really liked what they had to offer academically and athletically. Being in an academically-oriented environment while also being competitive athletically was an ideal fit for me. Also, I really liked the guys on the team, and coach [Steve] Dolan."
The decision to put their college experience on hold was difficult as they were only given a week to decide. They also just happened to be together when the fateful email arrived announcing all fall classes at UPenn would be remote.
"We actually met up on the day to go have lunch and rock climb. Then we realized that we got an email that said that Penn wasn't having anyone on campus, so then we were kind of scrambling to think about what we're going to do," Johnson said.
Miller and Johnson began to confer with their parents and advisers. A gap year would enable the freshmen to retain their NCAA eligibility when they do resume classes at Penn. Still, it was unfathomable a year ago to think they'd ever have to make such a decision. Like so many athletes across America, the pandemic had thrown their plans for a wild loop.
"Neither of us had even thought about a gap year. And I just mentioned it off-hand to my dad on a phone call like 'I could take a gap year,' but that doesn't really make sense," Miller said. "And then my dad called back the next day and said 'I think you should take the gap year' and [I] thought about it for a few days."
Miller then turned to his academic advisor for an opinion and the message was the same. "My Penn academic adviser said, 'Yeah, take the gap year, take the gap year like one hundred percent.' And then I basically just texted Luke like why I was thinking about taking a gap year. And I guess it was compelling enough since here we are."
Johnson said that while his NCAA eligibility was important, there was something else missing from an "all-virtual" school year. "I kind of feel bad for everyone that is taking online classes right now because it's got to be a little bit tough, just in terms of like having to be in your room like a lot and stuff and not getting, like, the social aspect of college. I really want to experience that," he said.
They now live about a half of a mile away from the rest of the Penn team and neither are allowed to see coach Dolan due to school restrictions based on the pandemic. Workouts come from daily emails and while all the athletes try to run together, it is not the same.
"Finding self motivation, like a reason to go out and train is really hard when there's really not a reason to except for like long term," Miller said.
"Not having a coach kind of stinks also," Johnson said. "We don't always have set runs, we try to meet up as much as possible with our other teammates. But sometimes their class schedules do not work because of tutoring sessions or I have a meeting or something. So sometimes we end up running by ourselves and that can be tough."
Penn captain Ryan Renken offered his thoughts on what it means to not have a coach.
"Under normal circumstances, it may be a nice change of pace to informally gather with friends and teammates and to head off on a run," Renken said. "Though, when you are without a coach for months and with no end in sight, you realize how much more responsibility as an athlete you have to carry in terms of motivating, executing and being consistent with training. Coaches are a steadfast source of accountability and direction, and the lack of that is certainly something many runners, including myself, had to overcome throughout the pandemic."
Renken added, "It is far more difficult to replicate the same levels of enthusiasm, excitement and spontaneity that running in large groups before a workout or end-of-season competition fosters. Nor did I realize how essential those seemingly forgettable moments are for the mental health and strength of runners in helping alleviate anxieties and stress at crucial times in our athletic and academic endeavors."
Miller and Johnson needed no help looking for motivation off the course as they both have been very busy despite the gap year. Miller is undecided about his major although he intends to go into something related to math or economics and Johnson plans to major in economics.
"I've been taking three online classes to try and test out those classes when we enroll next year. I've also been tutoring high schoolers in Arizona virtually. And I've just been looking for internships. I applied to like 15 different places," Miller said.
"I have an internship with a small, like, fin tech startup called Troutwood. I do like market research and a little bit of development. And besides that, I'm trying to learn python," Johnson said, referring to the high-level programming language.
What they both want heading into 2021 and the future is simple: they want to run.
"Without access to our coaches, facilities, and teammates, the overall experience and atmosphere of practice is entirely unrecognizable," Renken said. "However, being witness to close teammates and other runners in the community continuing to be diligent in training and responsible in public is an inspiration in itself. Though I can assure that everyone I know is counting down the days until we can return to practice."
---