From campus construction to clock operation: Jim Lamb is dedicated to the Firebirds Success
November 2, 2020 by Collin Ring, Arizona State University
---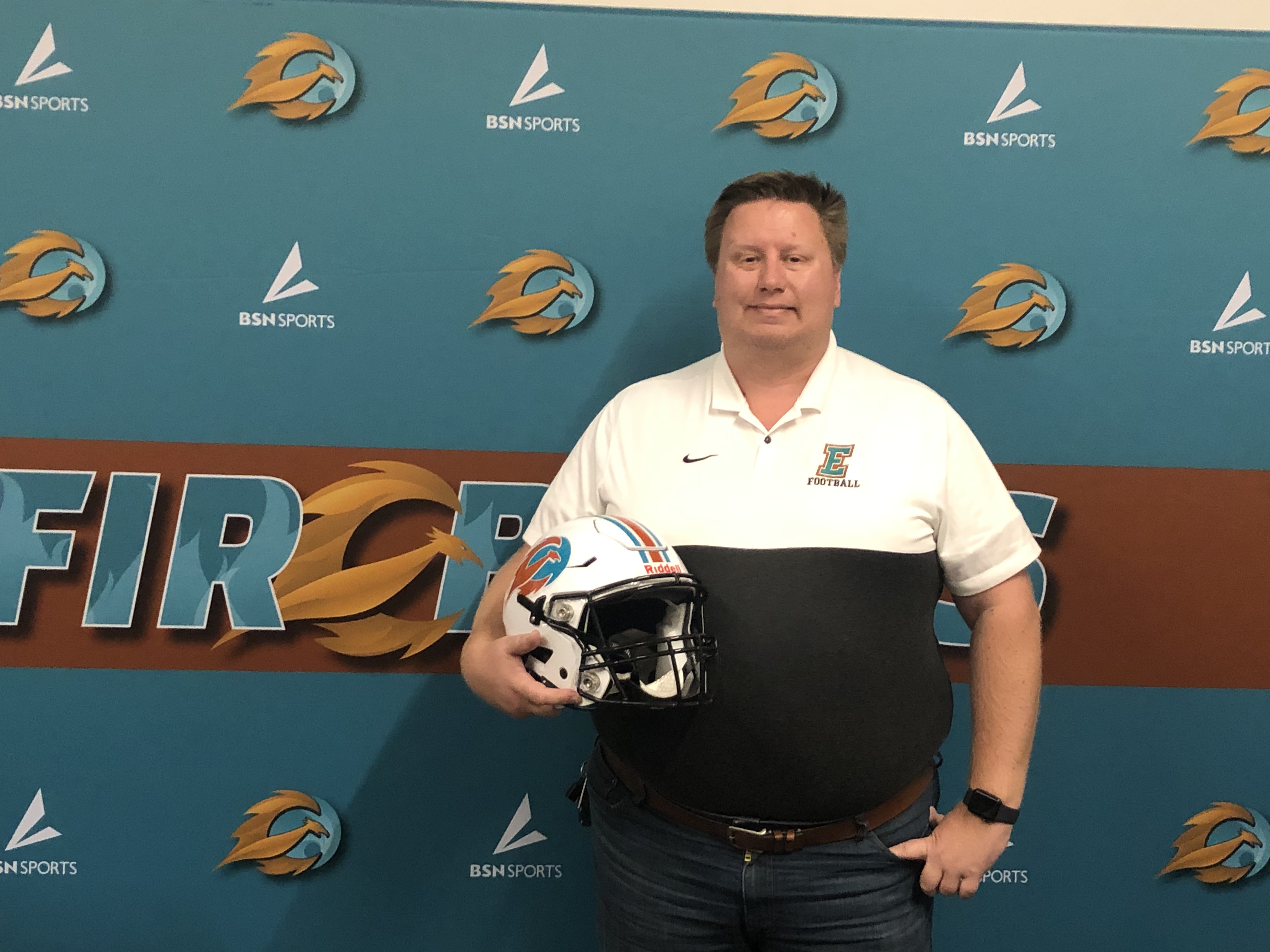 Collin Ring is an ASU Cronkite School of Journalism student who covers Eastmark High School for AZPreps365.com.
Successful high schools require top-notch athletic facilities for students to use and dedicated adults to keep the programs running. For these reasons, Queen Creek's newest high school, Eastmark High, hit the lottery with Jim Lamb.
Lamb serves as the director of bond projects and construction for the Queen Creek Unified School District. He dedicated just over three years to the design and construction of Eastmark High.
"The campus is extraordinary," said Chris Driving Hawk, coach of the Firebird football team. "It's very new and has a nice modern appearance."
Driving Hawk isn't the only one who noticed the commitment and details Lamb made to the campus before it actually opened in August of 2019.
"Jim's experience in the construction industry as well as his attention to detail was invaluable in creating amazing facilities for our kids,'' said Paul Gagnon, principal of Eastmark High. "Countless meetings, hours spent walking the site helped ensure our construction company as well as associated contractors didn't miss important details."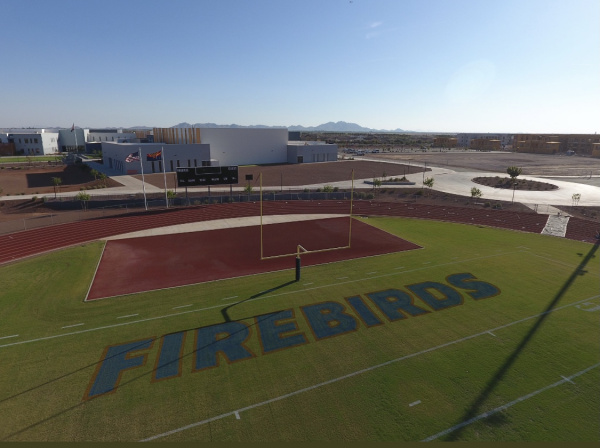 View of the school from above the football field . (Photo Courtesy of Eastmark High School Athletics)
In its second year, Eastmark is still young, but Lamb has been a huge contributor to the success Eastmark has seen thus far. Lamb monitored the construction of Eastmark with the anticipated success of students and athletes in mind, but he didn't end his commitment when the construction was complete. Lamb stays committed to Eastmark by devoting his time working the clock for home football games. He enjoys working at the games and being back on the campus to see his work being used and appreciated.
"Once a new school is built, I don't really get to see it much,'' Lamb said. "My job as director of construction is that I move on to the next project. So, for me, working the games, it's just kind of a cool opportunity to see the students and staff using and interacting with the space."
Kraig Leuschner, Eastmark's athletic director, is grateful to work alongside Lamb as they seek to continue to improve the facilities and success of Eastmark's athletes.
"It's been great to have Jim working our games since he worked with our architect and general contractor,'' Leuschner said. "He has so much institutional knowledge, and that gives us an extra pair of eyes to assess our game management and safety. We're trying to build a positive culture at Eastmark, the more people we have working in our community with his personality, the better. Jim gets what we are trying to do, and he fits into that plan seamlessly."
Lamb loves the school, the environment and the athletics at Eastmark. He is grateful to be working the football games; he gets a bird's-eye view of the game from the press box.
"It's very rewarding because I see them use something how I anticipated they would,'' Lamb said. "Being on the campus, I'll have flashbacks to three years ago in a design meeting and discussions with architects about constructing the best facilities for students. Now to see these students enjoying the setup of Eastmark, it just really completes the full circle."
Lamb's wife Elizabeth was looking for a job two years ago and Lamb suggested that she apply to Eastmark. She currently serves as the attendance technician in the front office and it is without a doubt that Eastmark runs through the blood of the Lamb family.
---