Perry's Ashley Rodarte-Nikhita Jayaraj 3-peat in D-I doubles
November 7, 2020 by Les Willsey, AZPreps365
---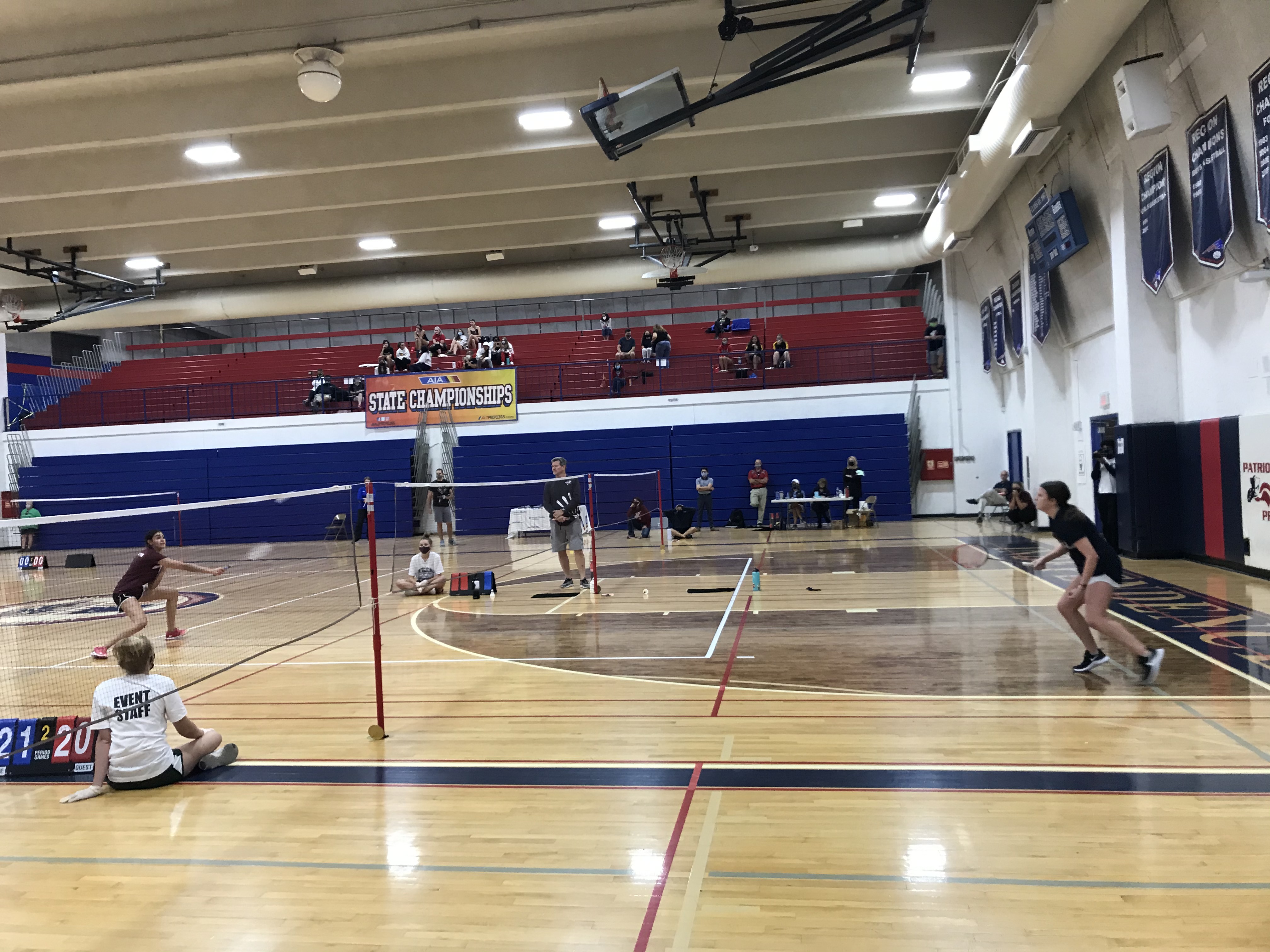 There was no three-year plan. Just take things as they come. The philosophy of Perry's now three-time D-I badminton doubles champions - Ashley Rodarte and Nikhita Jayaraj.
The Perry top-seeded duo had to go three sets to earn their third consecutive doubles title, but did so with a 21-11, 19-21, 21-11 victory over Basha High's Hannah Doyle and Tricia DeSpain at the singles and doubles championships held at Independence High School.
Rodarte, a senior and Jayaraj a junior, were paired up somewhat by default as freshman and sophomore, according to coach Lerina Johnson. The Pumas at the time had a veteran group of players, so fitting Rodarte and Jayaraj in took hold and has worked handsomely for the program.
"They gelled that first year," Johnson said. "Their skill sets complement one another and their mental game is on the same page. It's amazing what they've done."
A three-peat by the same doubles partners may be a record. At least looking at records the AIA has at its disposal, the best that's been done in the past is a repeat on a few occasions.
"Yes, we 've just taken it year by year," Rodarte said of her alliance with Jayaraj. "After we won the first year we knew we had the potential to keep it going."
In Saturday's final against No. 6 seed Doyle and DeSpain, Perry prevailed in the first set with ease. Basha equaled Perry's competitiveness in the second set and left the title hingin on a final set.
"We were a little worried, but we made up our minds to get back to playing like we did the first set," Jayaraj said.
That strategy and execution was right on and the trifecta was banked.
Rodarte-Jayaraj never lost a doubles match in three seasons. Rodarte has never lost a match singles or doubles in four years.
So what isJayaraj to do next year with Rodarte graduated.
"Right now I think I'd like to play singles at state," Jayaraj said. "We'll see. If there's a partner out there, well maybe. Singles would be my first choice."
Doubles top 4: 1- Perry's Nikhita Jayaraj-Ashley Rodarte; 2 - Basha's Hannah Doyle-Tricia DeSpain; 3 - Chaparral's Avery Roland-Emiko Pham; 4. Xavier's Lina Vanderway-Sophie Riviere. (azpreps365 photo)
The singles final, which preceeded the doubles final, was also an all-Chandler affair. It matched top-seed Neha Shakir against Perry's Kate MacPherson, the No. 2 seed. Shakir came back from losing the first set to claim the title. Scores were 13-21, 22-20 and 21-16.
The two met during the regular season and the result was the same - Shakir 2-1 after dropping the first set.
"I tried to stay calm and focused," Shakir said going forward after the first set loss. "I concentrated on applying everything I've learned. Just play and do my best."
The calm demeanor served Shakir well as she evened the match with in he nip-and-tuck second set. The third set saw her lose an early 7-2 lead and trail 16-14. Her poise showed in a 7-0 run that finished the match.
"I couldn't be happier for her," Hamilton coach Lauren said. "You watch her play and you would not know if she was ahead or behind. She keeps calm, and that's a big part of her game."
Shakir reached the quarterfinals in singles last year and watched teammate Rujita Sane claim the title. Sane opted to compete in cross country only this season, but Shakir made Husky Nation proud with a singles title in Sane's stead.
In the consolation match of each competition, Chaparral's Emi Pham and Roland took third beating Xavier Prep's Lina Vanderway and Sophie Riviere. Third-place in singles went to Chaparral's MIdori Pham with a win over Sunnyslope's Sofia Lovesy.
Top 4 singles - 1 - Hamilton's Neha Shakir; 2. Perry's Kate MacPherson; 3. Chaparral's Midori Pham; 4. Sunnyslope's Sofia Lovesy. (Azpreps365 photo).
.
---