D-II badminton crowns familiar champs
November 7, 2020 by Les Willsey, AZPreps365
---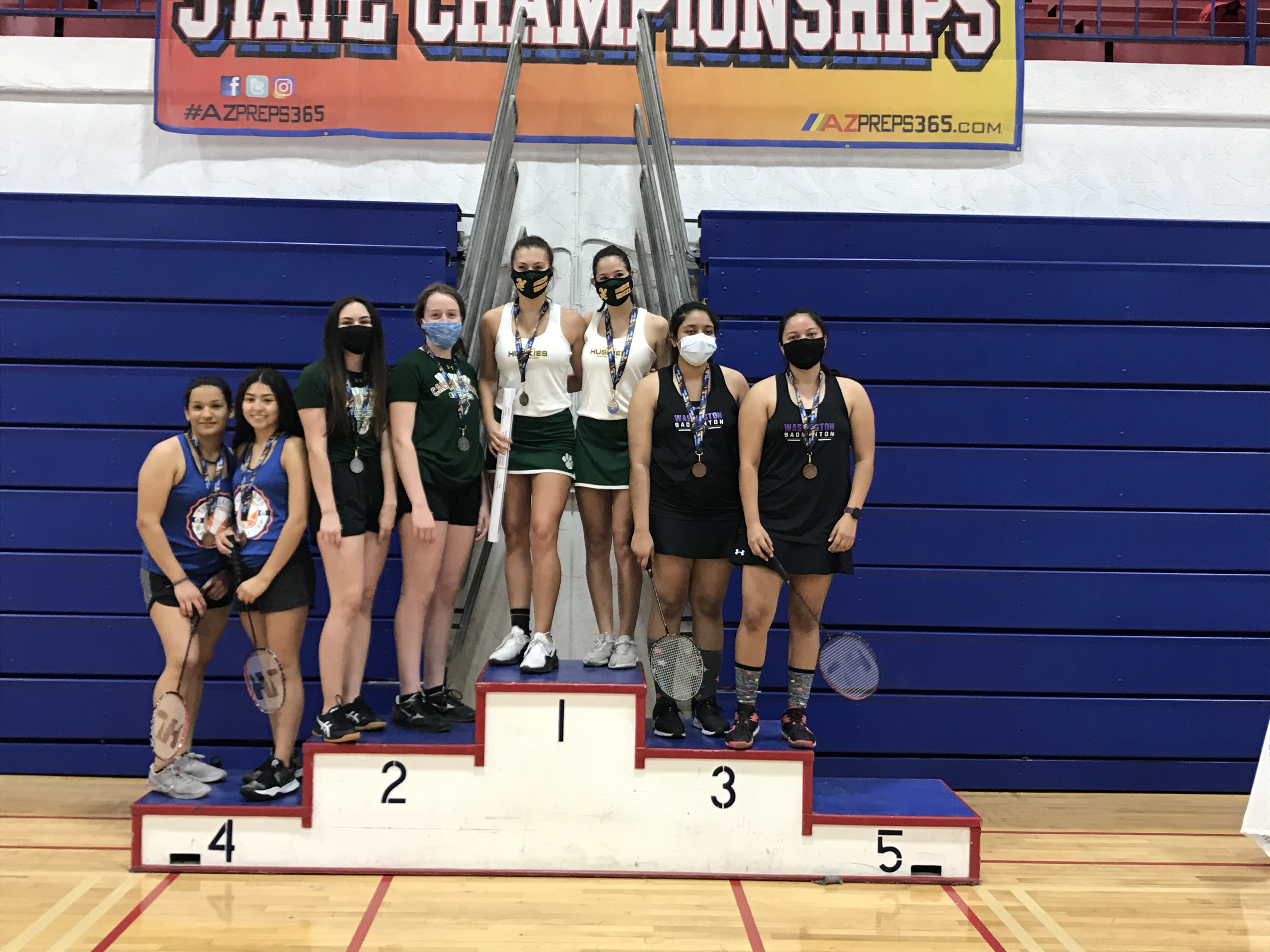 Plenty of Division 2 badminton contenders found their way to the medal stand - again as in past years - late Saturday afternoon. Some in different roles, others the same.
Mesquite senior Sabrina Farias made it back-to-back titles of sorts with a three-set, come-from-behind victory over top-seed Ironwood's Toni DeMarco in the singles final. The doubles title went to No. 3 seeded Horizon's Tori Pepe and Emily Newton - who were also victorious in three sets - 21-19, 20-22, 21-13 over No. 1 seeded Campo Verde's Maya Gibbs and Jaclyn Whaley as dusk fell at Independence High School.
The repeat state placers in the aforemention group? Start with third-seeded Farias, who played doubles in 2018 and 2019. Farias took fourth in 2018 with teammate Alyssa Dong and followed in 2019 with Dong for the doubles crown.
Next up is Horizon's Tori Pepe, a doubles placer in each of the last three years. Pepe teamed with Katy Woods for a championship in 2018 and settled for third last year with Woods. Pepe welcomed a new partner in Newton with the same 2018 result.
Then there's DeMarco. She competed in doubles at state in 2017 with one match win. She garnered a third-place doubles medal in 2018, missed out last year competing and falling in the singles quarterfinals. Her finish Saturday althoug not a title, was her best of the four years.
Last but not least is Campo Verde's doubles tandem of Gibbs and Whaley. Gibbs-Whaley were fourth-place finishers in 2019 to Pepe and Woods. Their nemesis was the nearly the same again - Pepe and new partner Newton.
Farias and DeMarco engaged in an exhausting and grueling match. DeMarco led 15-8 in the first set only to have Farias storm back for a 20-17 advantage. DeMarco fought off three match points and used a 5-0 run to take the set. Farias pulled away about the midpoint of sets two and three for twin 21-14 victories. She had little to no energy left postmatch.
"It's hard to say which of doubles and singles championships were the most satisfying," Farias said. "I think back about playing doubles and having a partner that has your back. That meant so much. In singles it's just you. Today it was exhausting. Exhausting, but against good competition."
Pepe said she had an easy time clicking with Newton after a couple seasons with Woods.
"We play similarly, and we take energy off each other," Pepe said. "It's just as good a feeling. Newton added excitement of the day and winning were worth an afternoon's toil.
Pepe-Newton endured only one split (2-1 match) all season before the tournament. Three of their four matches Saturday took three sets to win.
Washington's Kaylee Pineda and Diana Rayas beat unseeded Thunderbird's Alex Salinas Salas and Susie Ayala for third in doubles while third in singles went to Goldwater's Alyssa Baca with a win over Cactus' McKenna Feringa.
Singles medalists - champ Sabrina Farias, runner-up Toni DeMarco, third-place Alyssa Baca and fourth McKenna Feringa. (AzPreps365 photo)
---