Ironwood girls' badminton returns to state tournament more experienced and confident
November 8, 2020 by Carson Breber, Arizona State University
---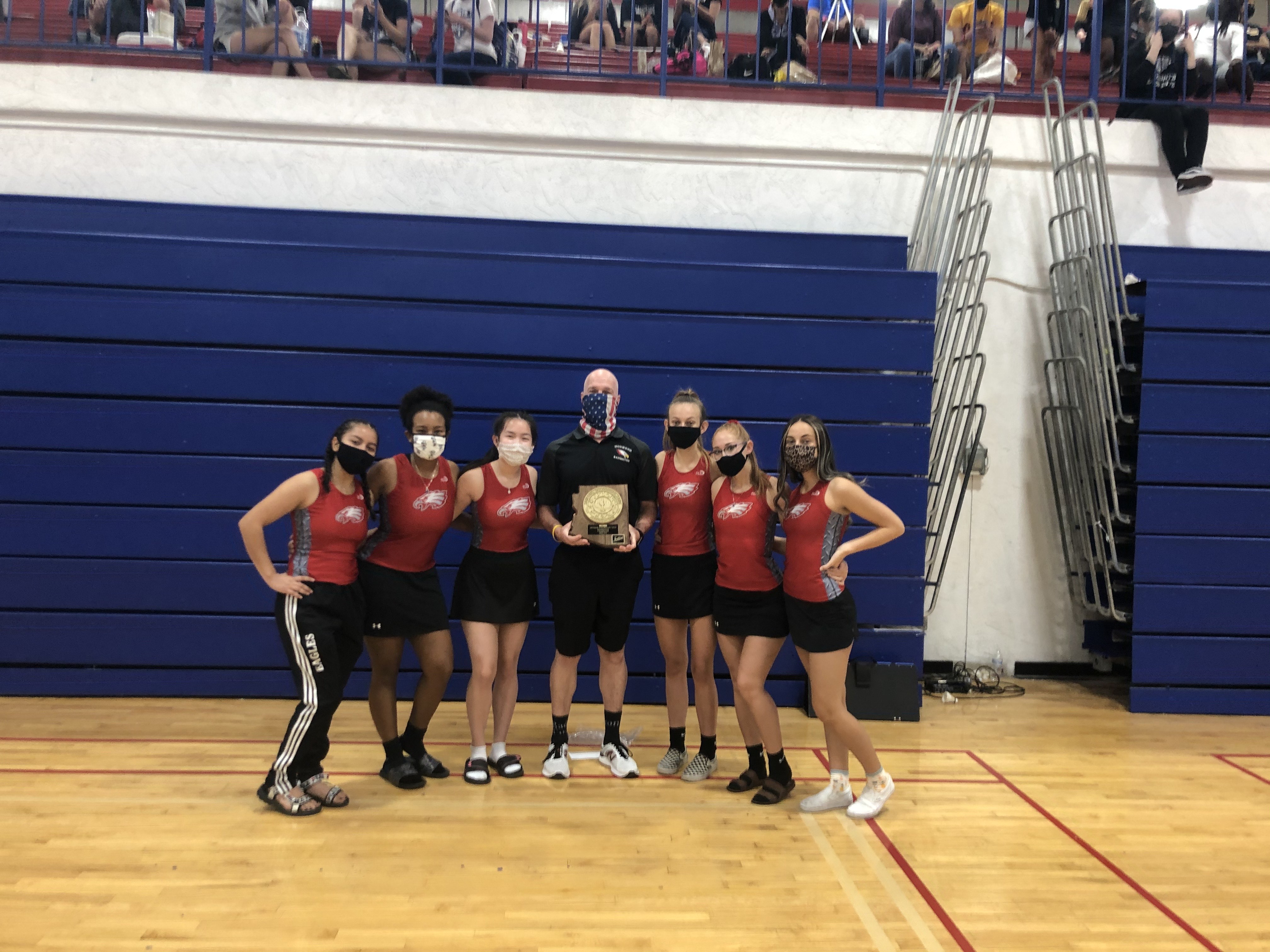 Last year, Ironwood girls' badminton was a match away from its second consecutive appearance in the Division II state tournament final.
Seeded third, the Eagles faced seventh seeded Horizon in a tightly contested semifinal. Five different matches went to a decisive third game, but Ironwood, with just one senior on its roster, lost four of them, falling 5-4.
It was a crushing defeat for the Eagles, but one that "fueled them" for the coming season, Ironwood senior and No. 1 singles player Toni DeMarco said.
"They understood the opportunity missed," Ironwood coach Brett Stafford said. "They were just determined to not let that happen again."
This year, Ironwood returns to the state tournament as a more experienced and confident team, having just finished the regular season 14-0 with four seniors and two juniors in its lineup.
The Eagles haven't just been winning - they have completely eviscerated the competition, securing 12 of their victories by a 9-0 margin.
Only fifth seeded Horizon and sixth seeded Sunrise Mountain have notched even a single match win against Ironwood, as they fell 8-1 and 7-2, respectively.
Ironwood's improvement began in the offseason, when the team practiced as much as possible with COVID-19 restrictions in place.
Although the players' understanding of the game and physical conditioning have progressed in that time, Stafford said the biggest difference from last year is increased confidence across the board.
"There's not a lot of doubt in their minds," Stafford said. "They're stepping on the court and going, 'I'm a good player, you've got to beat me.'"
Stafford said the team's victory over Horizon, which they approached with "revenge on their minds," was huge in solidifying that self-belief that had been absent previously.
"We had been a pretty tight-knit group, but I think it might have started clicking for them that we are one of the best teams in the state," Stafford said. "We're the team to beat."
That growth in confidence starts at the top of the lineup with DeMarco, who lost versus Horizon at No. 1 singles last year in a decisive third game.
This year, albeit against a different player, she won 21-2, 21-5 in that matchup, notching one of the most convincing victories of her currently undefeated season.
"When the game got close last year, she played not to lose," Stafford said. "Now, on the court, she plays to win."
Stafford said DeMarco has also set an example as an incredible competitor, bringing an attitude that has permeated through the entire team.
"(DeMarco) doesn't want to get beaten by anybody, on any day, no matter what it is," Stafford said. "Even in practice, when she's playing her own teammates, it's 'I'm here to win.'"
DeMarco said that embrace of internal competition has been crucial to the team's development.
"When you're getting challenged, and you play somebody on your level, it makes you better," DeMarco said. "It just goes down the line, (Nos.) 1-6, because we're all trying to be better."
One of those improved players is senior Kelly Grady, who has risen all the way from No. 5 singles last season to an undefeated record at No. 2 singles in 2020.
Stafford said that Grady became comfortable at No. 5 singles last season, but doubted her ability to ever succeed at No. 4.
Grady returned for her senior year hoping to play No. 3 singles, where she began the year, but improved shot selection and "pretty amazing" shotmaking have helped her dominate even more difficult competition, Stafford said.
"It's a lot of pressure, but I feel comfortable at the position," Grady said. "I feel confident in all of our spots."
Seniors Savannah Hendrix and Xandra Rhodes, both crucial members of last year's team, are also yet to lose in 2020, and simply add to the squad's veteran identity.
"All six of (our players) are special, but those four seniors are going to be tough to replace," Stafford said. "They keep everybody working hard. We wouldn't be here, in this spot, without all four of them."
Despite their resumé, the Eagles are seeded third in the state bracket, behind Campo Verde and Prescott. But, ahead of their first round match against Raymond S. Kellis on Monday, DeMarco said there is a completely different feeling within the team compared to last time around.
"Last year we went into it with some doubts, and some people who hadn't been to (the) state (tournament) before," DeMarco said. "This year, we've all been there."
Stafford said that after a long road back, the Eagles now just have to maintain the fire that has driven them to such great success.
"We've got a week left," Stafford said. "The desire to play badminton has to continue."
---