Badminton champs: Perry D1, Ironwood D2
November 12, 2020 by Les Willsey, AZPreps365
---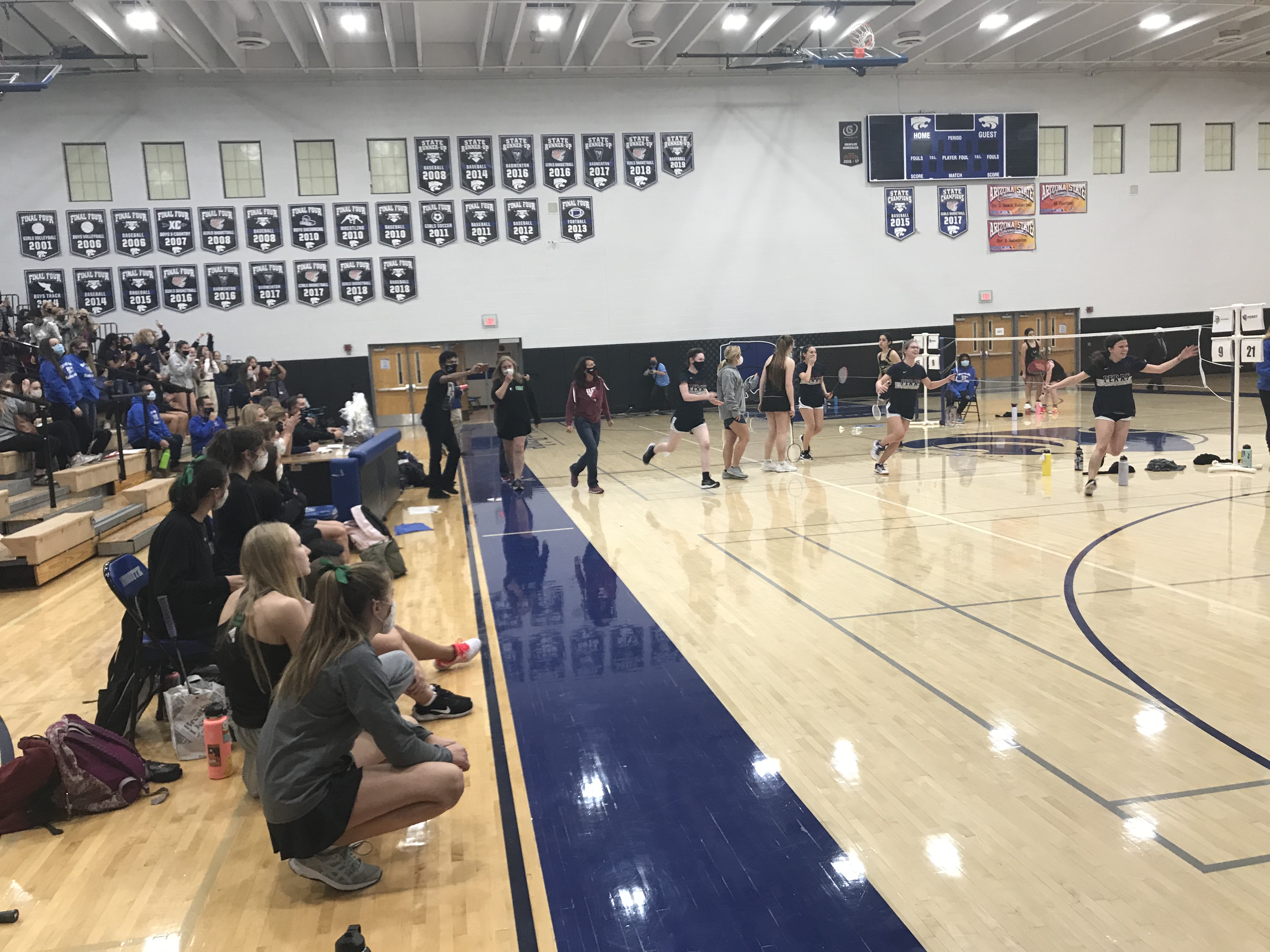 Maybe there was logic to it. Unbeaten #3 Ironwood defeating unbeaten #1 Campo Verde Thursday night for the D2 badminton championship at Mesquite High School.
Afterall, Ironwood's program had some stored up angst when it came to nabbing a championship. Semifinal losses in 2016, 2017 and 2019. A title-match defeat in 2018. Well, the damn burst on that account as the Eagles took a minimum amount of time to defeat Campo Verde, 5-0. The first badminton title in Ironwood's history.
"Our girls were here to play, they got on it," Ironwood coach Brett Stafford said. "These last couple years getting close. Being right there. They came out with fire tonight."
Ironwood won the singles matches in straight sets. No. 1 Toni Demarco over Kennedy Curri, 21-13, 21-13. No. 3 Savannah Hendrix over Maya Gibbs, 21-13, 21-13. No. 4 Xandra Rhodes over Emma Lake, 21-19, 21-5. No. 5 Diana Batrez-Ramirez over Kennedy Hough, 21-14, 21-7 and No. 6 Juliana Traylor-Rowen over Sami Hanus, 21-11, 21-15. No. 2 Kelly Grady (Ironwood) was even at a set apiece in her match with Jaclyn Whaley when the Eagles registered their fifth point.
Ironwood coach Brett Stafford greets his team after sealing the D2 title over Campo Verde. (Azpreps365 photo)
Campo Verde seemed stunned, but then three of the top four teams in the tournament registered unbeaten seasons. None had faced each other which made the outcomes on paper a mystery. Close or rout? Who knew?
"That's the thing when you play and haven't faced the other team, you don't know for sure what will happen, Campo Verde coach Rochelle Burson said. "I never expected we'd be where we got to this year. Happy we got what we got. It comes down to who wants it the most."
In winning the title, Ironwood beat the two teams besides itself who were unbeaten. The Eagles ventured to Prescott against the No. 2 Badgers on Wednesday and were victorious, 5-2.
"We were ready for this," Demarco, one of four seniors in the Eagles' lineup Thursday, said. "We came in super confident after winning at Prescott on their home court. I've had some success individually, but this is the best."
Ironwood Eagles badminton - the D2 champions for 2020. (AzPreps365 photo)D1
Perry was favored to win its fourth consecutive D1 championship, but D1 newcomer Sunnyslope wasn't about to roll over for the Pumas.
Perry had to battle as hard as it has for any of its four titles and in the end prevailed with a 5-2 victory. The teams have been the dominating programs of late with a combined seven titles in the last decade and three runners-up.
Every singles match was hard fought even the three that were sweeps. Perry took a 4-2 lead to doubles. Sunnyslope put pressure on in the early in doubles matches, winning the opening set in two of the three. It was that one doubles match they didn't control that was the sticking point. Yeah. Perry's three-time, state champion doubles team comprised of Nikhita Jayaraj and Ashley Rodarte. They posted a 21-0, 21-9 win over the Vikings' Maggie Bacon and Katelyn Ruck.
Noone was more excited at winning the title than Perry coach Lerina Johnson, who rushed the floor with more glee than anyone once the outcome was in hand."
"I've been fired up," Johnson, who has mentored four titles and two runner-up finishes in the the last seven seasons, said. "The fact we were able to get through the whole season after it started a little late. Had No. 1 vs. No. 2 in the championship. You couldn't ask for more than that. Our girls worked hard all the time, even with COVID and the times we couldn't be together."
Johnson was confident the Pumas would win een with the match going to the doubles sets. And who wouldn't be with and ace in the hole the likes of Jayaraj-Rodarte.
"I thought our No. 3 doubles (Emma Cross-Jayden Montano) had a chance to put us over the top," Johnson said. "jayden had fresh legs. They lost a close first set (24-22). But Nikhita and Ashley took care of it. I'll take whatever put us over the top."
The singles match outcomes: No. 1 Kate MacPherson (Perry) over Sofia Lovesey, 21-19, 20-22, 21-13; No. 2 Jayaraj over Maddie Schlesinger, 21-15, 21-14; No. 3 Rodarte over Allison Rodriguez, 21-17, 23-21; No. 4 Rebecca Rodriguez (Sunnyslope) over Cross, 15-21, 25-23, 21-11; No. 5 Bacon over Adrianna Ramos, 11-21, 21-17, 22-20; and No. 6 Kaylee Ross (Perry) over Amber Coleman, 21-18, 21-15.
No complaints from Sunnyslope coach Sarah Schlesinger, who watched a battle much closer than a 5-2 outcome.
"It was an incredible match," Schlesinger said. "The play was great. They have a great team and program. There was a lot of heart on the court tonight. Very proud of the effort."
D1 badminton champion Perry Pumas 2020 (Azpreps365 photo)
---