Canyon View Defeats Kellis
November 18, 2020 by Payton Hilliard, Canyon View High School
---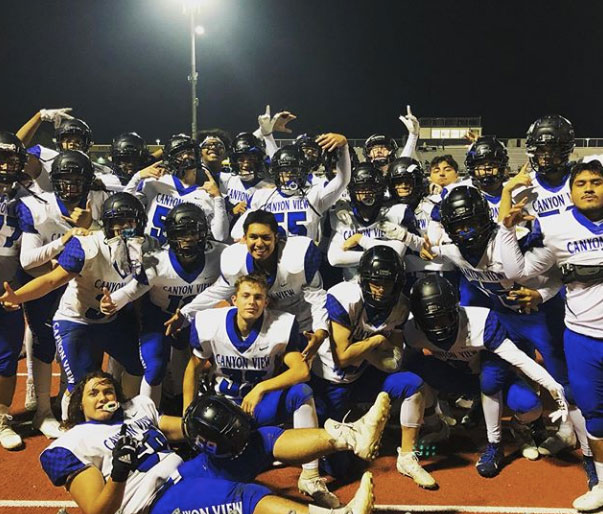 Payton Hillard attends Canyon View High School and is a member of the AIA's Student SID program.
The Canyon View Jaguars varsity football team won against the Kellis Cougars by a score of 41-19 to improve to 4-3 on the season.
The Jaguars got off to a fast start with three touchdowns by running back Matthew Flores which put them up by a score of 21-0. During the second quarter, a touchdown was made by linebacker Keegan Landis after a fumble recovery, which made the score 28-0. As the first half ended, Kellis scored a touchdown which made the score 28-6 at halftime.
"I think we played a good game on Friday. We went in there with confidence and ready to play," Flores said. "We had a few mistakes and we had to find a way around those mistakes to capitalize. Everyone did their job on both offense and defense which provided the outcome."
During the third quarter, the passing game got going as sophomore quarterback Ashton Zacher found Anthony Munoz-Ramirez for a touchdown to make it 34-6. The Cougars scored a touchdown during the fourth quarter to make it 34-13, but Zacher found Munoz-Ramirez again to make it 41-13. Kellis added another touchdown late which made the final score 41-19.
"We played a really good game of football. Our team all came together and worked as a whole," Zacher said. "It was great to see all of us do our parts and come out with a big win! Couldn't me more proud of the team."
The Jaguars will finish out the season next week when they travel across town to take on Agua Fria on November 20.
---