What are the Scottsdale Christian Academy Eagles wearing and why?
November 14, 2020 by Haley Smilow, Arizona State University
---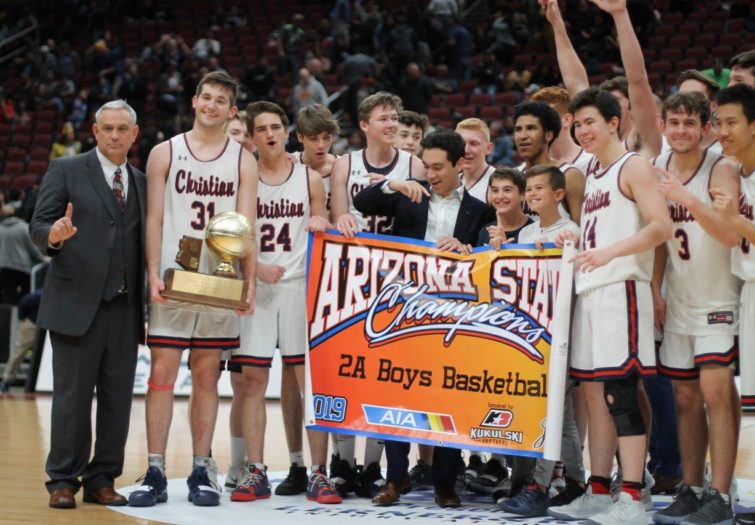 Haley Smilow is an ASU Cronkite School of Journalism student assigned to cover Scottsdale Christian Academy for AZPreps365.com.
Texas Tech, Notre Dame, Maryland and Scottsdale Christian Academy. On paper, none of these schools have anything in common. But, when you look with a sharper eye, they all are sponsored by Under Armour.
For the past three years and extending until 2022, SCA is sponsored by Under Armour and BSN Sports. "We are very happy with Under Armour," Scottsdale Christian athletic director Eric Dall said. "I know our families, community and players enjoy having a recognizable brand."
Under Amour is responsible for providing SCA with any uniform or piece of equipment it needs within the contract's agreed terms. All 15 of SCA's varsity sports teams are supplied with new Under Armour uniforms and warmups at the start of every season. "Everything we wear on the courts or field is Under Armour," Dall said.
SCA Volleyball Team Pictured in Under Armour Sponsored Uniforms / Picture: SCA Athletics
When it comes to accessories like sunglasses, shoes or arm selves, students can purchase whatever brand they would like. However, most merchandise sold to parents and fans at SCA is also branded with the signature Under Armour emblem.
"We see Under Armour as part of our athletic appearance," Dall said. "Anything that is Scottsdale Christian gear is who we are, and that comes with Under Armour."
At the start of every school year, SCA is given an agreed-upon budget by Under Armour and can use that money in a rewards system. With the rewards system, Dall and coaches can redeem uniforms, warmups and other gear they deem necessary.
Most of the time, the budget does not allow for new uniforms for the middle school sports teams. Still, the goal of Dall and the Eagles is to outfit every team affiliated with the school in Under Armour.
Will Chambers and Father Randy Chambers in Under Armour Sponsored Gear / Picture: Randy Chambers
In 2022, when the deal is finished, Dall will look at all options ranging from Nike to Adidas to Puma and back to Under Armour. He will evaluate the terms of the contract with Under Armour and examine if it's a deal worth continuing. "When the deal is up, we will have to see which company is the best fit for us," Dall said.
Under Armour was started as a company made to compete with Nike and Adidas. As the company has continued to grow, relationships are at the core of the business model. "Under Armour was built on the field, and it is through our grassroots partnerships that we continue to build and expand our brand," Under Armour senior director of marketing Nick Carparelli said in a statement. "Under Amour's partnerships with high schools not only provide great brand exposure but also builds a loyal customer base."
Under Armour's representative for Women's Sports Teams, Hayley Gillmore, is "honored to partner with Scottsdale Christian." Under Armour and SCA aim to create well-rounded adults who "empower those who strive for more."
---