It takes a lot to host a cross country meet during a pandemic
November 21, 2020 by Susan Wong, Arizona State University
---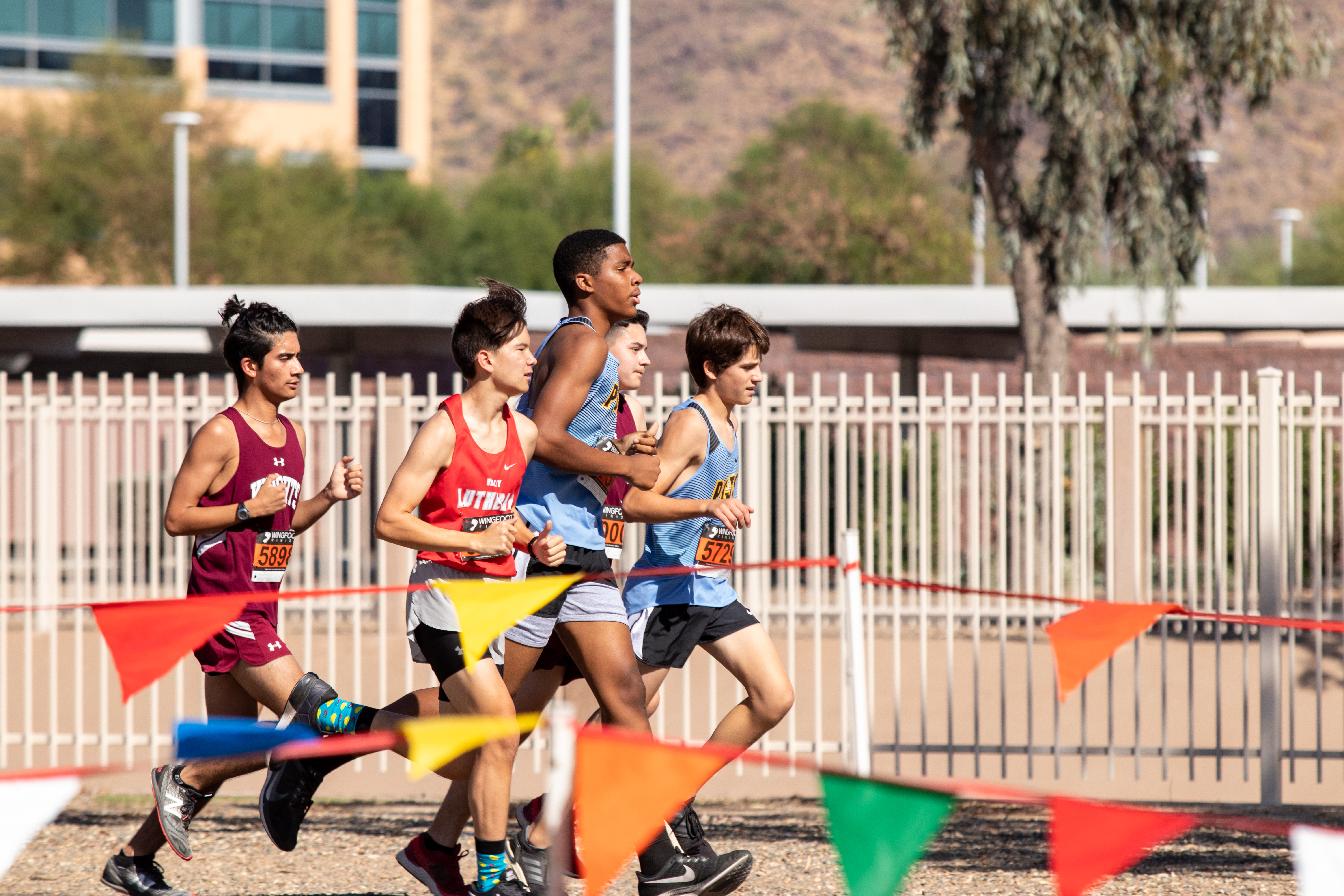 Susan Wong is an ASU Cronkite School of Journalism student assigned to cover Phoenix Country Day School for AZPreps365.com
Ever wonder what it takes to host a cross country meet, especially in the middle of a global pandemic?
Last month, on Oct. 31, Phoenix Country Day School hosted the Bob Kosower Invitational, a meet that is named after their associate athletic director. Kosower has worked at the school for 42 years and according to coach Camilo Tafur, there are quite a few things named after Kosower.
"He's such a big part of the school, he's the most cheerful, friendly, engaging person," Tafur said.
Because of the pandemic, AIA meets were being canceled left and right, so the coaching staff decided they would host a home meet at their Paradise Valley campus to make up for the shortened racing season. Planning for the Bob Kosower Invite began in early October, and organizers knew they wanted it to be a smaller meet with only five teams and no spectators. Each team would be limited to 20 athletes (10 boys and 10 girls).
Athletic director Shane Lewis sent out an email to the schools and the ones that wanted to participate basically confirmed that they would be there by paying a fee, according to Tafur.
Logistically, Tafur said they spent less than $1,000. All they needed were some flags, cones and a stopwatch timer. All they had to do to set up the meet was post it on athletic.net, which is a national third-party site that also has algorithms to calculate rankings, results and other information for cross country and track teams.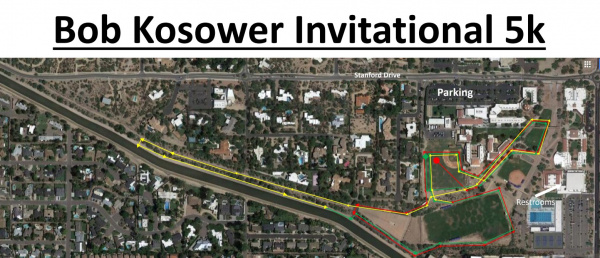 Finalized 5k course map from the Bob Kosower Invite. (Courtesy of Coach Camilo Tafur)
The most difficult part of planning the meet was getting the course down. He mentioned that they went through at least five iterations of the course because of little things constantly happening on campus.
"They shut down the lower fields to overseed it, and that was going to be like a big part of the core so we had to change that and then it was going too far down the canals, we had to change that," Tafur said. "But, in the end it worked out pretty good."
The meet was originally supposed to include a 5k and a 3k, but due to low turnout and because no one wanted to run the 3k, they ended up having two 5k's. Tafur said he expected 50 boys and 50 girls, but only 26 boys and 14 girls showed up to the meet, which made it more manageable.
The afternoon before the meet, Tafur and assistant coach Greg Hull spent a lot of time putting up flags and drawing arrows on the ground on the course, trying to get most of it done before Saturday.
On the day of the meet, Tafur and Hull arrived at sunrise to finish setting things up to hopefully make sure people wouldn't get lost. Then, the athletes started showing up and Tafur said the athletes were really good about social distancing and wearing their masks. The girls race started at 9 a.m. and the boys race started at 10.
As for timing the runners, Tafur said they used the "notecard system," as the athletes passed through the finish line, they were handed a notecard with a number, their place, on it. The athlete or their coach would then put a label with their name on the notecard and return it back to Tafur and the staff.
As each runner finished, someone would click the stopwatch and it would print a time on the strip of paper. Then, those notecards would be matched to the times from the stopwatch printer. Since these were hand times, "It wasn't perfect, but it sure was close," Tafur said.
Having the meet at home was definitely an advantage for the PCDS athletes since they were familiar with the area and many ended up achieving personal bests. But, since each cross country course is unique, comparing times from different meets is "kind of irrelevant," according to Tafur.
"On the canal, there's like a half-mile stretch, but there's a very short turn and then it goes into a really rocky path, so I think just knowing what to expect footing wise, is probably good," PCDS freshman Kimi Cahoon said. "Just so I know how to manage my speed without hurting myself in the rocks."
PCDS wrapped up their season Nov. 13 at the AIA Division IV Cross Country State Championships at Cross Roads Park. The girls team finished seventh overall with a team score of 145, Cahoon came in fourth with a time of 20:14.6. Sophomore Ella Brenes finished 26th with a time of 21:55 and senior Claire Linos followed in 30th place with a time of 22:08.8. On the boys' side, PCDS only had one runner, senior Ben Kreisberger who finished in 64th with a time of 20:01.3.

---