How Ironwood girls' badminton went from non-existent to state champions
November 30, 2020 by Carson Breber, Arizona State University
---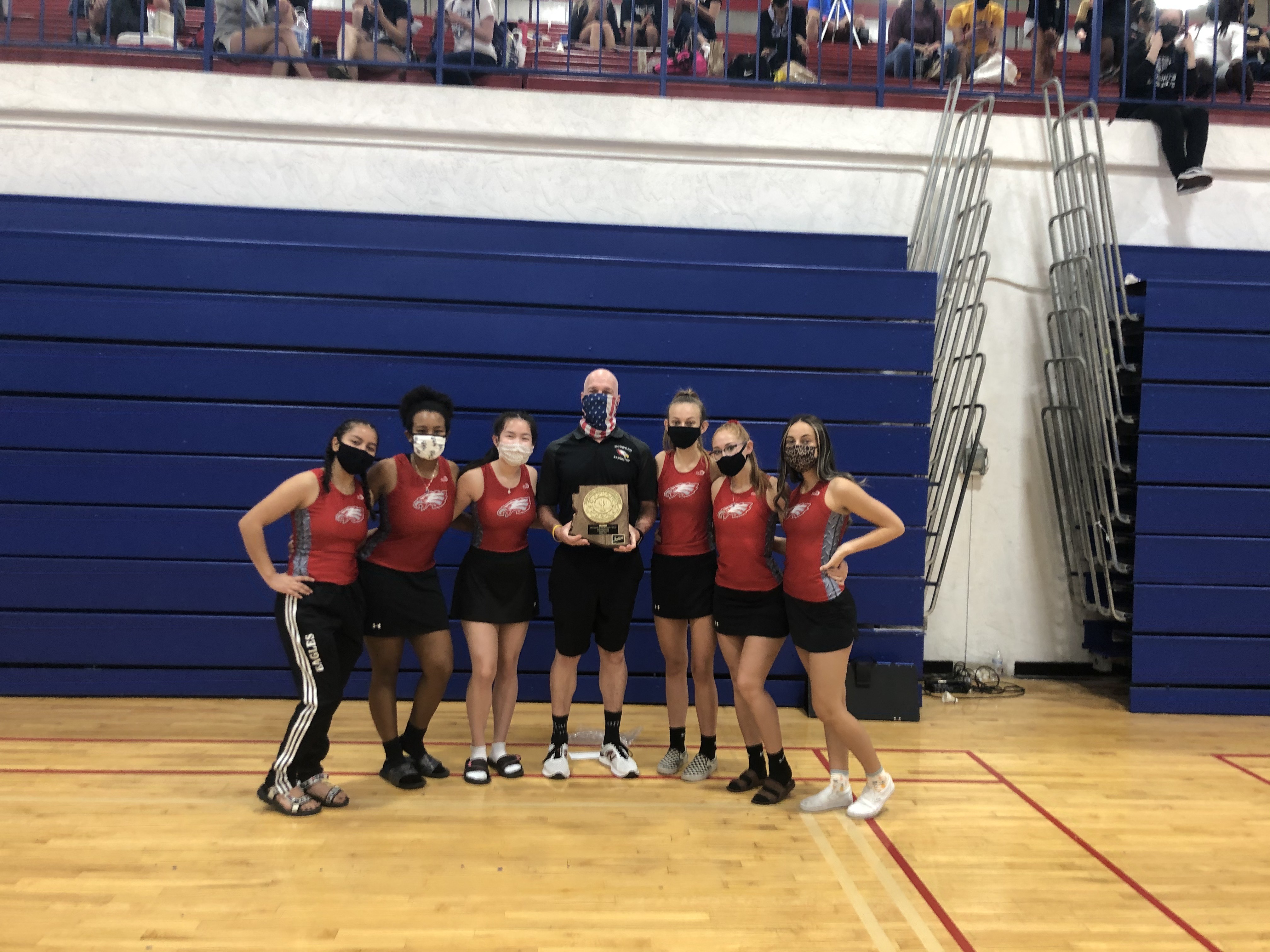 The 2020 Ironwood girls' badminton team can be aptly described in just a few words: completely and utterly dominant.
The Eagles easily marched to their first ever Division II state title with a perfect 17-0 record, sweeping each rubber in every match but three.
Ironwood has been as consistent of a force as there is in the sport, having reached five consecutive state semifinals, and with a cultural foundation laid by coach Brett Stafford and a talent pool that seems to never tail off, it has the feel of a decades old powerhouse.
But just eight years ago, there was no girls' badminton at Ironwood, and Stafford's experience with the sport was limited to its inclusion in his curriculum as a P.E teacher.
The birth of a powerhouse
The impetus for the program's inception started elsewhere, at nearby Deer Valley, where a Title IX violation drove the addition of a girls' badminton program in 2011 in an effort to cancel out gender inequities in sports.
Two years later, the Peoria Unified School District, in which Ironwood is included, followed suit, with Ironwood also adding girls' badminton as its sport of choice.
Stafford said he was immediately interested in coaching the team, as the sport had always been a class favorite in P.E., but "didn't even throw (his) hat into the ring" as he assumed Missy Carter, a fellow staff member with previous playing experience, would take the job.
Carter never applied, leaving Stafford to step up to the task, which he did enthusiastically.
In order to coach the sport, Stafford first had to learn it. In that process, he watched a "ton" of videos, attended matches at the Arizona Badminton Club, taking notes from club director Guy Chadwick, and sat in on practices at local powerhouse Sunnyslope, observing coach Sarah Schlesinger.
"(Stafford) really wanted to be the best that he could," Schlesinger said. "He was more than willing to say, 'I don't know what I'm doing here. Help me.'"
Stafford said that window into a well-run program and the drills that he picked up from Schlesinger were essential to his competence as a coach.
"It gave me that framework to start going, 'Okay, I can make this turnover go smoothly,'" Stafford said. "We don't have to be here for five hours because I can't figure out what to do next."
Despite his eagerness to learn, Stafford had limited time to be a student. Within months, he was the "expert" in a gym filled with 57 girls trying out for the team, a remarkable turnout Stafford attributed to the universal enjoyment of the sport in P.E.
Stafford said it took him several weeks - spent either in "intolerable heat" due to the gym's broken air conditioner or while wearing "gloves and jackets," because, once operational, that same unit ran constantly - to decide which 18 girls to keep. That process now consumes just a few days as Stafford's eye for talent has gotten sharper.
When it came time for the first practice, Stafford had "no idea" about the level of competition the Eagles would face, and he was, in his words, "still learning" the sport. However, he had a clear vision for Ironwood's inaugural team.
"We're going to work as hard as we can to try to win," Stafford said. "But, if we don't win, we're going to make it very competitive and very difficult for you to beat us."
Danielle DeMarco, a junior on Ironwood's inaugural team, said the season presented a unique opportunity for the players, many of whom played other sports, to start anew and build something from scratch.
"It was fun to just learn all together," DeMarco said.
As that competition began and the players picked things up on the fly, Stafford's acquisition of knowledge continued, as well.
"When we got into our first game, I thought, 'Oh my gosh, that's a great shot from that other team," Stafford said. "I wonder if there's a drill that we can do to get that shot down better."
Ultimately, with a collective identity and a motivated coach at the top, the Eagles executed Stafford's vision and reached the state playoffs, a feat they have matched in every year since by following the same formula.
Sustaining a dominant culture
If the key word in Ironwood's first ever season was "learning," then in the subsequent years it has been "winning," as the team has posted a 100-12 record since its debut campaign.
Yet the ingredients to success don't change, and Stafford accordingly said his role remains very similar to what it was when the program began.
No matter how great the team or whether or not a girl has an older sister who played under him, Stafford said that freshmen come in each year knowing very little about the sport.
That makes his job distinct in the world of high school sports, where kids have often been in organized competition for years, as he is not just implementing players into a system, but is instead teaching them the sport from scratch.
"When you first start out, a lot of it is technique," Ironwood's No. 1 singles player and senior Toni DeMarco, the younger sister of Danielle, said. "Hand-eye coordination stuff, knowing how to hit it. Footwork is super big."
Toni DeMarco, like almost all members of the team, started playing as a freshman. In her senior year, she was undefeated, playing in the top spot for a state championship team.
In determining which players he believes can one day grow to succeed at that level, Stafford prioritizes several criteria: athleticism, mobility, hand-eye coordination and willingness to work hard and follow instructions.
Additionally, he now adheres to a tip that he acquired from a fellow coach - never cut a freshman.
"You never know which freshmen are going to blossom and turn into a superstar player," Stafford said. "You can see a kid who misses the birdie 50% of the time as a freshman, and their senior year, they're playing varsity and (are) pretty dominant on the court."
To get players to that point, Stafford said he believes the most important thing he does is "push the kids past what they think they're capable of."
"I think he's the best coach I've ever had," Danielle DeMarco said. "He sees so much potential in everyone, and you just want to live up to the way he sees you, because he knows you're great, and you want to be great."
Stafford said that, to him, there is no alternative to giving one's complete effort to the sport, and that he is responsible for instilling that mentality in all the players.
"I never want them to ever look back and say, 'If (only) our coach would have just pushed us a little bit harder,'" Stafford said. "I want them to know that I'm going to push them as hard as I can for them to be the best that they can."
That expectation isn't exclusive to the players. Toni DeMarco said that Stafford was "not satisfied" after the team's state title and that he "wanted another one," demonstrating an inherent hunger within him that permeates through the entire team.
"We're never satisfied," Toni DeMarco said. "Somebody can always challenge you for your spot. You have to be constantly working."
Stafford doesn't just strive to maximize a player's talents, either; he believes it is crucial that each girl sees in herself the same ability that he does. If self doubt is present, it can hold the team back, a factor that Stafford pointed to in last season's semifinal loss versus Horizon, a team he believed they were better than. In the Eagles' undefeated 2020 campaign, he felt they overcome that.
Success can often breed complacency - but not for Ironwood, where state championship appearances are the expectation, and not for Stafford. His attitude remains identical to what it was when it all began.
"I'm still constantly listening to other coaches," Stafford said. "I still watch videos. I'm still making sure that I'm learning."
---