Coronado's response to COVID-19 has many layers
November 30, 2020 by Shane Fricke, Arizona State University
---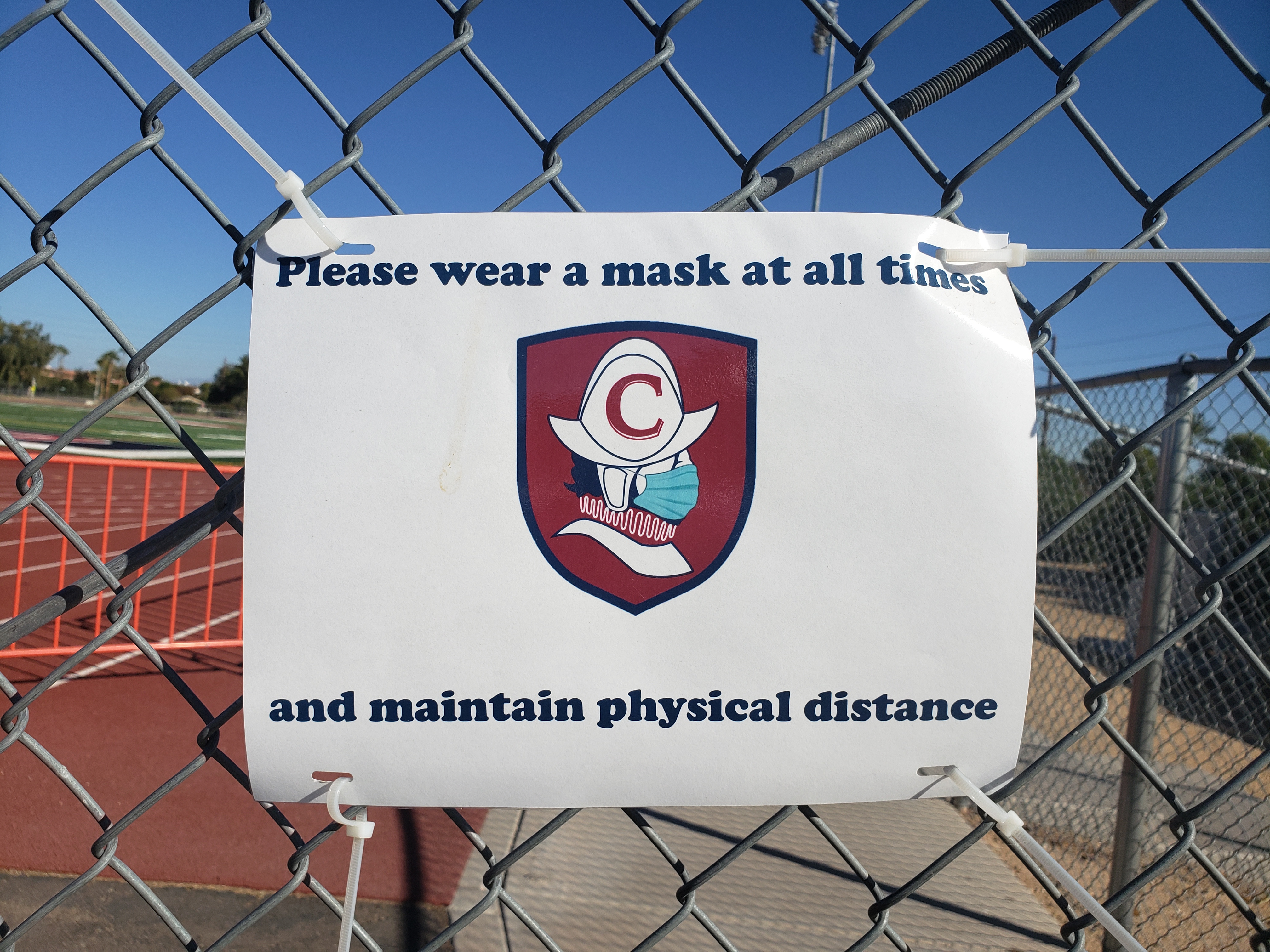 Shane Fricke is an ASU Cronkite School of Journalism student assigned to cover Coronado High School for AZPreps365.com
Across the country, the battle for high school athletics during a pandemic has been challenging to make sure students stay safe. Coronado High, home of the Dons, has made numerous changes to how the school's gamedays and practices operate. Anthony Miller, the athletic director and assistant principal who is leading the transition, has been getting his directions from the Scottsdale Unified School District on how to combat COVID-19.
"Our district has been very, very diligent, with making sure that we have good parameters in place," Miller said.
Of the many protocols, the biggest change is the screening that happens before each athletic event. It involves a list of typical questions regarding symptoms and travel along with a temperature check. Along with the screening, athletes must wear their masks at all times unless they are on the field or court competing.
Not only has COVID made work for the entire athletic department harder, but it has also affected the revenue from the athletic department. Games are only limited to two family members per athlete and all concession stands have been closed. Although the pandemic has affected the gameday experience for both athletes and the fans, Miller said everyone has been very understanding of the protocols.
"[The community] was super respectful because they knew that we were putting in work to make them safe, our officials safe, our students safe, and even our coaches. So when you can say that you made that many people feel safer or at least you're doing everything on your end to make them safe, then people are going to respect that," Miller said.
With all these tough protocols Miller knows that he couldn't handle it by himself and attributes Coronado's success to the team he has.
"I'm very, very fortunate. I have a great team around me, my athletic trainer, Tessa Powell. She is unbelievable. When it comes to the safety of our students, I've never seen another athletic trainer like her," Miller said.
As the athletic trainer, Powell is in charge of screening each athlete along with the normal responsibilities she has during a game. All of these protocols, along with worrying about an athlete possibly contracting the virus, have added to Powell's stress.
"For [athletic trainers], it's already overwhelming. And then to add the whole COVID situation to the mix, I would say it's been stressful, even like with the protocols laid out. It's still super stressful," Powell said.
COVID adding stress to people's lives isn't anything new and has been affecting everyone in its own way. Still, there have been some hidden positives. At Coronado, the pandemic has allowed the school to fully utilize its new streaming system. Over the summer, the Dons got their own ball-tracking cameras for all of their athletic events. The streams are posted to the National Federation of State High School Association, the governing body that writes the rules of competition for most high school sports and activities. The NFHS network streams thousands of high school games across the country.
NFHS has been a bonus during these uncertain times since the games only allow limited fans, but its impact goes beyond the virus. Coronado, for instance, has been able to stream video of the Dons' volleyball and football games during the fall season.
"It's a great way for us to reach grandparents and alumni who might not live here. They might be, you know, five states away. So it's a great way for us to have a connection with our extended Coronado community," Miller said.
This pandemic has affected every high school in many different ways. As they all adapt to make their students as safe as possible, Coronado does the same. The added stress, work, and hours are worth it in the end as long as the kids are safe and competing.
---