Journey to state: It was quite the memorable ride for Perry's volleyball team
December 9, 2020 by Lindsay Zienty, Arizona State University
---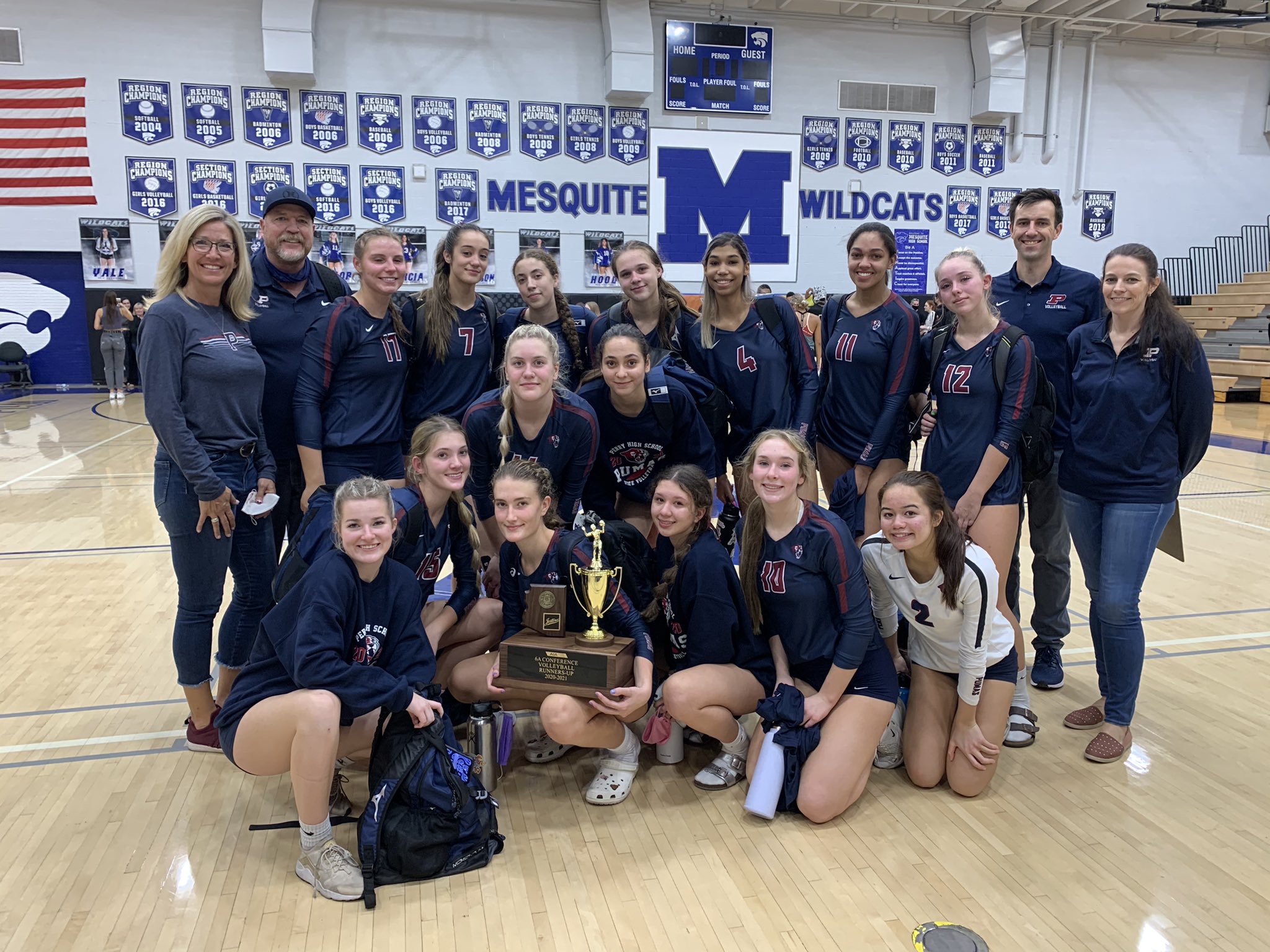 Lindsay Zienty is an ASU Cronkite School of Journalism student assigned to cover Perry High for AZPreps365.com.
The Perry volleyball team is no rookie when it comes to the Arizona State Championship Tournament.
Over the past four years, the Pumas have been stacked with athletes who have played the sport for 10 or more years, and many of their players are expected to excel at the collegiate level. In 2017 and 2018, Perry made it to the semifinals, only to lose the final games in five sets.
In 2019, the team advanced to the state championship but lost in five sets to Basha. On November 21, 2020, the Pumas again came into the state title game on a season-long high … and when their journey was over, the lessons from this unforgettable year felt like they'd linger forever.
NEW APPROACH TO MAKING A CHAMPIONSHIP TEAM
Ella Rud and Jenna Heller, both seniors, were selected to be varsity team captains at the beginning of the season. Rud, the Puma's very well-known outside hitter, had been on the varsity team for three years already and understood that her team's success would weigh heavily on her leadership skills. This year she focused on leading by example as well as being a dependable friend to her teammates on and off the court.
Rud, alongside co-captain Heller, felt that the team's chemistry would be the key to reaching state again. Both captains planned team bonding nights and invested many hours into becoming a close-knit, inclusive team.
"Ella and my goal this year was to have one united team and we knew we could make it happen," Heller said.
They did just that.
They made the best of playing during COVID-19 by only spending time around each other. For other teams, too much time together may have caused some tension, but for Perry, it became one of their biggest weapons.
"Whether it was joking around at practice or team dinner, we all got along so it was really fun to hang out with them," Makayla Long, the Puma's senior middle back, said. "(T)his team was different because we were all able to get along which is rare to see when you have 15 teenage girls spending 12 or more hours together a week."
The team looked united at all times. In the locker room, they released their pregame nerves by having dance parties and playing their customized pregame playlist. During warmups, the girls hyped each other up and remained focused on incorporating the unique talents of each player to get the win. Unlike other teams, the starting lineup constantly highlighted the importance of their teammates who were on the bench.
"They keep our energy throughout the game. They are a big part of our team. They keep us focused and tell us what they see from the bench to help us be better on the court," Heller said.
In numerous postgame interviews, each player spent the majority of their time shedding light on their teammates' talents and important plays they made, rather than using the spotlight to highlight their own success.
UNPARALLELED SUCCESS
Not only did Perry go undefeated in the regular season, but the Pumas also won 11 of their games in just three sets, which isn't an easy feat. The athletes remained humble after their incredible 15-0 regular season performance as they knew all too well that there was a chance their success in the regular season might not translate to the postseason.
The Pumas, seeded No. 1, in the 6A state tournament, started strong in Round 1, averaging 16.3 kills per set, their highest percentage of kills per set this season, and 12 assisted blocks. They beat Mountain Ridge in three sets.
Perry made the quarterfinals look easy. The team studied Xavier's style of play and hit the Gators from all different directions on the court. Heller created scoring opportunities for her teammates by being explosive on the block and highlighted how confidently her co-captain led the team that night. Once again, Perry won in three sets.
When the Pumas advanced to the semifinals and swept Mountain View in just three sets, there didn't seem to be much hope for the opponent they would be facing at the state championship game.
PREPARATION FOR THE STATE CHAMPIONSHIP
In the days spent preparing for the title game against second-seeded Hamilton, Heller emphasized the importance of staying humble and understanding that anything could happen at this point in the tournament.
Rud also highlighted how important it was for the Pumas to remember that even though they were undefeated up until this point, the scoreboard always goes back to 0-0.
"We have to go out there with a fighting attitude and take everything as it comes," Rud said.
On the day of the state championship game, the girls arrived for a morning practice at 8 a.m.
"We did our serve and pass, and then later that day, we came back and did our pre-practice routine that we've been doing all year. Overall we felt like a cohesive team going into that match," Rud said.
"We were all so happy with all we have accomplished through the season, but we all knew we were not done yet. At morning practice that day, we were all saying how we did not want to have any regrets after the game and wanted to leave it all on the court," Heller added.
Alyssa Montoya, a senior outside hitter for the Pumas, felt similarly to her teammates.
"Going into the state championship game I was super excited to compete and play my absolute best," she said. "I felt mentally prepared, but never overly confident."
GAME TIME
The atmosphere of the state final game at Mesquite High School was unlike any the team had experienced so far this season. Perry players were used to a pretty mild audience, considering how loud their gameplay and talent spoke for them, but the stakes were higher than usual and the Hamilton crowd brought the noise. This was also the team's first away game of the postseason and their opponent's audience was growing by the minute.
The Pumas won the first set, 25-19, but were soundly beaten in the second, 25-12. Perry was not used to being in this position and fought very hard to climb out of it in the following set where they barely lost, 25-22.
"During the match, my self-talk was to just keep moving forward and to not dwell on past mistakes or past points," Rud said. "When we started to lose the lead I think that we tried to stay in a positive mindset and focus on scoring the next point."
Rud stayed confident throughout her gameplay and her leadership skills became very apparent as she comforted and inspired her teammates, even as she was facing lots of adversity.
Heller played a major role in encouraging her teammates to enjoy the moment and remember how far they have come.
"When we started to lose I began to tell myself to still enjoy the moment because I knew it would be the last time ever playing with my best friends," Heller said.
ACCEPTING DEFEAT
Even as the Puma's season came to a crushing close in the fourth and final set, the girls continued to fight up until the last minute. As the final point was scored to give Hamilton the final set, 25-18, and the 2020 state title, the Perry athletes looked to each other for comfort and came together in a team huddle one last time.
"After that last point, a lot of us felt heartbroken. For a lot of starters, it was going to be their last time playing for Perry ever again, but you have to come back to the main reason why we even play this sport is because of each other and because we love it," Rud said. "It was a really sad moment, but I called our team into a huddle, I said some of my final words to them and told them how much I appreciated them and this team."
Long took part of her time after the game to congratulate Hamilton and acknowledge their hard-fought win.
"I give a lot of credit to Hamilton. I thought they played outstanding and prepared well for the match," Long said.
WHAT DOESN'T KILL YOU MAKES YOU STRONGER
Montoya, along with many of her teammates, took this loss as a chance to learn and grow into even better players and teammates as they progress in their volleyball careers.
"This season emphasized how big of a team sport volleyball is," Montoya said. "It takes participation from everyone, even those not playing. You can't win with one or two players doing their part, it takes everyone."
Heller mentioned how much she learned from being a part of such a unique team dynamic.
"This season made me realize to never judge a person before really getting to know them. Through the season I made relationships with certain teammates that I never really knew before because they were younger. Those teammates made a huge impact on me whether they know it or not," Heller said. "I think that will help me be better in the future because it will get me to talk to teammates that I usually would keep my distance from."
Long not only acknowledged the importance of her teammates in her interview but the coaches as well.
"I think the coaching staff at Perry cares for the kids that go through their program and I don't think there is a better fit for this program than coach (Fred) Mann, coach (Brian) Wagner and coach (Melanie) Heller," she said.
BIGGER THINGS AWAIT
Rud, Heller, and Montoya will all be competing on a volleyball team in 2021 at the collegiate level.
Rud will continue her career at Fresno State University on a full-ride. She has hopes of being a well-rounded player that her teammates can look to in any situation.
"Perry always played against good competition, so it has prepared me to play against big schools in college," Rud said.
Heller will take her talents to Pacific University.
"The volleyball player I want to be is the one that little girls love to watch and want to be. I want to be the player that people watch and can tell how much I love the game," she said.
Montoya has committed to play at BYU. She credits Perry for giving her opportunities to compete against other future Division I athletes.
"I want to be someone who is mentally tough when times get hard and will lead their teammates by example," Montoya said.
FUTURE OF PERRY VOLLEYBALL
The next chance at bringing home the state title now lies in the hands of the future varsity players on the team. Avery Burks, a sophomore outside hitter, feels like this season has set her up to be a leader in the future.
"I learned from Ella and Jenna that when you are a leader you have to have connections with your teammates because without being friendly and supportive no one will listen to you," Burks said.
As the season came to a heartbreaking close, the senior players mentioned many things they hope the girls carry on after they graduate.
"The biggest thing I want the girls to carry on to next season is the chemistry. It makes a difference being close with your teammates because you build trust, and playing together just comes easier," Montoya said.
Rud leaves the Pumas hoping they continue to face their opponents as strongly as they did this season. "Lean into the tough moments, because that's when you're learning and growing the most," she said.
As for Long, she wants to remind her teammates of the importance of treating practice as important as a game.
"My advice to the younger kids would be to always come to practice ready to compete and get better. Nothing is given," Long said. "It is always earned."
---