Cactus Shadows High looks ahead to its upcoming basketball seasons, despite the COVID-19 pandemic
December 9, 2020 by Mallory Schnell, Arizona State University
---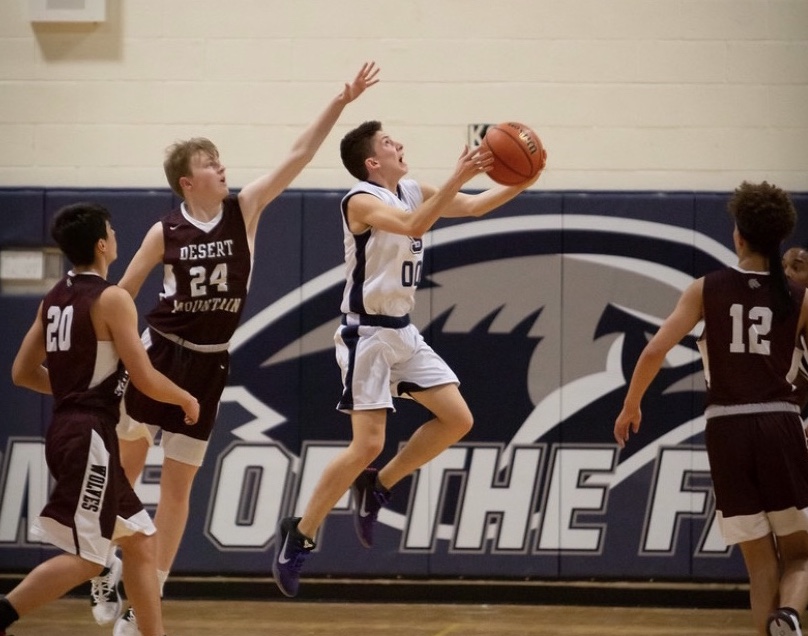 Mallory Schnell is an ASU Cronkite School of Journalism student assigned to cover high schools for AZPreps365.com
Cactus Shadows High knows the 2020-2021 season will come with its challenges both on and off the court.
The Falcons are trying to navigate a season during a global pandemic in a state where the numbers are through the roof.
According to the Arizona Department of Health Services, there are over 382,000 active cases in the state of Arizona. Cactus Shadows and the rest of the Arizona Interscholastic Association, the state's governing body for high schools, are going to try to take as many precautions as possible.
After announcing that spring sports will begin Jan. 5., the AIA this week clarified guidelines and modifications to "safely allow students an opportunity to continue to play while minimizing exposure to COVID-19." These include asking students "to not participate in any club games, invitationals or tournaments that would exponentially increase their risk exposure to their school team."
In addition, the AIA said a 14-day exclusion from the school team will take effect if a student or coach chooses to play or coach in a scrimmage, game or tournament with a non-school team or group.
"I'm not sure we have an exact answer on what the season will look like," said Cactus Shadows basketball coach Zach Washut. "I know a few things were delayed one month. We will have fewer games and no tournaments to play in. We will have strict guidelines to follow with COVID-19 protocols. There will be no fans either which will be very strange."
Preparing for the season has been different than years past due to the pandemic.
"We had fall workouts for about two months, then they put a pause to those," Washut said, adding official tryouts began last week. "We have been off for about two weeks leading up to tryouts."
Junior point guard Joey Liberio believes this upcoming season is going to be difficult mentally on the players.
"The upcoming season will definitely be different than usual because of COVID-19," Liberio said. "We will most likely play less games than usual and miss out on our tournaments that we usually do before our main games. We also will miss out on the holiday tournaments we do. We also won't have very many fans watching our game which will make our games not as fun as usual. I'm sure there will be a lot of protocols that will have to be followed making this a tough season mentally."
Karina Liberio, sister of Joey, is used to being able to attend all games in person. As of now, it appears she won't be able to do that this season.
"COVID-19 is going to have a huge impact on this upcoming high school basketball season," she said. "Players will have to adapt to different protocols and will have to unfortunately get used to not having fans cheer them on, but the Cactus Shadows athletes are tough and they will adapt and overcome the challenges they will be faced with this season."
Rather than cheering from the stands, Karina said she'll have to watch the games on a live stream. The National Federation of High Schools Network (NFHS) offers subscriptions to livestreams of high school sporting events across the nation, including many AIA games.
"As a fan, it will be sad to not be able to attend every game like I usually do to cheer on my brother, but luckily there are other ways that I am able to watch the games," she said. "I will continue to show my support to the teams even through this pandemic."
The Cactus Shadows girl's basketball team is also facing adversity for the upcoming season.
Senior forward Ashley Watkins is going to lead her squad through this tough season as the team captain.
"This year will be a whole lot different from all my previous seasons," Watkins said. "So far our season has already been pushed almost two months. As a result we will most likely have a shortened season with fewer games and practices.
"We will have to wear masks while we are not playing in the games and fewer spectators in the stands. I believe each player will only be given two tickets to hand out to either friends and family," she added. "We will also not be able to give high fives at the end of the game. Not only will games be impacted we will also have to wear masks during every practice, get our temperatures checked daily, and sanitize during every water break."
Watkins averaged 3.6 points, 4.6 rebounds, and one steal per game during her junior season. The team went 27-5 last year.
"I'm looking forward to a few things for my final year," said Watkins. "I have a lot more energy and motivation going into my last year. I'm looking forward to the opportunity to outperform my previous year scoring wise, passing wise, as a teammate and leader.
"Since I am one of the captains this year I'm also looking forward to being more of a leader and role model for my new upcoming team. We have a lot of new young girls this upcoming season so I'm eager to help them learn and welcome them to our program. I know we perform very well as a team from previous practices so I'm most excited for winning some games and being a contender for the state tournament."
The boy's team is also looking to continue the success from last year when they went 22-5. They lost to McClintock in the first round of the playoffs.
"We had a great season last year, winning 20 straight at one point," Washut said. "We return eight varsity players which will be the key to our success this year. We have a few young guys that will get great experience playing a tough group of seniors."
According to Washut, tryouts will not be easy.
"Tryouts are three days long, with a timed mile run to begin," said Washut. "We will have our guys in separate gyms competing at a high level. We usually have about 70 kids come out to tryouts and keep roughly 40."
To prepare for the looming tryouts, the athletes did everything they could given the constraints of the pandemic.
"I have been working out with weights three times a week during the offseason, so I'm always doing weight training to help with getting quicker and stronger," Joey Liberio said. "Basketball wise, the school has done a couple of things to prepare for the season. We have had practice two times a week and we would have tournaments on the weekends occasionally. For individual work, I do a lot of drills and shooting outside at my house since not a lot of gyms are open."
Junior Grant Denzak noted that preparing for tryouts this year has been different than previous seasons.
"It's been a lot more individual work and practicing alone rather than the usual practicing with friends and other teammates," said Denzak.
There are some players from last season who are sure to make an impact on the team.
"Cole Caruso is a varsity captain, a Division I baseball player, and possibly our best all around player," Washut said. "We have a 6'7 center in Connor Benson and two strong wings in Noah Dutcher and Nate Williams. We have two really good point guards in Carson Woods and Joey Liberio, and also have an all around athlete in Tate Roderick who can do a lot of different things for us."
Joey Liberio praised some of his returning teammates and coaches.
"We have a lot of good players that have been playing with each other for a while," he said. "We also have a lot of seniors this year, so it'll be very helpful to have all the senior leaders to help out with the grades below and also to help win games. Our captain, Cole Caruso, is our best all-around player as he can do everything for us from shooting to defending the opponents top players. Our big guy Connor Benson, who is 6'7 will help with controlling the inside on offense and defense. We have our sharpshooter and great hustler, Nate Williams and our point guard Carson Woods who is a great floor general. We also have a great supporting cast around our team with the fans and families, but most importantly our coaches are great and they are a big reason why we will succeed this season."
A lot is up in the air, but the Cactus Shadow Falcons are ready for anything that comes their way.
"It should be a fun, possibly crazy, and exciting year for the Falcons," Washut said.
---