Championship notes for 2A-Open finalists
December 10, 2020 by Jose Garcia, AZPreps365
---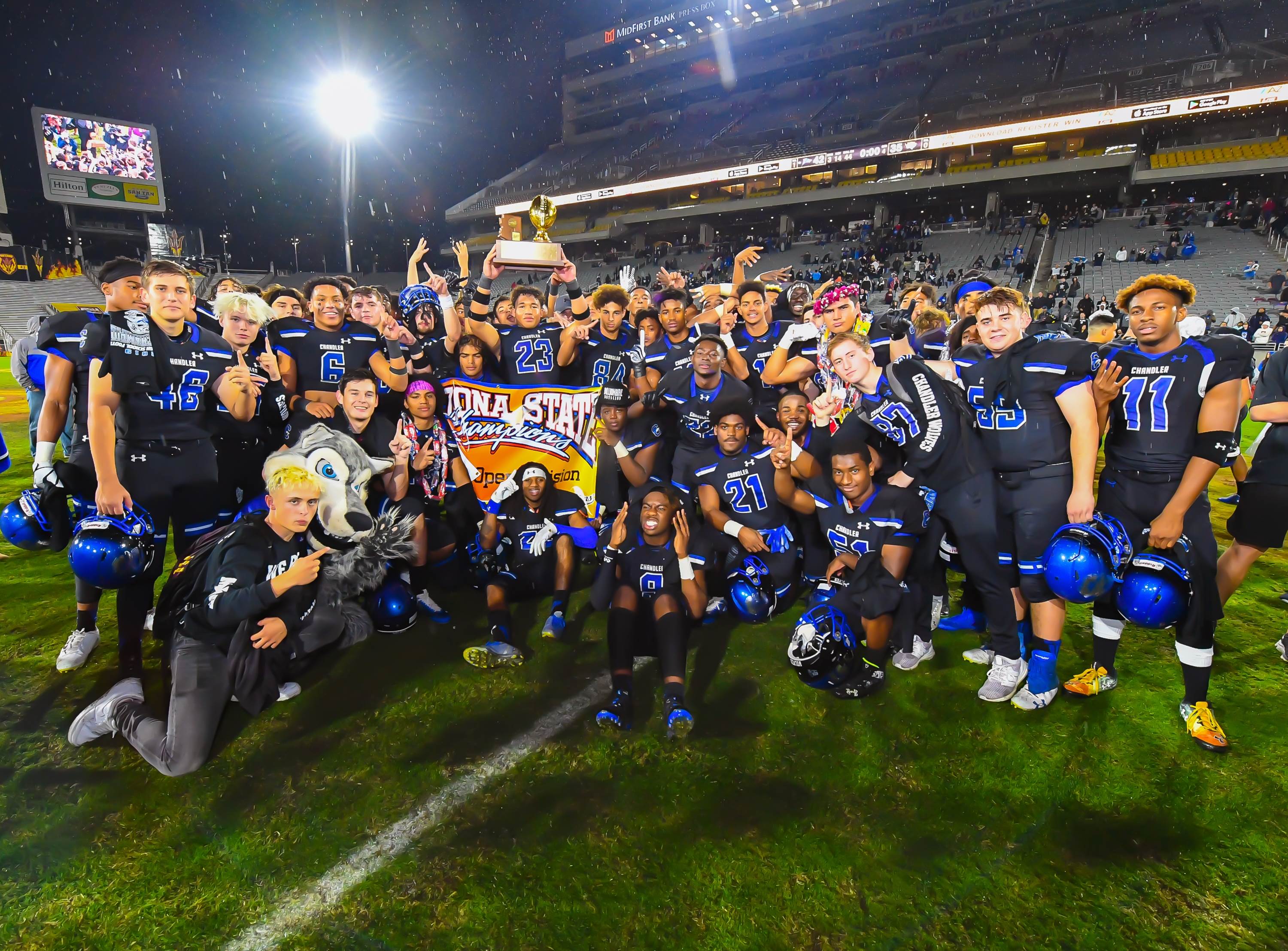 2A
No. 1 seed Benson (9-0) vs. No. 3 Santa Cruz (8-1)
1 p.m. Saturday at Coronado High School
Santa Cruz has played like the favorite in 2A this year and is searching for its first championship since 1990. … Coach Rishard Davis' program has reached the quarterfinals four times and finals twice in his seven seasons. Davis is 57-21 at Santa Cruz … An experienced offensive line is blocking for arguably the best player in 2A this year, Hunter Ogle, the state's leading rusher. He is 148 yards from a 2,000-yard rushing season in a shortened season and is averaging 205 rushing yards per game. As a team, Santa Cruz is averaging close to 400 rushing yards per game. … Steve Calvin had a 67-yard TD punt return and a 47-yard TD run in the semis, when he rushed for a season high 78 yards. … Santa Cruz also leads the state with 19 interceptions. Jr. Wyatt Ogle, Hunter's brother and the starting quarterback/safety, leads the team with 6 INTs. The Ogles are state wrestling champions. … The team's lowest rushing total in a game this year was 262. It came during a 35-14 loss to a 4A team, Casa Grande. … The team's leading receiver, TE Dylan Hukill (221 yards, 24.6 yards per catch), missed last year with an injury. … Every starter on the offensive and defensive line returned this year. … No other small school (1-3A) in the state has produced as many NFL players (5) as Santa Cruz. … In its first game since Nov. 20, Benson defeated Arizona Lutheran Academy 34-27 in the semifinals. … In coach Chris Determen's 18 seasons, this is his 13th time in the playoffs. Benson has reached three title games but is still searching for its first title win. (Program opened in 1969.) … Prior to last week, its defense had allowed only 36 points. … Running backs Devin Bowling, Jace Barney and Tristan Martinez are three of the team's 15 junior leaders who have played on the same teams since they were kids. … Bowling had rushed for 876 yards and was averaging 109.5 yards per game. … The only other teams that have rushed for more yards in 2A than Benson are Arizona Lutheran and the state's rushing leader, Santa Cruz. … This is the first time in Determan's career that he didn't start a senior. His son, Brok, is the team's starting quarterback. Brok completed only 3 passes in last week's win but two of those throws went for touchdowns. … Barney (5-8, 210) rushed 21 times for 98 yards and one touchdown in the semifinals. … Four starting offensive linemen returned this year. … The team rushed for a season low 177 yards last week. … MLB Cameron McFarlan had a season high 10 tackles last week, including six solo. … DB Jimmy Lerblance had two interceptions last week to give him a team-high six.
(Santa Cruz returned every starting linemen this season. Photo by Darin Sicurello/maxpreps.com)
3A
No. 1 seed Snowflake (9-1) vs. No. 3 Yuma Catholic (10-0)
6 p.m. Saturday at Coronado High.
Snowflake's Sam Crockett has kicked a state-high eight field goals, including a 42-yarder. … The program opened in 1929. … Kay Solomon is 55-14 at Snowflake since taking over in 2015. This is his first trip to the final as the head coach. He played on Snowflake's 1985 co-state championship team. His son Carter (6-2, 290), a three-year starter at center, will be his third son to play for a championship. Solomon's dad, Carvel, won a mythical state championship with Snowflake in the 1950s. Carter wears Carvel's No. 72. … Snowflake has rushed for 17 touchdowns and 1,063 yards in its last four games. … An injury slowed down the team's leading rusher and tackler, Terren Green, early in the season but he's back to 100 percent. Last week he rushed 22 times, a season high, for 105 yards and two touchdowns and also had nine tackles. … WR/RB Mayson McKinlay returned this season after missing last year with a knee injury. He leads the team with 24 receptions. … Jr. Noah Baum leads the team with 552 receiving yards and 6 TD catches. … Carter (6-2, 290) and Sr. DL Bradley Ruiz (6-6, 300) anchor the team's big defensive front. … Sr. DE Payson Cardon (71 tackles last year) has 17.5 tackles for loss and 12 sacks. … Sr. Rev Brimhall (94 tackles) leads a solid group of linebackers. … Yuma Catholic's only meeting vs. Snowflake came in the first round of state in 2017, when Yuma Catholic won 44-16. … In nine of coach Rhett Stallworth's 12 seasons at Yuma Catholic, he's had a QB throw at least 3,000 yards and 30 touchdowns in a season, including this year's QB, his son Richard (6-2, 210). Stallworth's nephew, Stetson, also reached those marks when he played for Stallworth. … Last week, Richard, the state's passing leader, recorded season lows in completions (13) and yards (233). But he also threw five touchdowns and no interceptions. It's the fifth time this season he's thrown at least five touchdowns in a game. He is one TD throw away from 50 for the season. He's currently tied for No. 10 on Arizona's all-time single season for touchdowns in a season. He needs 238 yards to move into 8th all-time for passing yards in a season in AZ. … The 3A's leading receiver, Austin Rush, had a season high 146 yards receiving last week. He also tied a season high with eight receptions in the semifinal victory. … Jr. Devon Black is averaging 110.0 all-purpose yards per game. … He's listed as 5-7, 150-pounds, but LB Dezmond Esquivel leads Yuma Catholic in tackles. … So. LB Jarred Marquez had 14 tackles in last week's win. … Stallworth is 132-22 in 12 seasons at Yuma Catholic. This is his 6th time in a final (3-2 record).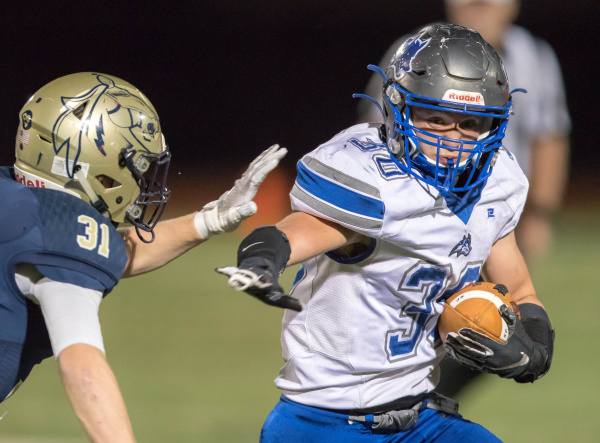 (Terren Green of Snowflake. Photo by Chris Stanley/maxpreps.com)
4A
No. 3 seed Mesquite (8-1) vs. No. 4 Cactus (8-2)
7 p.m. Friday at Highland High
This is the 8th time Cactus will play for a title (2-5 record in state championship appearances). The program has missed the playoffs only once since 1994. Cactus is chasing its first championship victory since the 2009 season. … Friday's game is a 2019 state semifinal rematch that Cactus lost 28-27 to eventual champ Mesquite. … LB/RB Aki Pulu has been all over the field since the Chaparral transfer started playing on Oct. 31. He had a season best 113 rushing yards on nine carries and three touchdowns in the semifinals. He also has tallied 64 tackles in six games. … Mesquite has rushed for 709 yards and nine touchdowns in its last three games. … Coach Joseph Ortiz, now in his third year, is a former offensive coordinator at Higley and St. Mary's, Ortiz's alma mater. He worked with Higley's Ed Zubey for 10 years. … Cactus' two losses were to Open tournament participant Desert Edge and 5A finalist Sunrise Mountain. … Mesquite possesses three of the top 10 receivers in 4A, Eric Lira, Andrew Morris and Levontae Trotter, but its high-powered offense was held under 40 points during its last two games for the first time this season. … Its defense, however, stepped up in the last two weeks, allowing just 26 points total. Mesquite's defense allowed an average of 30.6 point per game during the first six games. It held ALA Queen Creek, the state's No. 2 scoring offense, to a season low 16 points last week. … Ty Thompson needs 203 yards passing to move into No. 7 all-time for career passing yards in Arizona. … Coach Scott Hare is in his second season at Mesquite. He's the first one to take Mesquite to a state championship game in the 22-year history of the program. … Mesquite defeated Desert Edge 28-23 in the 2019 final.
(Mesquite is the defending 4A champ. Photo by Steven Davis/maxpreps.com)
5A
No. 1 seed Sunrise Mountain (8-2) vs. No. 6 Ironwood (7-2)
7 p.m. Friday at North Canyon High School
Sunrise Mountain is 6-4 all-time vs. Ironwood, its Peoria Unified District sister school. … Coach Steve Decker is 86-34 in his 11 seasons at the school and has missed the playoffs only once. … The team returned 18 starters this season. … … Sr. RB/LB Tommy Arnold was one of the team's leading tacklers last year but is the team's leading rusher (No. 2 in 5A with 1,100 rushing yards; 5A's scoring leader with 18 total TDs) this season. … WR Ezekiel Marshall is the team's leading receiver with 595 yards and eight touchdowns. … Since back-to-back losses to Ironwood and Desert Edge, Sunrise Mountain has rushed for 1,020 yards and 16 touchdowns in its past four games. … The defense is averaging 3.2 sacks per game (32 total) and has 11 interceptions. Five players each have at least 52 tackles or more. 5-11, 185-pound Sr. OLB Owen Thomas (88 tackles, 11 sacks) is the workhorse of the defense. … Jr. Easton Black hasn't missed an extra point since Game 1 and made 7 of his 11 field goals, including a 36-yarder. … This is the first time it reached a championship game since the program started in 1998. … In Ironwood's 20-11 regular season victory over Sunrise Mountain, Will Haskell complete 21 of 31 passes for 303 yards and three touchdowns. Two-way threat Elijah Sanders and Nehemiah Lindo each finished with 116 receiving yards in that game, and Jr. MLB Hunter Forsberg collected two sacks in the win. Ironwood's defense allowed Sunrise Mountain to convert only one of seven third down attempts. … James Mcelhenny, a transfer from Tolleson this year, played in his first game two weeks ago and has made an immediate impact. He had two interceptions in last week's victory over Notre Dame. … Basketball player Steinar Christianson (6-4, 195) had two touchdown receptions in the semifinals, including a one-handed catch. … Second year coach Chris Rizzo has also helped turn things around at Ironwood. This is the first state championship appearance in 18 years for Ironwood (0-3 record in finals). Rizzo, a Pennsylvania native, played for Division III's John Carroll University.
(Will Haskell of Ironwood. Photo by Kevin French/maxpreps.com)
6A
No. 4 Highland (7-3) vs. No. 7 Chaparral (5-2)
12 p.m. Saturday at Desert Vista High
Besides missing three games because of COVID-19 this season, Chaparral also had to deal with three key injuries (OLB Alejandro Echeverria, OT Thomas Hernandez, DL Gavin Geweniger). … Jr. Brayten Silbor leads 6A with a 312.1 yards per game passing average. … Sr. RB Jared Williams (115.8 yards rushing per game, 11 TDs) didn't play last week due to an injury. … 6-4, 195-pound Sr. WR Max Minor's is averaging a 6A best 120.1 receiving yards a game. He tied a season high with nine receptions in last week's semifinal win. … Sr. OL Mason Osborn has 43 pancake blocks. … Fourteen of Jr. DL Anthony Lucas' (6-5, 270) 39 tackles are for loss. Lucas, Jr. LB CJ Eastwood, Sr. LB Joey Balducci and Sr. DL Meyer Shinsky (6-3, 225) are the team's defensive leaders. … Six of its 10 interceptions were thrown during its losses to Liberty and Centennial. … Defensive coordinator Derek Nsubuga played at Chaparral during the 2007 and 08 seasons, collecting 100 tackles his senior season during the 2008 state runner-up year. … Chaparral has thrown and rushed for the same amount of touchdowns (18). … Chaparral hasn't missed the playoffs since the 1997 season. Its record in title games is 6-2. It's chasing its first title victory since 2011. … Coach Brent Barnes took over three seasons ago but this is his 17th season coaching. His dad, Bobby, is a former Valley head football coach. … Highland safety Ammon Allen, the team's leading receiver and second leading tackler, is playing on offense after Highland graduated its starting receivers last year. … DE Copper Brown (6-2, 230) and LB Kam Cullimore (108 tackles) are each three year starters. … QB Gage Daley, a 4.0 student, has completed 37 of 51 attempts (72.5 percent) and thrown nine touchdowns and one interceptions in his last three games. … Two-year varsity starter Max Davis (6A's second leading rusher with 1,528 rushing yards; 25 total touchdowns) is running behind a solid offensive line led by 3-year varsity starter Noah Boone, sophomore Makua Pule, who started every game as a freshman, and Cooper Stevens, who has varsity postseason experience. … Highland has rushed for 1,999 yards and passed for 2,060 yards. … Coach Brock Farrel is the first coach in Highland's 28-year history to guide that football program to a state championship game. The 4th year coach is a former 4-year assistant at Chandler and head coach at Shadow Mountain and in Virginia as well. He's also a former college quarterback. He's reached at least the state quarterfinals every year with Highland. … Highland is 2-0 all-time vs. Chaparral, but this will be their first meeting since 1994.
Open
No. 1 seed Chandler (9-0) vs. No. 2 Hamilton (8-1)
6 p.m. Saturday at Desert Vista
The streaks: Chandler has won 34 in a row. Its last loss came on Aug. 17, 2018 to California Centennial (35-13 score). It has failed to score more than 30 points in a game only once during its current win streak. It has outscored opponents 1,755 to 506 during that stretch, with the average margin of victory being 34 points per game. It has also defeated 42 Arizona opponents in a row. Mountain Pointe was the last Arizona team to defeat Chandler (24-21 on Sept. 8, 2017). Chandler head coach Rick Garretson is 22-0 as the team's head coach. Chandler's win streak vs. Hamilton currently sits at eight. The closest Chandler came to losing in recent years was when it narrowly won in overtime during the 2018 and 2020 semifinals. In 2018, it defeated Highland 36-35 and last week if held on for a 35-34 win over Liberty. … Chandler wide receivers Kyion Grayes (team-high 10 TD receptions) and speedster Quaron Adams didn't play last week due to injuries. But Jr. WR Jalen Richmond, Chandler's leader in receiving yards with 634, scored on a 58-yard pass play last week. Richmond also tied a season high with seven catches for 120 yards. … RB Eli Sanders has rushed for 1,240 yards and 21 touchdowns. … Since 2014, when QB Bryce Perkins and RB Chase Lucas were two of the program's offensive headliners, the team has had a 1,000 yard rusher and an all-state caliber player at QB every year. … QB Mikey Keene (22-0 as a starter) likely had his worst outing of the year last week, when the 70 percent passer completed 58.6 percent of his passes and threw a pick-6 in the third quarter that helped Liberty tie the game. … Chandler is ranked 5th in the nation by maxpreps, the highest it's ever been ranked nationally. … Chandler, which has won the highest classification in the state a state record four times in a row, has not lost in the playoffs since 2015, when it lost 24-21 to Desert Ridge in the semifinals. … Chandler's defense held Hamilton to a season low 83 rushing yards in the regular season. ... Chandler and South Mountain are the Arizona high schools that have produced the most NFL players (12). … At 53 games, Hamilton holds the longest big school (4-6A) win streak in the state. It accomplished the feat between 2008-2011. 3A Blue Ridge holds the all-conference win streak mark in Arizona (63 games between 1994-98). … Hamilton began its rivalry with Chandler by winning their first 17 match-ups. Hamilton's overall record vs. its Arizona Ave. rival is 18-9. … The only other time Hamilton and Chandler met in a final was 2014, when Chandler won 28-7. … Since 2000, Chandler and or Hamilton have played in Arizona's biggest classification final every year except for four seasons. … Hamilton's record is 7-5 in state final appearances. … Injured starting quarterback Nicco Marchiol hasn't played since Hamilton lost to Chandler 34-14 during the regular season. But his backup, D-I baseball commit Roch Cholowsky, helped Hamilton outscore its first two playoff opponents 108-14. Cholowsky completed 20 of his 27 passes during the victories. … Chandler rushed for 625 yards and 12 touchdowns in its last two games. … Noah Schmidt has rushed for 826 yards and 15 touchdowns. … Sr. Rodney Clemente has rushed for 613 yards and 13 touchdowns in six games. … Chandler and Hamilton have a combined 64 sacks this year. … Since 2018's 3-7 season, the worst season in Hamilton's football history, Hamilton went 9-3 last year and is 8-1 this year under Michigan high school hall of fame coach Michael Zdebski.
(Zach Lewis of Hamilton. Photo by Darin Sicurello/maxpreps.com)
azpreps365.com's archives, maxpreps.com and azfootballarchives.com were used for historical and stat data.
---