Santa Cruz over Benson 42-7 to win the 2A Championship
December 12, 2020 by Andy Morales, AZPreps365
---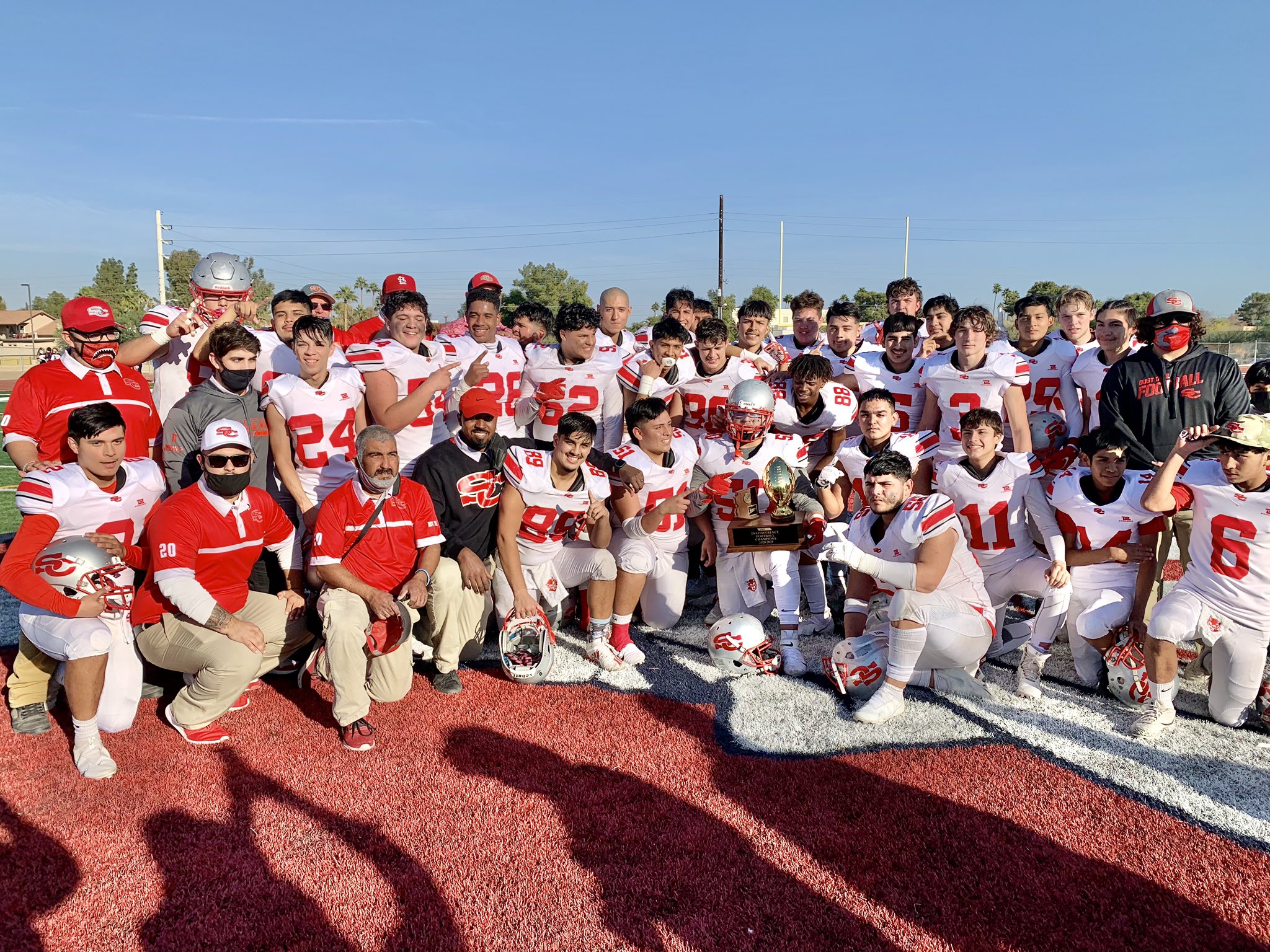 Getting caught in a Dust Devil can be fun, painful and punishing all at the same time but the power of the wind is here and gone in an instant and no one can predict when it will return - if ever. For Eloy Santa Cruz, the twisters in the desert blew frequently with seven state titles from the 1960s to the 1980s, with the last coming in 1990, but 2020 saw the return of the storm with the third-ranked Dust Devils finishing 9-1 with a 42-7 victory over Benson in the state final on Saturday afternoon in Scottsdale.
Benson also finished 9-1 in the year, having secured the top seed in the 2A Conference after taking care of business behind a group of young men on a roster that had no seniors but plenty of heart.
"Every game we played was a blessing. We didn't know if we were going to play and we went game by game not knowing," Benson head coach Chris Determan said. "We weren't supposed to play and we wound up in the championship game. We had a common goal to succeed and we did. We return everybody and we will be ready again."
Rishard Davis came close once before after leading the Dust Devils to a state runner-up finish in 2017. That 28-27 loss to Thatcher in overtime might have signaled the end of an era but it sparked a new one instead with this run being led by senior running back Hunter Ogle. Ogle came into the championship with a state-leading 1,852 yards rushing and walked off the field for the final time with 2,096 yards rushing at an incredible clip of 10.75 yards a pop.
He started his final game off in his usual fashion with a 7-yard run off the tackle to put the Dust Devils up 7-0 with 8:49 in the first but Benson was unable to respond and gave up the ball on downs at the Santa Cruz 6
Angel Rigney stopped another Santa Cruz drive with an interception but David Avilez returned the favor to put Santa Cruz back in business. The ensuing drive stalled and Benson blocked a kick to keep the score close at the half.
The first half lasted 45 minutes with only eight passes thrown but one had a feeling the second half would be a little different but no one expected the loss of Devin Bowling to an ankle injury and he led the Bobcats in rushing with 29 yards on 5 attempts when he left and Tristan Martinez passed that total with 31 yards late but the team was held to only 104 yards on 34 attempts.
"When you lose a player like that (Bowling) it changes your dynamics," Determan added. "Had to try to make things work without him and you hate to hang your hat on one or two guys but he was difficult to replace."
The difficulty in moving the ball resulted in another turnover on downs and Steve Calvin ran a TD in from 21 yards out to put the Dust Devils up 14-0 with 8:40 in the third. Jace Barney put the Bobcats on the board with a short run with 5:54 left in the third but Ogle ripped off a 49-yard run 13 seconds later to make it 21-7 Santa Cruz.
Tanzor Gil picked up a fumble and the Bobcats were back in business and Ricardo Alinez ran one in from 7 yards out to make it 28-7 with 3:27 left in the third. Ogle added a 59-yard TD run and his brother Wyatt Ogle hit Sias Lopez from 29 yards out for the 42-7 final.
As a team, Santa Cruz finishes with 415 yards rushing with Avilez adding 71 to Ogle's 244. Calvin finished with 57 and Alaniz had 30. Wyatt Ogle finished with 60 yards passing.
Martinez had his 31 yards rushing, Bowling had 29, Rigney had 28 and Barney had 24. Brok Determan had 71 yards passing.
Benson has never won a state championship but Chris Determan led the team to the state final in 2015 and his Bobcats are the early favorites to take in all next fall with every player returning.
"We are all juniors and we have been working hard since June, busting our butts in practice and the weight room," Brok Determan said. "We have a very good group of guys and they played their hearts out. I mean we all played hard till the end. I'm going to remember these guys and we have known each other six we were six years old and we are going to be back here again next year."
Ogle finished his career with 4,656 yards rushing at 8.64 yards a try with 54 TDs.
"Hopefully this championship brings Santa Cruz back to those times," Santa Cruz head coach Rishard Davis said of the Dust Devils' storied history. "Hopefully, this will motivate more guys to come out and play football, keep that competitive spirit going and represent Santa Cruz."
---