Julie Brase's 2,913 career points appears to be out of reach once again
December 26, 2020 by Andy Morales, AZPreps365
---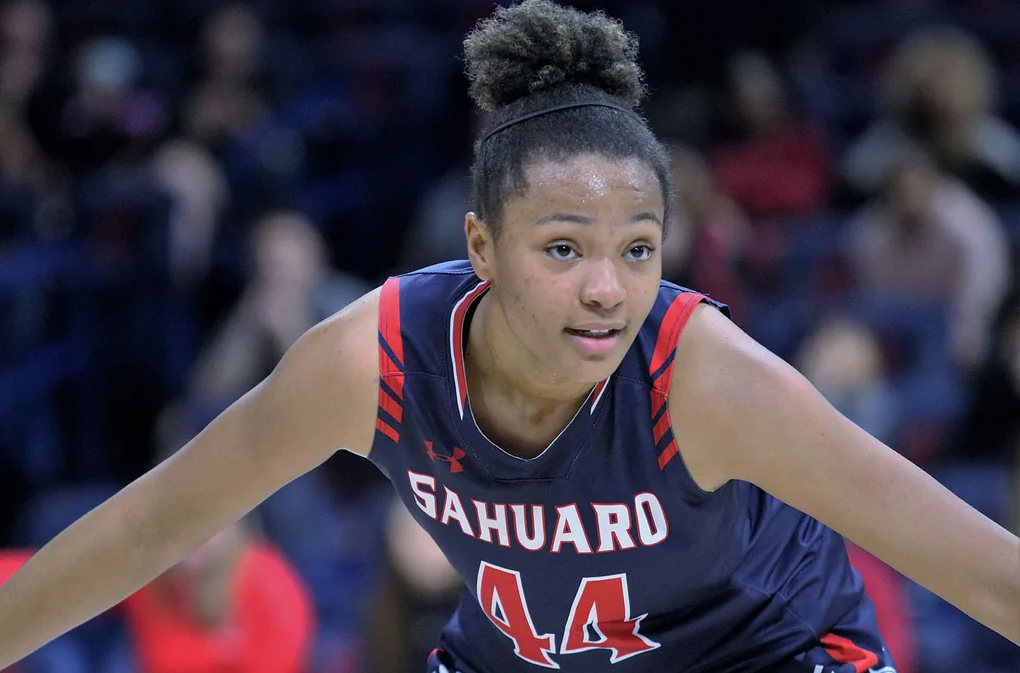 Sahuaro senior Alyssa Brown had a serious shot at dethroning former Catalina Foothills and University of Arizona standout Julie Brase from the top of the Arizona high school career scoring record this winter but, with the season pushed back to Jan. 18, Brase's 2,913 career points with the Falcons from 1994-1998 appears to be out of reach once again.
Brase, now Phoenix Mercury assistant coach Julie Hairgrove, helped lead Catalina Foothills to a state championship in 1997 under former head coach Patty Patton Shearer. Shearer is the daughter of legendary Marana coach Norm Patton and Hairgrove is the granddaughter of legendary Arizona coach Lute Olson. Brown is the granddaughter of former Wildcat Gene Moore.
Former Red Mountain standout Kayla Pedersen (2003-2007) is No. 2 on the career scoring list with 2.611 career points, former Seton Catholic standout Christina Wirth (2001-2005) is third with 2,550 career points, former Kellis standout Kayla MacKenzie 2006-2010 is fourth with 2,515 career points and former Yuma Catholic/Gila Bend standout Ashley Wirtzberger (2006-2010) is fifth with 2,505 career points. 32 players have score over 2,000 career points but these five players are the only ones in the history of girls' basketball in Arizona to score more than 2,500 career points despite the recent explosion of scorers.
Former Santa Rita and USC and Team USA standout Paula Pyers (1980-1984) was the first in Arizona to break 2,000 career points (2,082) but there have been eight to score that many in the last five years alone including Brown. The 2019 Gatorade Player of the Year signed on with UNLV this fall and she was set to start off her senior season with Cougars with 2,094 career points. She set an Arizona single-season record of 932 points last year and she was on pace to be the first in Arizona history to break 3,000 career points.
The winter season usually begins during Thanksgiving week and Brown had 285 points at this point last year which would have pushed her from No. 25 on the all-time scoring list to No. 9. The season was originally pushed back to Jan.5 and, at her pace, Brown would have passed the 2,500 career scoring plateau with 3,000 on the horizon.
The season was moved to Jan. 18 which still gives Brown a realistic shot at 2,500 career points. She would need to average near 50 points a game to reach 3,000 however and that's only if the season isn't changed again.
Arizona Career Scoring Leaders: Boys
1 Robert Burries, Globe (3,387) 2015-2019
2 Corey Hawkins, Estrella Foothills (3,154) 2007-10
3 Mike Bibby, Shadow Mountain (3,002) 1993-96
4 Terrell Stoglin, Santa Rita (2,901) 2007-10
5 Jerryd Bayless, St. Mary's (2,888) 2004-07
6 Daniel Bejarano, North (2,642) 2007-10
7 Chuck Overton, Cholla (2,535) 1989-92
8 Royce Woolridge, Sunnyslope (2,485) 2006-10
9 Bernard Rock, Orme School (2,369) 1993-96
10 Sean Flannery, Salpointe (2,332) 1988-91
11 Travis Hice, Antelope (2,235) 1995-97
12 DeWayne Russell, Peoria (2,225) 2008-12
13 Taylor Rohde, Pinnacle (2,195) 2004-08
14 Nick Rosquist, Gregory School (2,147) 2013-17
15 Dorian Pickens, Pinnacle (2,122) 2010-14
16 Deron Johnson, Sunnyside (2,108) 1984-89
17 Addison Mort, Gregory School (2,024) 2014-18
18 Jake Toolson, Highland (2,007) 2010-14
Arizona Career Scoring Leaders: Girls
1 Julie Brase, Catalina Foothills (2,913) 1994-1998
2 Kayla Pedersen, Red Mountain (2,611) 2003-2007
3 Christina Wirth, Seton Catholic (2,550) 2001-2005
4 Kayla MacKenzie, Kellis (2,515) 2006-2010
5 Ashley Wirtzberger, Yuma Catholic/Gila Bend (2,505) 2006-2010
6 Alexis Cortez, Tucson (2,479) 2012-2016
7 Nicole Powell, Mountain Pointe (2,478) 1996-2000
8 Shaylee Gonzales, Mesquite (2,385) 2014-2018
9 Olivia Snyder, Green Fields (2,382) 2009-2013
10 Alyssa Wahl, Cibola (2,366) 1999-2003
11 Wendy Woudenberg, Scottsdale Christian (2,295) 2001-2005
12 Haley Cavinder, Gilbert (2,282) 2016-2019
13 Marie Folsom, Corona del Sol (2,270) 1990-1994
14 Desirae Gonzalez, Kingman (2,255) 2012-2016
15 Brooke Jackson, Mesa Mountain View (2,250) 2003-2007
16 Lindsey VanAllen, Mesquite (2,249) 2014-2018
17 Janae Gonzales, Sierra Linda (2,204) 2014-2018
18 Hanna Cavinder, Gilbert (2,192) 2016-2019
19 Dymond Simon, St. Mary's (2,189) 2002-2006
20 Sydni Stallworth, Palo Verde (2,182) 2011-2015
21 Shawn Coder, Willcox (2,162) 1986-1990
22 Amy Showers, Camp Verde (2,161) 2001-2005
23 Bryce Nixon, Arcadia (2,122) 2014-2018
24 Najiyyah Pack, South Mountain (2,119) 2012-2016
25 Sonia Bribiescas, Superior (2,109) 1984-1988
26 Alyssa Brown, Sahuaro (2,094) 2017-Present
27 Paula Pyers, Santa Rita (2,082) 1980-1984
28 Theresa Wirth, Seton Catholic (2,080) 2007-2010
29 Kalie Matthes, O'Connor (2,068) 2008-2012
30 Camille Zimmerman, Tempe Prep (2,054) 2010-2014
31 Taneisha Gossett, Flowing Wells (2,043) 1990-1994
32 Taylor Chavez, Valley Vista (2,012) 2014-2018
---