"It all goes through" 4A champ Flagstaff; First Northern AZ soccer team previews included
January 19, 2021 by George Werner, AZPreps365
---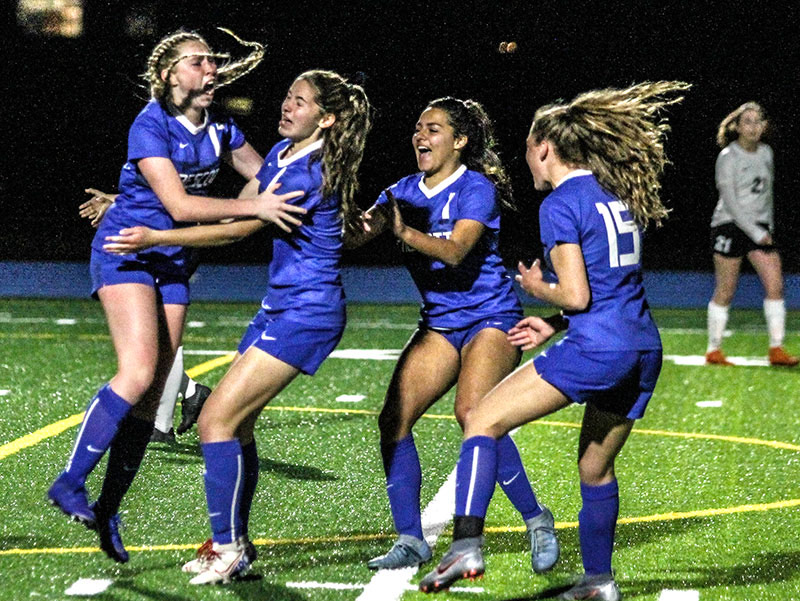 Before last season, Prescott High School's girls soccer program had a spotless Grand Canyon Region record since 2015--except for the reigning regional champ Flagstaff Eagles.
"It all goes through Flagstaff," said 4A Coach of the Year Paul Campuzano, who, after two COVID-19 shutdowns and the past five days off, hopes wet weather won't further mar the opener to his fifth season as Badgers head coach Tuesday, Jan. 19, at Mohave High School. "They'll always be the favorite."
But while Campuzano's first win over the Eagles, 2-0 on Jan. 23, finally unlocked an undefeated regular season and the top seed in the 4A Conference tournament, the Eagles still had the last word on last season.
Their 4-2 edge on penalty kicks over Catalina Foothills High School--the team that knocked out Prescott, 1-0, in the semifinals--capped an unprecedented run to the 2020 state title, as Flagstaff became the first team in recorded history to win every postseason game in overtime while limiting their Tucson opponents to just three goals.
"It was definitely a unique run," said Holly Jones, honored as Arizona's Small School Coach of the Year by the United Soccer Coaches Association after taking her third title in her second stint as Eagles head coach. "Last year, the girls set their goals, and once we got them bought in and had them focused on not allowing goals, they really stepped up. It's all about getting them to believe."
Especially in goal, where junior Lianna Albert returns after holding all of her 2020 postseason and regular-season victims to two goals or less in regulation. This included a 4-0 shutout of Deer Valley High School, where Flagstaff opens its season at 6 p.m. Jan. 19 before moving on to its regional opener Friday, Jan. 21, against what Campuzano called a "tough" Mohave team.
"We know we're going to have a target on our backs, so we want to step up and win it outright, and let everyone know last year wasn't a fluke, or by luck," said Jones, who returns depth at goalkeeper in sophomore defender Keira Robertson, who allowed just five goals in eight games last season. "In all my 10 years of AIA coaching, this is, by far, our toughest schedule."
One that, courtesy of the coronavirus, wraps up with a seven-game swing against non-region opponents, five of them on the road. These include Southwest Region runner-up Estrella Foothills High School and 5A state semifinalist Notre Dame Preparatory Academy.
While that gauntlet will have to be run with just one senior, as 4A Defensive Player of the Year Maya Shearon graduated, Jones' entire attacking third is back in juniors Brissa Arangure, Karina Fuhrman and Haley Schlenker along with sophomore forward C.C. Garcia and former club player Morgen Causland.
"We'll have very dynamic center-mid and up-top strikers," Jones said. "While defending is what won us the championship, you're going to see a possession style throughout the entire field, and we're going to look to put a lot of goals in the back of the net."
They will need that offense Feb. 2 against Prescott, which replaces conference Player of the Year Lily Jensen and eight other seniors with a nucleus of nine juniors, including club player Charlotte Osburn in goal along with three other returning starters: defender Melia Hoyt, midfielder Kari Kasun and forward Ellie Magnett.
"So I'm hoping those team leaders take it on themselves to step up and assert themselves off the field" like Campuzano's nine "captains," as he called his former seniors, did last season. "They were so dedicated to every film session, getting on the bus...they really dictated every moment of practice. It was real[ly] easy, in a way, for me as a coach."
The opposite has been the case to open this season, though, as the steady creep of the coronavirus has taken both teams off the practice field in November, into suspension, then into skill cohorts of three to five players--and back again.
"We lost the same two weeks Flagstaff lost" over Winter Break due to district COVID-19 shutdowns, Campuzano said, plus "Prescott added an additional 10 days.
"There were multiple starts and stops. Our team has only been back to practice since Monday [Jan. 11].
"We can't meet in the classroom, we can't meet in the locker room. So some of our routine, like film sessions and the ability to do team-building things out of school, has really been taken out.
"The biggest concern has been injury; the biggest challenge has been consistency. The most difficult part has been not getting together on the field. Now they have to wear [a mask] while they are playing, so 30 minutes is only going to be 20 now."
So Campuzano will need even more of his younger players to step up in playing time, and earlier than expected, against a slate that begins with four Grand Canyon Region opponents in a row.
"If we lose one, we pretty much have to re-evaluate what our expectations are," Campuzano said. "For me, the expectations are completely different than last year."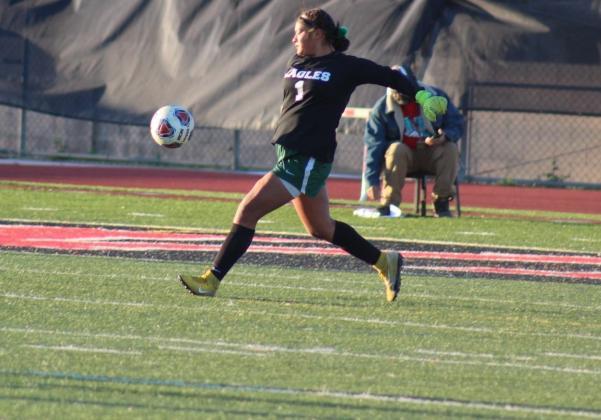 Flagstaff High School junior goalie Liana Albert boots a save back to Catalina Foothills High School early in the Eagles' state championship victory over the Falcons. (Photo courtesy Holly Jones)
Azpreps365 emailed a questionnaire to each winter season coach. What follows is information northern Arizona soccer coaches have so far provided.
GIRLS SOCCER
Bradshaw Mountain High School
Head coach: John J Sterling.
2019-20 record: 6-6
Number of years as head coach: 9.
Overall record at school: 51-69-8
Number of years as a head coach
Overall career record: 51-56-8
Top returning starters: Hailey Denman, senior midfielder. Expect her to set the schools scoring record again. Recruited Division I, committed to New Mexico State University.
Early evaluation and expectations: We are very balanced and are expecting to challenge for the region title.
BOYS SOCCER
Mingus Union High School
Head coach: David Glick.
Number of years as school's head coach: 0 (former junior varsity coach).
Number of years as a head coach: 0.
Overall career record: 0-0.
Top returning starters: Domanic Renik, senior forward-midfielder, 5'10". Head captain, smart and dedicated player, coming back from season ending injury last year expect him to continue health improvement and do his best to help his team succeed...Mitchell Cristman, senior defender, 6'3". Captain, great footwork, fast, strong defense. Expect him to head up his defense improve his communication and be aware of off balance situations to help his defense prevent opponent goal scoring opportunities...Jesus Velazco, senior defender-goalkeeper, 5'11". Amazing goalkeeper currently battling a finger injury. Expect him to help keep the team in the game if he can man the goal, otherwise he will be a back...Wyatt Pallarez, sophomore midfielder, 5'10". Captain, strong with both feet. Amazing ball control, distribution and shooting ability especially for his age, will punish any hole or disorganizationin the defense. Expect him to be our top goal scorer and assists...Ivan Udave, senior midfielder, 5'8". Wonderful ball handler and scorer, tends to hold onto ball. Expect further maturity and getting his head up more to help lead the team to wins. Expecting several goals from him this season...Marcus Bueno, junior midfielder, 5'9". Ambidextrous, strong with both feet, coached in JV two years ago. Very opportunistic player, great shots on goal, can run all day. Expecting further growth on the field and increased communication with teammates. Will score several goals as well...Hgiovani Lagunas, junior defender-midfielder, 5'7". Very strong physically built like a tank. Excellent communicator and team motivator, greatly improved passing and shooting since JV two years ago. Can also play a great keeper where his communications skills really shine. Expecting further maturity on and off the ball may need him in goal because of primary keeper injury...Jadon Bazzill, junior defender, 6'3". Very fast, very good defender, good ball control, expecting greater maturity on the ball this season because he tends to move too fast without looking, expecting better decision making in some situations.
New players you are expecting to step in this year: Joan Ruiz, junior defender-midfielder. Very good ball handler, very nimble. Expecting him to emotionally become more mature, tends to get very upset with himself and take himself out of the game...Angel Pallarez, freshman midfielder. There's nothing this kid can't do except keep, amazing player all the way around, is Wyatt's brother. In the top five players I've ever coached but he's small so he'll get less play time as I'm looking out for his safety. He will assist and score, I have no doubts...Brandon Kleva, junior defender. In JV two years ago, he had a miserable year with very little playing time, but last year and this year, he's really found himself. Very strong player, dedicated, looking forward to a great season with him probably as a starter.
Big or small stories to write this season about players and coaches: Mingus Boys Soccer has a history of being a just above average team typically coming out at .500 or just above in our season records. We've had wonderful coaches heading up this program over the years but, unfortunately, we've never really been able to break into a top spot in State.
This year, however, we expect to do just that. We currently have 23 varsity players on the roster with literally 19 of those as potential starters. We have nine seniors and 10 juniors on the squad. Our three sophomores and one freshman are all starter quality providing us with an amazing depth of very fine and strong players throughout the field.
We have a new head coach this year whom has acquired over 20 years of competitive soccer coaching experience. His team philosophy is to be the supportive coach that empowers his players to think wisely for themselves on the field. One of his expressions to players is, "You're getting 'paid' to think out there."
Coach is very positive with the players and points out both the good things as well as improvement opportunities on the field. He also exercises a sense of humor with players and establishes positive relationships with them that builds trust and authority. His coaching strengths are both offense and defense but not so much in goalkeeping so he relies on a keeper trainer for them.
Offensively, his primary philosophy is to be different, keep the defense guessing, and never do the same thing over and over again. Primary offensive opportunities come not from individual efforts but from team effort. Defensively, Coach is a huge believer in pressure-cover-balance and not allowing opponent scoring opportunities by limiting opponent possession on the defensive half.
Finally, Coach has watched countless hours of video footage of this team from past years as well as countless hours of top team play in the conference and has established a game plan to put this team at the top of the conference.
Page High School
Head coach: Ryan Palizzi.
2019-20 record: 6-6.
Number of years as school's head coach: 5.
Overall record at school: 18-16.
Number of years as a head coach: 8.
Overall career record: 43-24.
Top returning starters: Edward Mejia, midfielder...Jose Gutierrez, midfielder...Kiko Mejia, forward...Javon Jake, defender...Slade Christiansen, goalkeeper...Daniel Blackwell, forward.
Stories this season: Impact of COVID on Navajo communities.
Early season evaluation and expectations: Lots of new guys. We don't normally play in winter, lost players to other sports.
---