Titan girls dominate in first home game
January 20, 2021 by Caleb Gottry, Chandler Preparatory Academy
---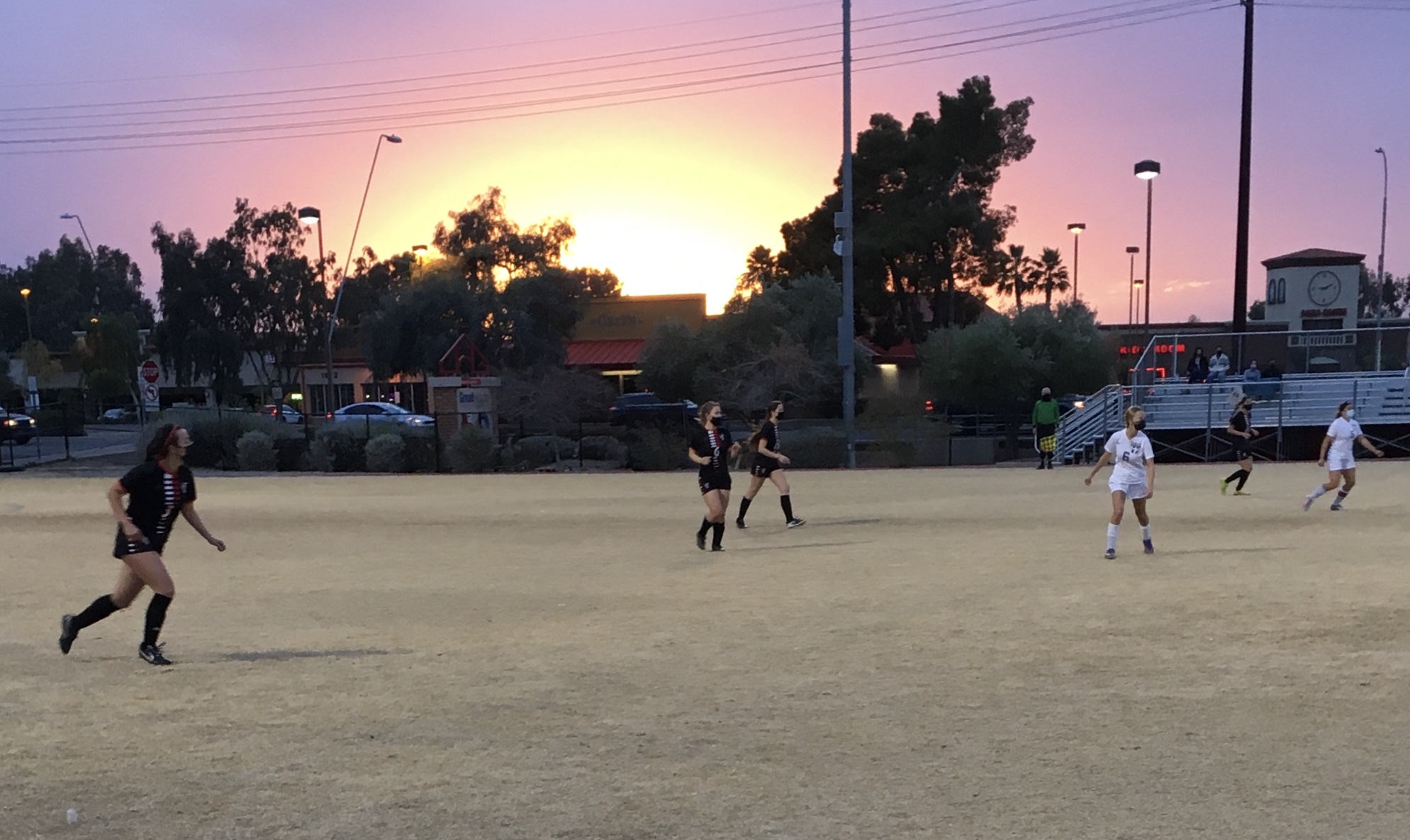 Caleb Gottry attends Chandler Preparatory Academy and is a member of the AIA's Student SID program.
On Tuesday, January 19th, the Titan's girls' soccer team returned to the field for their first game of the season. Chandler Prep hosted the San Tan Foothills Sabercats and led wire-to-wire in a high scoring shutout. In just 60 minutes, due to the AIA's mercy rule for high school soccer, the Titans claimed victory with a score of 13-0.
Senior striker Amanda Stoft scored four goals within the first 12 minutes of the game, leading the Titans to an early 4-0 lead. With another two goals later in the half, she scored a double-hat-trick of goals against the Sabercat defense. Stoft led the team in scoring and had nearly a 70% conversion rate for the game. Afterwards, she said the excitement of the first game helped build the scoring momentum.
"I honestly think it was just the excitement of getting back to playing. I think we all were ready to push forward and get out there, so everyone wanted to just be part of the offense in every play."
Though the Sabercats did have a better offensive presence as the game progressed, Chandler Prep did extremely well keeping the ball on their scoring side of the field. Assisting in this respect was sophomore midfielder Grace Hathaway, leading the team in steals. The Titan defense was pushed up for a large portion of the game, but a strategic and disciplined set of defenders prevented any potential breakaways from the San Tan Foothills offense. Junior keeper McKenna Possehl had her share of stops as well including a crucial save on a penalty kick.
Offensively, Titan forward, sophomore Ali Estrada, scored a consecutive hat-trick of goals at the beginning of the second half. Despite having several good runs and shots on goal, Estrada could not manage to score until then, but the Titans were able to rebound goalie deflections and score in a few instances. Sophomores Lilley Hunt-Gonzales, Erika Hayes, and Lauren Golda along with freshman Alyssa Herbrandson scored the remaining four goals for Chandler Prep Head Coach Vilaboy commented on the cohesiveness of her team as a whole.
"I think the pandemic and all of the uncertainty of it all actually pulled us together to make us even stronger and more motivated to excel together which is a great thing for a coach, because I love it when a team connects."
The Chandler Prep boys also won their first home game against the Sabercats with a final score of 6-2. Coming up, the Chandler Prep Titans host the Heritage Academy Laveen Heroes on January 21st, the girls at 5pm and the boys at 7pm. Titan Up.
---