Boys soccer: Dobson's late PK nips Mesa
January 26, 2021 by Les Willsey, AZPreps365
---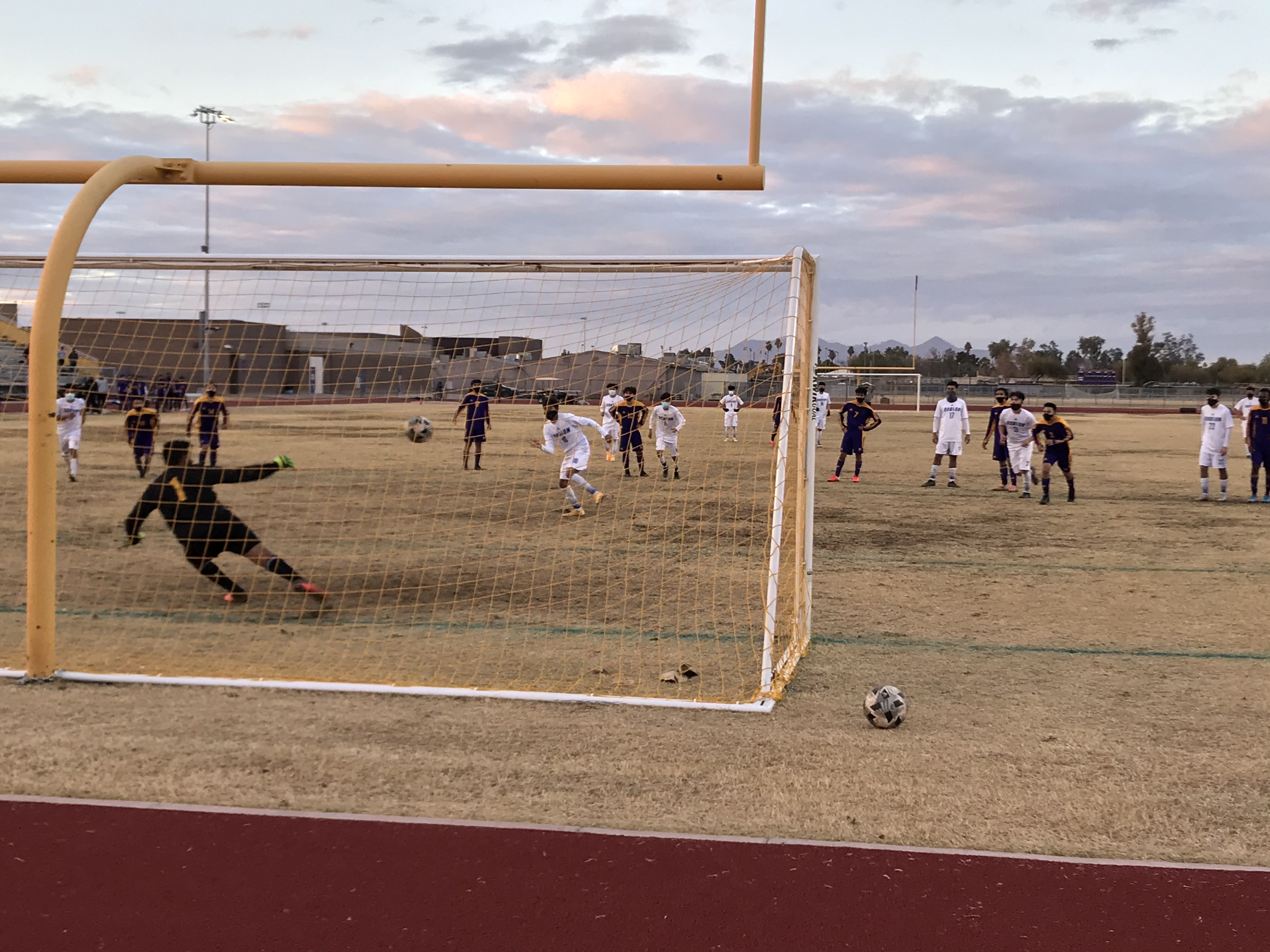 Dobson made one mistake in its 6A East Valley Region boys soccer match with Mesa on Wednesday afternoon and rectified it quickly.
Bouncing back a minute or so after said miscue to even the score at 1-1, it took the Mustangs nearly 60 more minutes more to land the decisive goal - but they did and will take it - in a 2-1 win at Jackrabbit Stadium.
Senior midfielder Carlos Valle got the call to attempt a penalty kick in the 77th minute after Mesa fouled Dobson in the box. Valle's aim was dead center and he got Mesa keeper Rafael Gonzalez to lean (guess) left to tally the winner."I told (Mesa coach)TJ (Hagen) we had to get that last goal some way," Dobson coach Mike Sobek said. "We worked hard, and had some chances before the PK. Just couldn't finish."
Dobson is unbeaten after two matches with a 1-0-1 record. Its season opener last week was a 0-0 overtime tie with Queen Creek. Mesa is 1-1. It's Dobson's first win over Mesa since January 2015. The Mustangs had lost the past six meetings with the Jackrabbits.
Mesa tallied the first goal in astonishing fashion. Freshman Ricky Sanchez booted a free kick from a few yards on the Dobson side of midfield. Somehow it tracked to the far post and beat stunned Dobson defenders and goalie Adrian Guillen in the 18th minute.
Dobson didn't fret. Didn't waste time as freshman forward Andre Lopez ventured deep in Mesa's box and with a flick pass from Cruzeiro Cruz netted the tying goal in the 19th minute.
At that point the teams were fairly even on possession, but the rest of the way it was Dobson that supplied the pressure. Several good chances went awry and at least two very good ones were saved by Gonzalez. The last one in the 63rd minute as Lopez had a one-on-one at the top of the box that Gonzalez deflected to keep the match tied.
In recent seasons Mesa has been the team in region matchups that supplied the heat. Not with this year's team in the season's first week plus.
"This is a brand new team, an overhauled team," Hagen said. "We started two sophomores and two freshmen and the others were mostly substitutes last year. We graduated 11 seniors, had five leave for the MLS Academy and three others decided not to play this season. Dobson controlled play and their back line kept us away."
BOYS BASKETBALL
MESQUITE 69, MARCOS DE NIZA 35: The Wildcats earned the first win for new coach Shawn Lynch after a pair of one-point defeats on Tuesday night.
Lynch was hired at Mesquite in September to fill the Wildcats' coaching vacancy after stepping away from Eastmark before its first varsity season earlier in the summer. Lynch previously coached at Agua Fria HS and Mesa High before shifting to administrative duties that included principalships at Williams Field and Westwood high schools the past 15 years.
Senior guard Calmese, the lone returning starter for the Wildcats, (1-2, 1-1 4A Desert Sky Region) scored a game-high 27 points. Calmese tallied 17 points in the first half on 7 of 13 shooting. He finished 11 of 19, including five threes. Sophomore guards Maurice Lakes and CohenJ Gonzales also scored in double figures with 18 points and 11 points, respectively. Mesquite built a 22-7 lead after the first quarter and improved the advantage to 38-15 at intermission. Jase Langley led Marcos de Niza (1-2, 1-2 4A Desert Sky Region) with nine points.
Mesquite basketball coach Shawn Lynch talks with Nate Calmese during the 2nd half of their win over MDN. (Azpreps365 photo)
---