Mingus beats Goldwater on buzzer-beater
February 13, 2021 by David Payne, Arizona State University
---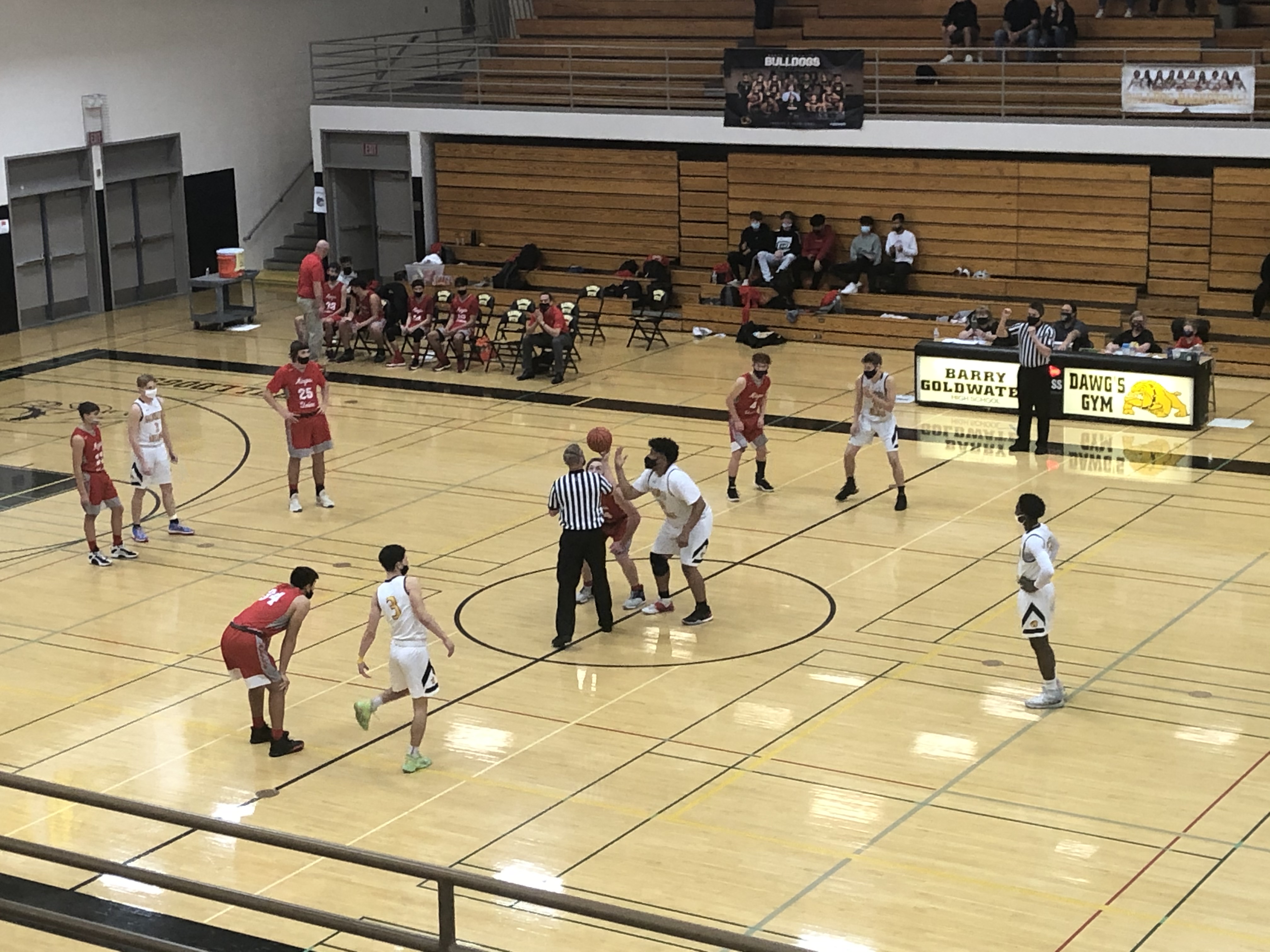 David Payne is an ASU Cronkite School of Journalism student assigned to cover Barry Goldwater High School for AZPreps365.com
Barry Goldwater High School's boys basketball team fell to Mingus Union High School, 58-57, on Saturday on a last-second three-pointer.
The Bulldogs led by 11 points halftime but allowed Mingus to slowly creep back into the game.
Mingus didn't take the lead in the second half until the final minute of the game, after a three-point shot by Dante Gabaldon put the Marauders up, 55-53. An offensive rebound and put-back from Goldwater's starting center, Jesse Turner, tied the game and a quick steal and layup by Ricky Waters III put the Bulldogs back on top by two points.
With just over 10 seconds to play, Mingus coach Albert Rodriguez called a time out and drew up a last-shot play for the Marauders, where sophomore guard Brasen Durkalec sank a 3-point, game-winner at the buzzer.
"Coach kept telling me to keep shooting," Durkalec said. "As soon as I let it go I thought it was going to go in. It just felt good right off the release."
Durkalec said he has had multiple opportunities to hit big shots this season but has missed them, which has kept him humble. He finished with nine points, all from 3-point range.
Rodriquez said the Marauders have been in close games before and made sure to tell his players he trusted them during their last timeout.
"We've been talking and talking about just playing down to the last second and these guys did that tonight and I'm super proud of them," Rodriguez said. "I'm glad we had the opportunity to get that last shot off."
Goldwater played a strong, defensive game, forcing multiple turnovers and grabbing 12 steals. Waters III finished the game with eight of those steals and also had 11 points. He said he left everything out on the floor and tried hard to execute everything his coach told the team with seconds left in the game.
"Coach wanted me to double-team the point guard to try to get a steal and everything went as planned," Waters III said. "We got a fast-break layup. They just made a tough shot at the end."
Both Goldwater and Mingus were fighting for their second win of the season. The Bulldogs were very vocal on the court, motivating one another both on offense and defense. Senior guards Waters III and Brody Beckman, who led the team with 13 points, spearheaded those conversations, bringing a great sense of team and unity on the court for Goldwater. But it wasn't enough to stop the Marauders' starting squad, which scored 56 or the team's 58 total points.
Goldwater coach Nathan Stumpf said close games are disappointing to lose but he encouraged his team to keep their heads up after a well-played game.
"We were fighting and trying to make the right decisions so no complaints," Stumpf said. "It just happened that a kid made a shot, so hats off to him."
Mingus (2-7) heads to Prescott (5-2) on Wednesday for a 4A Grand Canyon conference matchup at 7 p.m. and the Bulldogs(1-10) will host Coronado (2-8) at 7 p.m. Thursday.
---