The impact of the pandemic on Tempe Prep
February 16, 2021 by Justin Torres, Arizona State University
---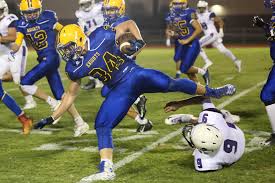 Justin Torres is an ASU Cronkite School of Journalism student covering Tempe Prep for AZPreps365.com
Last March was the beginning of a four-month shutdown for Tempe Prep Academy and its football team, which is trying to rebuild its program back to where it once was.
Asked what the biggest change was for his squad with all the curveballs COVID has thrown at them, coach Larry Cain said, "The biggest thing was not having spring football for the first time."
However, this wasn't the only wrench that got thrown their way. According to Cain, in a normal environment, the team would have around 40 practices during the spring semester. This year they could only have three.
This caused Cain's plans to be delayed by months and hindered the team's ability to start the offseason programs at a level he is used to. "Going into July we usually ramp up conditioning and without that a lot of kids were out of shape."
While this pandemic affects the players ability to be on the field, it also affects the coach. "It's been more psychological than anything else, the unknown of whether we would even have a season at all was a hard concept to grasp."
Cain and his team eventually got the green light to return to practice after a long stint away from the game. Asked if he was worried about getting the game plan right, he responded, "Not really. Everything we want to run has been in place since the last season and having 10 offensive starters returning helps too."
The team was on the same page by week four or five, according to Cain. With all the time lost during the spring and summer hiatus this was heartening.
Once the players got to returned to play, Cain said, "They were just excited to be back and all knew how much work they needed to put in to make up for lost time."
Cain and his players have their work cut out for them to prepare for next season, one thing is clear. With all that the team has been put through in the past year, Cain's football program has zero quit in them.
---