Tucker's journey from transfer to spotlight
February 21, 2021 by Ethan Ryter, Arizona State University
---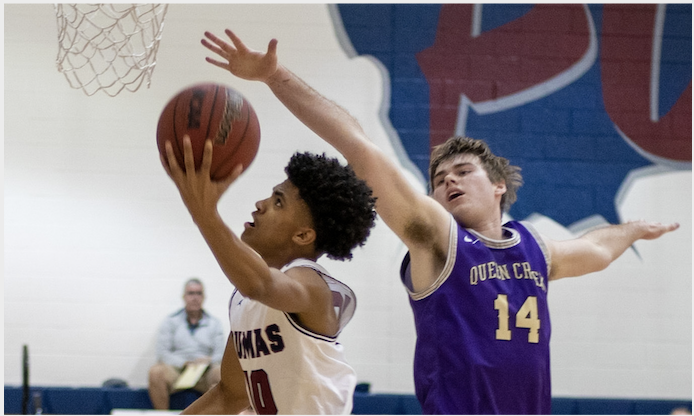 Ethan Ryter is an ASU Cronkite School of Journalism student assigned to cover Perrry High School for AZPreps365.com.
During the COVID-19 lockdown, 17-year-old Christian Tucker woke up early nearly every day to lift, run and shoot on his backyard hoop, often late into the night in Gilbert, Ariz.
Tucker, a senior on the Perry boys basketball team, is a big reason for their winning record.
"I'm a floor general," he says. "I know where [and when] to put the ball."
Perry head coach Sam Duane noted that Tucker, who is averaging around 16 points per game this season, "understands his responsibility as a leader. Not only for our team, but for our program."
Tucker had to work for his stardom and leadership role. According to older brother Isaiah Tucker, Christian "was very timid and wasn't very outspoken" at the beginning of his sophomore year.
Sensing his potential, the Tucker family made a tough decision to transfer Christian to a new school from Red Mountain. Isaiah pointed to two factors in his brother making the switch. Quality coaching appealed to Christian's father, while his mother was drawn to the academic opportunities.
Isaiah says his mother "was looking for a school who could keep up with Christian's high grade point average and the advanced classes he was taking." So Christian transferred to Perry.
From day one, Christian felt the contrast.
"My teammates had a lot of talent so it was different," he said. "Our coaches get on you all the time. If you make a mistake they're going to correct it. It was just a whole different atmosphere."
When transferring, players are required to sit out 50 percent of regular-season games. For Christian, that meant he had to sit out nine. While he wanted to play, he realized the value of watching those games from afar, while still practicing with the team.
"It helped me build chemistry with my teammates and understand how our offense works," he said.
Isaiah said he and his family knew "it was just a matter of time before everybody started talking about Christian and realized his potential."
They were right.
"Initially we thought he had a chance to be a very good player," Duane said. "He came in and fit in with our guys really well right away."
That first year, Christian was a spark plug off the bench on a talented team that lost in the semifinals. While only a sophomore at the time, Christian was devastated at the loss. However, he immediately used it as a source of motivation.
"Right after that he immediately wanted to get back to work. He knew it was something he wanted to get back to," Isaiah said.
Ahead of Christian's junior season, Isaiah noticed a change in his brother.
"It was 10 o'clock at night, he was in the garage lifting," Isaiah said. "Then after the lift he was like, 'Alright, I'm about to go run a couple miles.' Honestly right there I knew he had a new drive that I hadn't seen before."
That new drive led to him being a much stronger and much more explosive player, according to Duane. Perry made it to the quarterfinals, and Christian had high hopes of improving the next year.
Then a global pandemic hit and next year looked uncertain.
People around the world were locked inside their homes with little to do. It could have been seen as a time to slack off with little responsibility. Christian did not see it that way.
As lockdown rules were enforced, Isaiah was back home and around his brother all the time. He noticed the same drive and motivation again but with an added bit of leadership.
"He took control of his own workouts," Isaiah said. "It wasn't me, my dad or his trainers pushing him. It was him pushing us. Early in the morning he would wake me up for when we would get up and lift or go run. He was the one that kept us motivated in a time where most families were staying down."
Christian believes this time was vital.
"I honestly think this COVID experience helped me separate myself. I improved a lot during this time," he said.
Now a senior, an increasingly vocal Christian is reaping the benefits of his hard work as the star guard and leader for a championship-hopeful team.
His brother believes Christian's long-term vision is a Division I offer. However, that's not what's on Christian's mind at the moment.
"One goal I always had was to win a state championship," he said. "That's the first thing that comes to mind. Honestly that's all I want. All the individual awards will come after we get that 'ship."
---