Smith's 39 points topple top-ranked Patriots
February 21, 2021 by George Werner, AZPreps365
---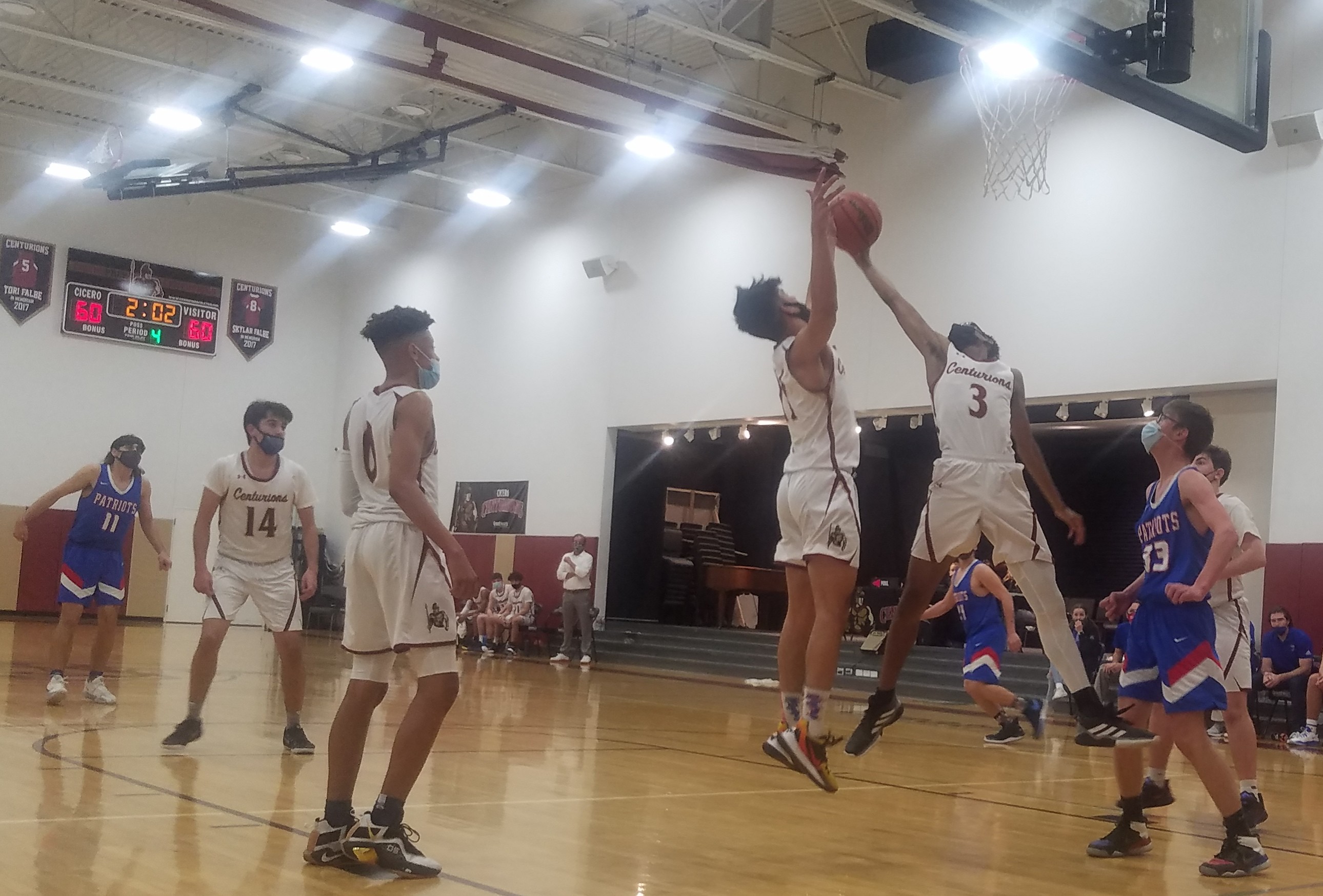 The short run at No. 1 was fun while it lasted for Mohave Accelerated Learning Center.
Four days after making their case for the top spot in the 1A Conference, then earning it with double-digit wins over Williams and Fredonia high schools, the Patriots fell back to earth with their first loss Saturday, Feb. 20--courtesy of Cicero Preparatory Academy, 79-70, in overtime.
"The pressure of being undefeated does kind of gnaw at you a little bit," said Patriots head coach Scott Neal, whose fatigued players could not overcome road trips to Fredonia and Scottsdale on back-to-back nights beginning Friday, Feb. 19. "We don't give up this many points. Ultimately, I purposely put these kids in a bad situation to see how they would react."
Centurions senior forward Desi Smith II reacted with a career-high 39 points that ultimately vaulted the Centurions over the last undefeated boys basketball team in the conference.
"Now that we've beaten the No. 1 team, I know we shouldn't be losing to anybody," said Smith, who scored all of Cicero's points in the extra period--free throws, of which he hit 13 out of 14. "I just wanted to come out and actually finish a close game for once."
He did, as the Cicero defense converged to allow only one overtime field goal--a corner three-point shot by Patriots junior Steven Lopez--after choking off any shot attempt from the Patriots in the final six seconds of regulation.
"We've had a few close games," Neal said. "They're few and far between, and, in general, when we've had the close games, we've had the lead."
Not so against the Centurions, who likely will move up to a top-eight ranking and the home side of the opening-round tournament seedings despite four losses, including a pair of six-point region losses earlier in the month to the state's previous top two teams--North Valley Christian and Leading Edge Academy of Gilbert.
"Desi, he was the example of what we've been working on: penetration, going to the line and making free throws," said first-year Centurions head coach Patrick Brooks, now 8-4 and in fourth place in the Maricopa Region, 1A's toughest. "If we can do that, we're a good free-throw shooting team, statistically."
Halfway through the fourth quarter, after Smith kicked out to sophomore Charlie Mellor, whose only points retook the lead, only three other Centurions scored on the night.
"Our guys, normally, have help side," Neal said. "I told them not to do that, because of the kick[-out]. We just didn't make the adjustment."
One of those other three, junior forward Quinton Brooks, forced the overtime with his 18th point of the night off a three of his own, tying the game at 66 with under a minute to play.
"We've never had someone step up and bury one like that before," Neal said. "Generally, that clanks off, we get fouled, and it's a two-possession game. This is something we will definitely build on."
It was enough, despite 25 points from Patriots junior guard Aden Honegger, which fueled a 13-0 second-quarter run to give Mohave Accelerated its first lead--and, ultimately, its biggest lead of the night, 12 points.
"A rough-shooting night for some of our boys, but I know that together, we played better on defense," Brooks said. "The kids did know they were undefeated, so there was a little bit of motivation there."
Sophomore Lucas Leslie added 16 points to go with 13 from junior forward Josh Neal in the middle of the key, where Scott Neal said they "got gashed" by Smith's runners, floaters and kick-outs for Brooks' and Mellor's killer three-pointers.
"Josh is my double-double machine," Neal said of his son, whose postgame reaction summed up his father's and teammates'. "Luke started out hot, but once he went to the middle, I didn't see him a lot."
Neal attributed that to both scheme and fatigue, which plagued Leslie on some fourth-quarter and overtime chances from the free-throw line that came up short.
Who did not come up short was Smith, junior guard Jaelin Famber and senior guard Jordan Core, whose conversion of a three-point play at the halftime buzzer kept Cicero within single digits of the Patriots heading into the locker room.
"We'd lost to some of the better teams in our [region]," Brooks said. "I kept telling my boys, we have to be better defensively, we need to spread the court a little bit more and we need to make some outside shots. That had left us the last three or four games."
---