Mountain Lions have promising future under Craig Marcus
February 21, 2021 by Christian Quezada, Arizona State University
---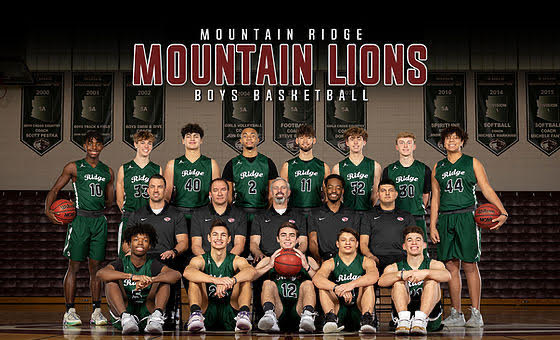 Christian Quezada is an ASU Cronkite School of Journalism student assigned to cover Mountain Ridge High School for AZPreps365.com
It's been over a decade since Craig Marcus was head boys basketball coach for Mountain Ridge High School the first time. This time, he's back with a new sense of purpose.
After his spending two seasons as the Mountain Lions' head coach from 2008 to 2010, Marcus spent seven years as an assistant under Mark Wood at Liberty High School. In those seven years, Marcus said he was able to learn how to build better relationships, and help players become better leaders. Wood helped instill confidence in Marcus by focusing on the things he does well and told him to continue to do those, while still working on the things he needed to improve on.
"I've learned a lot, grown a lot as a person, coach, and teacher," Marcus said.
After seven years of being an assistant coach at Liberty, Marcus became the head coach at Verrado High School in Buckeye for two years from 2017 to 2019. Then when the head coaching job at Mountain Ridge opened up in June 2020, Marcus was hired.
Even with the coaching changes, Marcus was still a staff member at Mountain Ridge for 16 years. He is a physical education teacher at the school, and was already familiar with a large part of the boys basketball team due to them having class with him.
"I felt like they were excited because they knew me and knew I was a basketball guy," Marcus said. "The transition was easy."
Mountain Ridge Athletic Director Junior Michael feels that Marcus is off to a great start in his second stint as head coach. He mentioned the team's new style of play and how observable the results have been.
"My expectation for coach Marcus is to build on previous successes of our program and take us to new heights," Michael said.
Marcus stepped into a program with two seniors, nine juniors, and one freshman. Only one of the 12 players actually had varsity basketball experience.
The Mountain Lions are currently 3-8 with five games left in their season.
"We are a young team. We have a lot of opportunity to grow," Marcus said.
Marcus and his coaches are seeing the things they want to see as the season progresses.
Dallin Smith, the lone freshman on the team believes the Mountain Lions can be good enough to contend for a title next year.
"This year we've obviously had our struggles with not having a great record, but there have only been two or three games that we couldn't have won," Smith said. "Give us another year of experience, I don't see why we shouldn't win...there's not going to be anyone that can stop us."
Juniors Anthony Kangah and Micah Wilkerson have been very pleased with having Marcus at the helm.
"He's amazing. He just teaches us how to work hard and control everything...he's a great coach," Kangah said. "He's gonna push us all to be the best of ourselves."
Wilkerson mentioned how it's the little things that separate Marcus from previous coaches he has had.
"He's always checking in on me, seeing how my grades are doing," Wilkerson said. "Marcus takes time and tells us what we need to work on."
Marcus mentioned how there is a lot more that goes on behind the scenes than people know about.
"The majority of people think a coach just shows up, tries to win, and that's it," Marcus said. "We're mentoring them to become leaders."
Marcus is pleased with how close-knit the team is because generally that isn't the case when you take over a program. There are guys that don't fit in and you have to find a way to make them fit.
"It's the whole program that matters, not just one team," Marcus said.
Marcus put great emphasis on the relationships he builds with players being the best part of his job. Through this he has been able to establish a great culture within his team early on. With a little more experience, Mountain Ridge can be well on their way to being a title-contending team next season.
---