Alyssa Brown moves into Top 10 with 2,384 Career Points
February 22, 2021 by Andy Morales, AZPreps365
---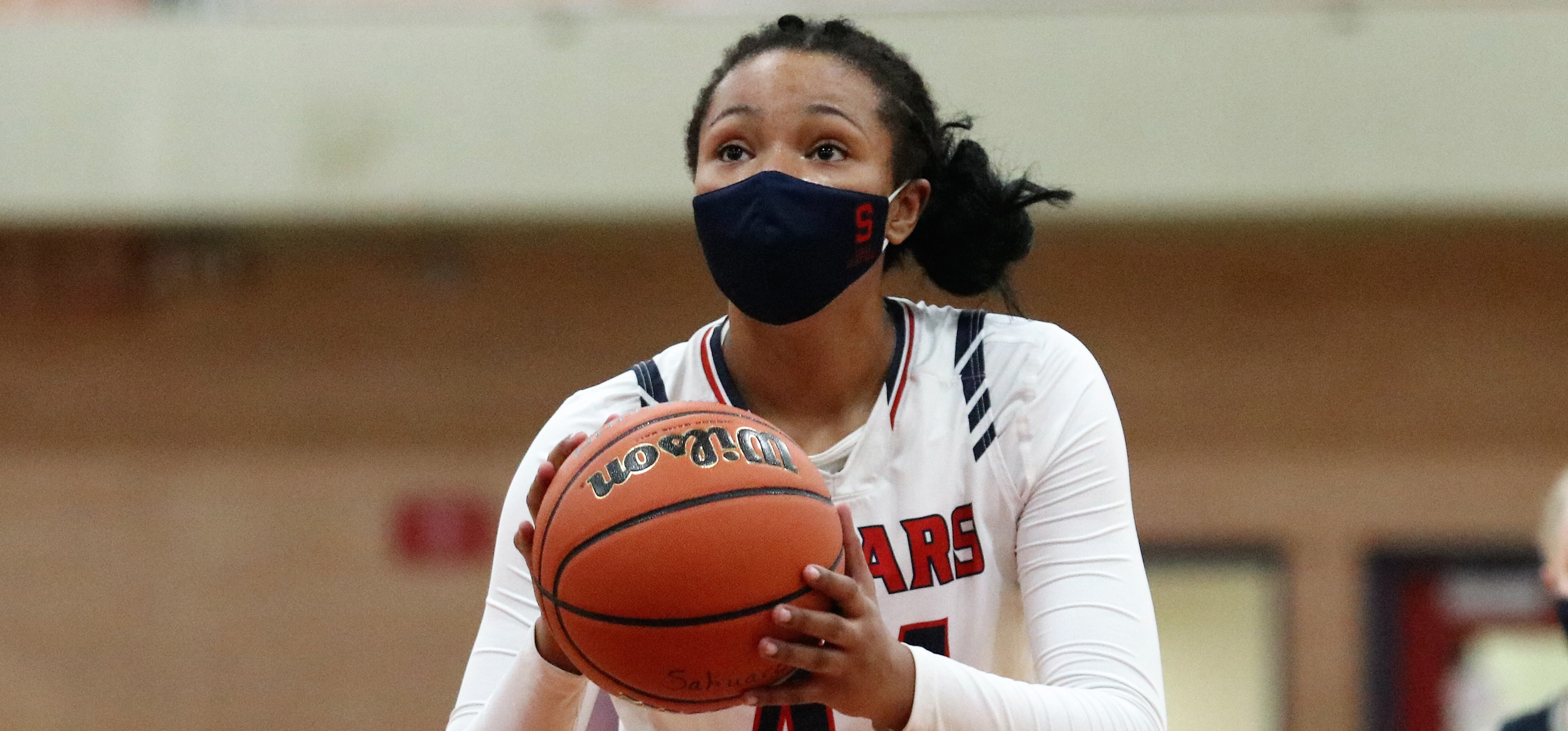 Sahuaro junior Alyssa Brown scored 34 points Monday during a 62-42 win over Sunnyside at home. The victory gave Brown 2,384 career points and it moved Sahuaro to 9-0 on the year with Salpointe (10-0) making a visit Tuesday night.
Brown is headed to UNLV but the senior is making waves in her final year with the Cougars with her 32.2 scoring average. At her scoring rate, she has a legitimate shot at over 2,500 career points, putting her somewhere near the top of the list in the history of girls basketball in Arizona.
Brown had a shot at 3,000 career points which would have made her the top scorer ever but COVID restrictions made that a huge hurdle. Former Catalina Foothills and University of Arizona standout Julie (Brase) Hairgrove finished her prep career with 2,913 career points and that mark has held up for 23 years. Hairgrove is now an assistant with the Phoenix Mercury.
Arizona Career Scoring Leaders: Girls
1 Julie Brase, Catalina Foothills (2,913) 1994-1998
2 Kayla Pedersen, Red Mountain (2,611) 2003-2007
3 Christina Wirth, Seton Catholic (2,550) 2001-2005
4 Kayla MacKenzie, Kellis (2,515) 2006-2010
5 Ashley Wirtzberger, Yuma Catholic/Gila Bend (2,505) 2006-2010
6 Alexis Cortez, Tucson (2,479) 2012-2016
7 Nicole Powell, Mountain Pointe (2,478) 1996-2000
8 Shaylee Gonzales, Mesquite (2,385) 2014-2018
9 Alyssa Brown, Sahuaro (2,384) 2017-Present
10 Olivia Snyder, Green Fields (2,382) 2009-2013
11 Alyssa Wahl, Cibola (2,366) 1999-2003
12 Wendy Woudenberg, Scottsdale Christian (2,295) 2001-2005
13 Haley Cavinder, Gilbert (2,282) 2016-2019
14 Marie Folsom, Corona del Sol (2,270) 1990-1994
15 Desirae Gonzalez, Kingman (2,255) 2012-2016
16 Brooke Jackson, Mesa Mountain View (2,250) 2003-2007
17 Lindsey VanAllen, Mesquite (2,249) 2014-2018
18 Janae Gonzales, Sierra Linda (2,204) 2014-2018
19 Hanna Cavinder, Gilbert (2,192) 2016-2019
20 Dymond Simon, St. Mary's (2,189) 2002-2006
21 Sydni Stallworth, Palo Verde (2,182) 2011-2015
22 Shawn Coder, Willcox (2,162) 1986-1990
23 Amy Showers, Camp Verde (2,161) 2001-2005
24 Bryce Nixon, Arcadia (2,122) 2014-2018
25 Najiyyah Pack, South Mountain (2,119) 2012-2016
26 Sonia Bribiescas, Superior (2,109) 1984-1988
27 Paula Pyers, Santa Rita (2,082) 1980-1984
28 Theresa Wirth, Seton Catholic (2,080) 2007-2010
29 Senya Rabouin, Shadow Mountain (2,070) 2016-2020
30 Kalie Matthes, O'Connor (2,068) 2008-2012
31 Camille Zimmerman, Tempe Prep (2,054) 2010-2014
32 Taneisha Gossett, Flowing Wells (2,043) 1990-1994
33 Taylor Chavez, Valley Vista (2,012) 2014-2018
---