New Tempe Prep athletic director making moves in year one
March 9, 2021 by Justin Torres, Arizona State University
---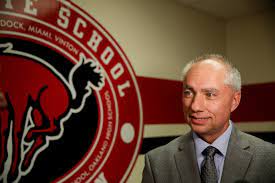 Justin Torres is an ASU Cronkite School of Journalism student covering Tempe Prep for AZPreps365.com
Maximize your potential. This is the motto set by head athletic director Doug Seagrave at Tempe Prep Academy. He doesn't just want his athletes to hear these words, but rather live by them.
In his first year at Tempe Prep, Seagrave has taken the bull by the horns and accepted the challenge of restoring the school back to its former athletic glory.
While this may be his first year at Tempe Prep as the head athletic director, this isn't his first rodeo. Seagrave has been working as an athletic director for more than 20 years at schools across the country.
His penultimate position was with Indianapolis Cathedral High School. Working there for only five years, he helped bring home 15 state championships and two national titles.
Asked what drove him to become an athletic director, Seagrave said, "I started out as a coach during my final year of law school and from then on I knew I wanted to be surrounded by sports."
After having stints at multiple schools, Seagrave finally landed at Tempe Prep Academy in late 2019.
However, it hasn't been the easiest start for him due to the troubling obstacles of the pandemic.
"I came to Tempe Prep with so many ideas, but COVID-19 has made that very tough," said Seagrave.
While the pandemic has put a halt on some of these ideas, it hasn't stopped him from putting some into action.
It was the initiative of Seagrave that led to Tempe Prep adding a strength and conditioning program for all athletes to take part in and he is excited for the new training facility to be built so his athletes can have a place to advance their skills.
But the pandemic has taken a toll. "The winter season of 2020 was the hardest thing due to the not knowing if we would be able to play games or even train."
It was this uncertainty that made things very "touch and go," in Seagrave's words.
Both football and basketball had to have shortened seasons and that was hard for Seagrave to manage with all the different information that came his way. However, Seagrave handled these situations with class.
Asked what the most difficult part of not being able to have athletics for the majority of last year, Seagrave said, "The inability to train was very hard, conditioning and weight training are a big part of our programs and to not have those going on set us back a bit and unfortunately led to some injuries."
Even with all the trials and tribulations Seagrave has had to face in year one, Tempe Prep is already finding success with him at the helm.
The football team made the playoffs this year and volleyball made the state final four. The varsity basketball team went from a squad that averaged 1-2 wins a year to a team that now has six wins under it's belt this season.
Seagrave said that if he had one goal at the top of his checklist to complete during his time at Tempe Prep it would be to bring the school back to where it once was with regards to athletics and build a winning culture.
It's safe to say he is on the right track to getting Tempe Prep back to where they want to be.
---