San Luis, Brophy advance to 6A soccer final
March 16, 2021 by Les Willsey, AZPreps365
---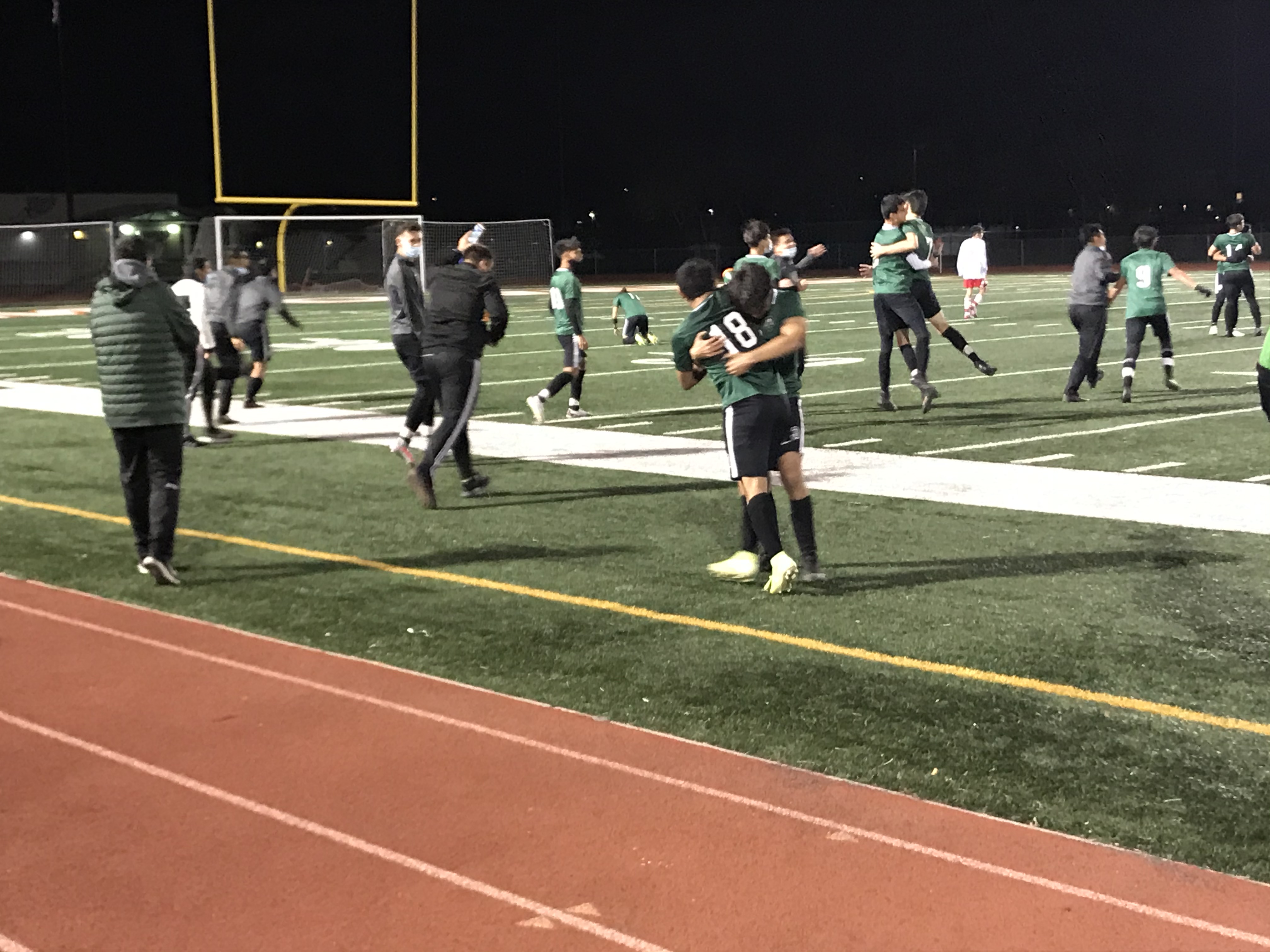 It was a semifinal soccer match worthy of a championship showdown. Top-seeded San Luis and #4 Tucson High ran themselves and the crowd ragged Tuesday night as they raced up and down the pitch.
After trading two goals each in the first half, San Luis managed to score the tie-breaker and winner in the 74th minute for an entertaining 3-2 victory over Tucson in a 6A boys semifinal at Campo Verde High School.
San Luis is set for its third title-game appearance in school history. It takes place Friday against two-time defending champion Brophy Prep at 5 p.m. at Campo Verde HS. San Luis' two previous championship game appearances were losses to Queen Creek in 2015 in D-II and to Ironwood in 5A-II in 2006. #3 Brophy easily dispatched #2 Chaparral, 5-0, in the earlier semifinal at Campo.
"This is big," San Luis coach Jesus Rojas said. "But it's not what we want yet. We've been to two title games before and want to win one."
San Luis (12-0) did not lead until the game-winning goal. The Sidewinders answered both goals in the first half scored first by Tucson (11-2-1). The teams were tied at 2 at halftime. The second half - like the first - had scoring chances for both.
But with overtime a real possibility as the second half wound down, San Luis midfielder Alberto Esparza fed striker Roberto Uribe, who outraced his defender and nailed a shot past keeper Emiliano Andreau. It was Uribe's 11th goal of the season.
"I think it's impossible for teams to mark him (Uribe)," Rojas said. "He has the most goals on the team."
Tucson's goals were scored in the eighth minute by Eli Martinez and Ali Abdulqadir in the 21st minute. San Luis' first two goals were tallied by Ricardo Famania (12th minute) and Eduardo Noriega (26th minute).
BROPHY 5, CHAPARRAL 0: Both schools dominated their first-round and quarterfinal opponents. Domination, however, continued only for Brophy in the semifinal.
Four players scored for Brophy (14-1-1) as it handed Chaparral (11-1-1) its only loss this season. The Broncos spread their goals over both halves in reaching the championship game for the fourth year in a row. Brophy notched three goals in the first half. The first by Francisco Merida Avila in the second minute. The 20th minute it was Christian Kelly tallying off a corner. Kelly assisted the third goal in the 37th minute with Chase Jackson doing the honors. Leading scorer Charlie Cobb connected for second-half goals in the 50th and 75th minute, respectively.
"When you finish chances early you're able to dictate the pace," Brophy coach Paul Allen said. "I thought it was a great team effort defensively."
Brophy won its first two state matches with ease and with the semi triumph has scored 14 goals and allowed one. Chaparral opened the tourney with 4-1 and 4-0 wins.
---