5A finalists Casteel, Ironwood loaded with talent
March 16, 2021 by Jose Garcia, AZPreps365
---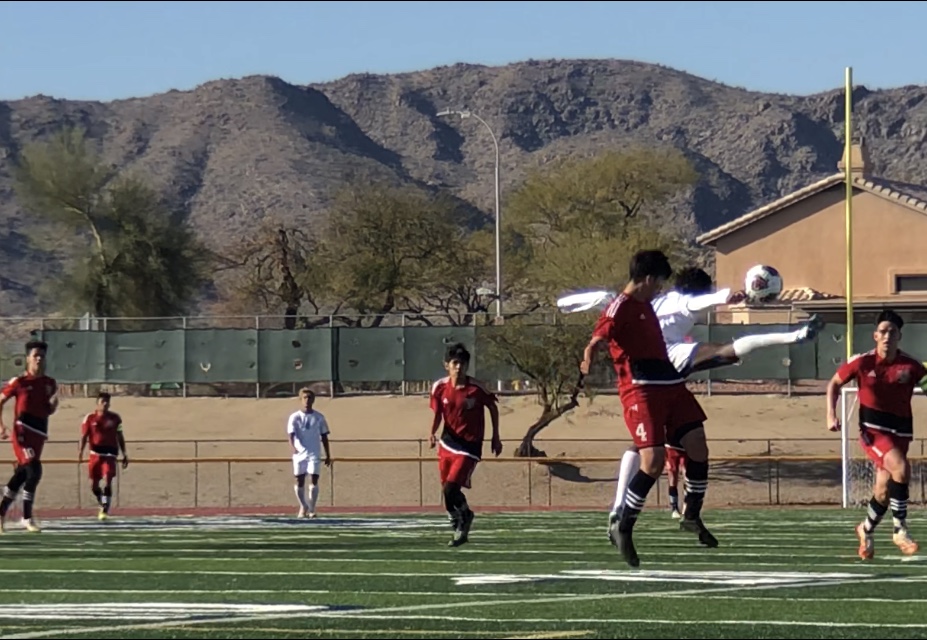 The Glendale Ironwood-Queen Creek Casteel 5A Conference boys soccer state championship is set.
For those that get a ticket to Saturday's final, you might be in for a treat.
The potential is there for a great match to unfold. Two teams scoring a combined 11 goals in the state semifinals is rare.
But that's just what Ironwood and Casteel accomplished Tuesday on Desert Vista turf field against solid soccer programs. Ironwood eliminated 2019 and 2020 5A finalist Tucson Sunnyside, 5-1, and Casteel downed last year's 4A champ, Washington, 6-1.
Queen Creek, in its 5th season as a varsity program, is the upstart seeking its first soccer crown. Ironwood is run by Arizona High School Hall of Famer Tim Beck, one of the architects of the 5-time state champ Ironwood Eagles.
Each team is led in scoring by skilled players who returned to their high schools this season, Ironwood's Adrian Sanchez and Casteel's Ethan Calimpong. Both are U.S. Soccer Development Academy players who will likely have a defender or two shadowing them during Saturday's final at Desert Vista.
Casteel (16-1) defeated a Washington team that was without junior defender Jaden Gonzalez and Jason Almanza, a player on last year's championship team who is playing for the Real Salt Lake Academy. Gonzalez went on a family trip, which was originally postponed during the pandemic, rescheduled for this week.
But even if Almanza and Gonzalez were on the pitch, stopping Casteel would have still been a chore. Four different players scored for the Colts, including Kaden Cameron, who tallied two goals and two assists.
Calimpong also scored twice.
Casteel advanced to its first final w/ a 6-1 win. Team's leading scorer Ethan Calimpong showing off his scoring and celebration skills: pic.twitter.com/wNGQKYaSD6

— Jose E. Garcia (@AZPreps365Jose) March 17, 2021
In the second half, when Washington pushed forward, is when Casteel really displayed its abilities while scoring some quality goals.
After the match, Washington High's 26-year coach Adam Roberts said something that a lot of others were also probably thinking not just about Casteel but Ironwood as well.
"It was a pleasure watching your team," said the humble Roberts to Casteel's coach Greg Lanman.
"If you watched how Washington possessed in the second half, it was phenomenal," Lanman said. "It's a well-coached team, and it was fun to play them tonight."
Casteel advanced to its first final w/ a 6-1 win. Team's leading scorer Ethan Calimpong showing off his scoring and celebration skills: pic.twitter.com/wNGQKYaSD6

— Jose E. Garcia (@AZPreps365Jose) March 17, 2021
Sunnyside went up early 1-0 but Ironwood answered with 3 goals in less than 10 minutes. Its third goal in the 17th minute of the 5A semi @ Desert Vista: pic.twitter.com/JkIYU7x9gu

— Jose E. Garcia (@AZPreps365Jose) March 16, 2021
---