6A-5A basketball championship roundup
March 20, 2021 by Les Willsey, AZPreps365
---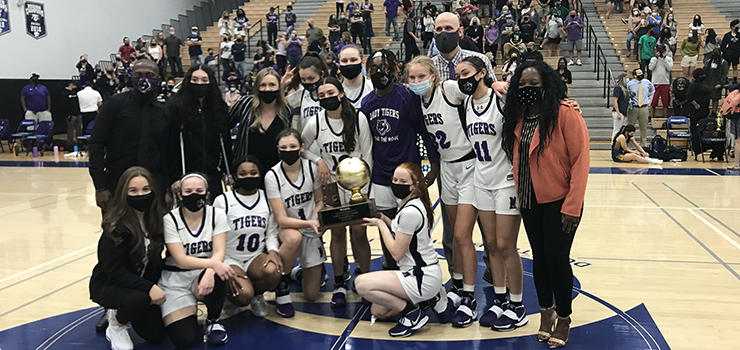 5A GIRLS
Red-hot shooting. Keeping the opponents' top scorer off the scoreboard.
It added up to #3 Millennium beating #5 Flowing Wells, 62-39 in the 5A girls championship game at Mesquite High School.
The title is the third in a row for Millennium (15-4) and first for new coach Kevin Thomas. Flowing Wells finished 15-4 in its first title-game appearance since 2015.
Millennium made 7 of 11 shots in the first quarter and 11 of 22 in the in the first half in building a 26-15 advantage Flowing Wells could never make a run at. The Tigers used several different defenders who combined to blank Flowing Wells scoring leader Milinda Arguellez. Arguellez was limited to four shots in the first half.
Millennium seniors Kassidy Dixon and Reese Grimsley combined for 17 first-half points - nine and eight, respectively. The Tigers unleased sophomore sharp-shooter Mia Amundsen from the perimetet in the second half. Amundsen made four threes in a row at one point hitting from each corner. Amundsen finished with 18 points (6 of 10 from three). Dixon led the Tigers with 20 points and grabbed 14 rebounds.
Arguellez got untracked in the third quarter netting 10 points, but it was too late to get the Lady Cabs back in the game as Millennium's lead approached 30 before the end of the third period. Arguellez totaled 13 points for the game and tied for team-high honors with Navine Mallon. Mallon scored 8 of her 13 in the first half.
---