St. Mary's returns to basketball prominence
March 21, 2021 by Jose Garcia, AZPreps365
---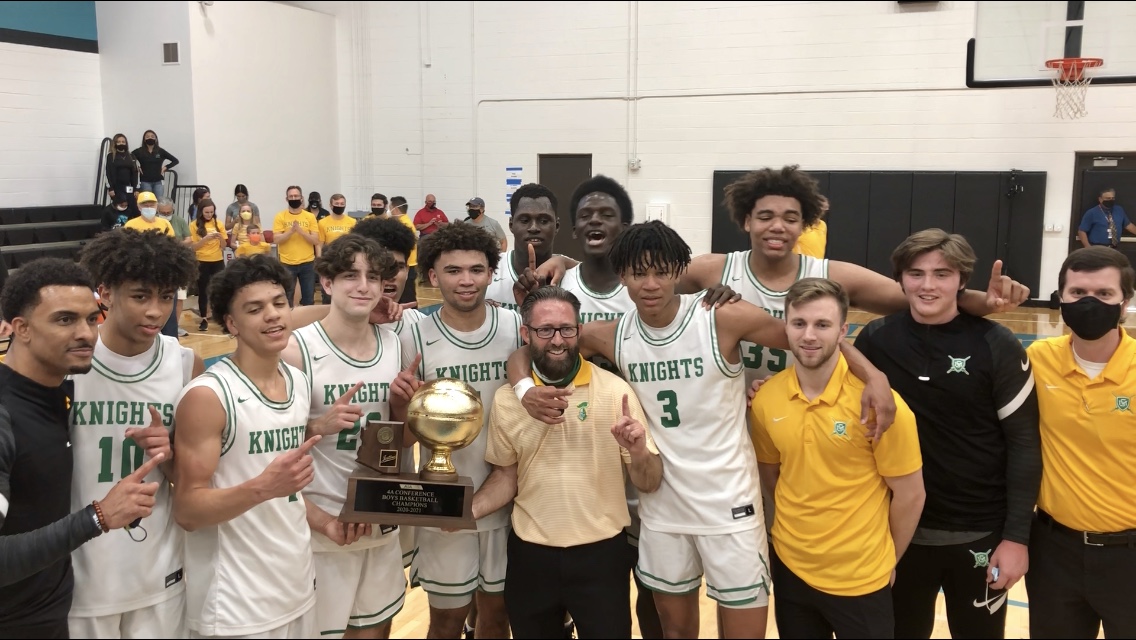 Time was running out on St. Mary's season.
Paradise Honors led for most of the game and was eight minutes away from lifting its first trophy.
Then everything changed.
Garrison Phelps, a soft-spoken leader of St. Mary's talented squad, made his first loud statement of the fourth period, a three from the left to open things up. After Paradise Honors converted a runner and St. Mary's Keiren Brown scored a basket in the paint, Phelps followed with another three.
That was the start of a period that ended with St. Mary's adding another championship chapter to the school's storied history. It took the basketball program 12 years and another Lopez to guide them to the top again, but the wait was well worth it.
Spurred by its fourth quarter performance, St. Mary's defeated the athletic Paradise Honors Panthers 50-47 Saturday at St. John Paul II High School to win the 4A Conference gold ball. St. Mary's outscored Paradise Honors 17-5 in the final eight minutes of the game.
Sitting in the stands was David Lopez, the St. Mary's basketball coaching legend who led the program to two championships and 332 victories. On the bench for St. Mary's was his son, Damin, the former Apollo High sharpshooter, whose been running St. Mary's since 2017 and was his dad's assistant.
"I don't know that it ever left," said Damin when asked if St. Mary's basketball is officially back. "It might be back. I don't know. We are just excited that we got this. We got summer to build on more. Hopefully we'll be back next year."
Brown, one of the team's best defenders, is the only 2021 championship game starter Damin's team will lose.
At the outset of Saturday's game, Paradise Honors was making most of its shots and had a handful of players contribute to its 34-24 rebound advantage against a team with some low post bulk. By the end of the third quarter it was leading 42-33, and it had St. Mary's on the ropes.
"Tonight it looked like Rocky Balboa just taking the hits left and right," said Damin as he talked to his team after the game in the locker room. "Just hanging in there. Just hanging in there. But we made the plays, and it was fantastic to watch."
With 3:21 left, Phelps, who scored eight of his game-high 14 points in the fourth quarter, tied the game at 46-46 with a basket from close range. Freshman Styles Phipps (game-high five steals) then made one of two free throws to hand St. Mary's its first lead since the early minutes of the first quarter.
After a Paradise Honors free throw with 2:40 remaining, St. Mary's ran some time, but a jumper with about 1:33 bounced off the rim's back plate. Brown, however, tracked it down to pull down his only rebound of the game.
That allowed the biggest possession of the 4th period to unfold, as the crowd rose to its feet to loudly cheer for their teams. Brown and freshman forward Jeremiah Cherry were trying to set a pick-and-roll play.
They did so three times, but on the fourth try, with Paradise Honors' Jalen Scott trying to get the 6-10 Cherry out of the way, Brown dropped a bounce pass to the driving Cherry for a right-handed lay in. Paradise Honors, with 24 seconds on the clock and trailing 49-47, had time but missed its final two field goal attempts.
Despite the loss, the talented Scott and teammates took time after the game to congratulate the 4A champ. This season, coach Zach Hettel's Paradise Honors program reached its first championship game and won 20 games for the fourth year in a row despite moving up conferences.
St. Mary's (21-1) only loss this year was against 6A champ Sunnyslope early in the year. This was the fourth time that the Phoenix program won a boys title.
"For the family, you want to win the gold ball," Damin said. "We had a great time when my dad was the coach.
"I've said it all along, this is a 102, 103-year old institution, and there's a lot of people that have added to the legacy of St. Mary's. We are just fortunate that our family is one of those many families that have pitched into the legacy, and hopefully we can continue to keep the ball rolling."
---